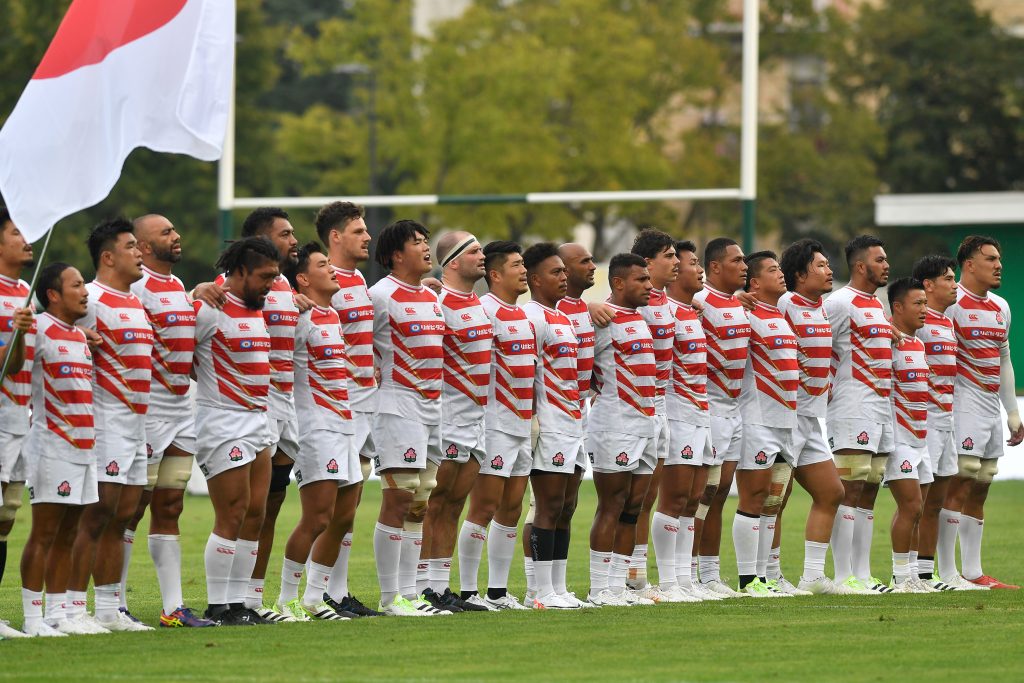 Brave Blossoms Announce Final Changes to 2023 World Cup Squad
Following Japan's World Cup warm-up match against Italy in Treviso on Saturday, the JRFU have now confirmed their final squad ahead of the Rugby World Cup, with two changes to the squad that was previously announced.
Amato Fakatava, who won his first three caps during the recent Lipovitan D Challenge Cup 2023 Pacific Nations Series, and was one of the standout players throughout the tournament, has come into the squad to cover the second-row and the back-row. Two test rookie, Kanji Shimokawa also joins the squad as an additional back-row forward.
Lock and back-row forward Uwe Helu and utility back, Shogo Nakano have both been withdrawn from the squad. Helu will stay on in Europe and link up with a Barbarians squad featuring a number of Japanese and Australian players, who are set to play several fixtures in the UK over the coming weeks.
Following last weekend's match against the Italians, the Brave Blossoms will travel this week to their Official Base Camp in Toulouse to prepare for their opening Pool D match against Chile on Sunday, 10 September at Stadium de Toulouse.
They then face England on Sunday, 17 September at Stade de Nice before returning to Stadium de Toulouse to take on Samoa on Thursday, 28 September. The Brave Blossom's final pool match will be against Argentina on Sunday, 8 October at Stade de la Beaujoire, in Nantes.
RWC2023 SQUAD
| | | | | | | |
| --- | --- | --- | --- | --- | --- | --- |
| Position | Name | Team | Height | Weight | Date of Birth | Caps |
| PR | Asaeli Ai VALU | SAITAMA Panasonic WILD KNIGHTS | 187 | 115 | 1989/5/7 | 26 |
| PR | Craig MILLAR | SAITAMA Panasonic WILD KNIGHTS | 186 | 116 | 1990/10/29 | 13 |
| PR | Jiwon GU | KOBELCO KOBE STEELERS | 183 | 117 | 1994/7/20 | 25 |
| PR | Keita INAGAKI | SAITAMA Panasonic WILD KNIGHTS | 186 | 116 | 1990/6/2 | 49 |
| PR | Shinnosuke KAKINAGA | TOKYO SUNTORY SUNGOLIATH | 180 | 115 | 1991/12/19 | 12 |
| PR | Sione HALASILI | YOKOHAMA CANON EAGLES | 180 | 120 | 1999/10/15 | 0 |
| HO | Atsushi SAKATE | SAITAMA Panasonic WILD KNIGHTS | 180 | 104 | 1993/6/21 | 37 |
| HO | Kosuke HORIKOSHI | TOKYO SUNTORY SUNGOLIATH | 175 | 100 | 1995/6/2 | 7 |
| HO | Shota HORIE | SAITAMA Panasonic WILD KNIGHTS | 180 | 104 | 1986/1/21 | 72 |
| FL/LO | Jack CORNELSEN | SAITAMA Panasonic WILD KNIGHTS | 195 | 110 | 1994/10/13 | 16 |
| LO | Amanaki SAUMAKI | KOBELCO KOBE STEELERS | 189 | 108 | 1997/3/8 | 1 |
| LO | Warner DEARNS | TOSHIBA BRAVE LUPUS TOKYO | 201 | 117 | 2002/4/11 | 7 |
| LO/LF | Amato FAKATAVA | RICOH BLACKRAMS TOKYO | 195 | 118 | 1994/12/7 | 3 |
| FL | Ben Gunter | SAITAMA Panasonic WILD KNIGHTS | 195 | 120 | 1997/10/24 | 8 |
| FL | Kanji SHIMOKAWA | TOKYO SUNTORY SUNGOLIATH | 188 | 105 | 1999/1/17 | 2 |
| FL | Kazuki HIMENO | TOYOTA VERBLITZ | 187 | 108 | 1994/7/27 | 29 |
| FL | Michael LEITCH | TOSHIBA BRAVE LUPUS TOKYO | 189 | 113 | 1988/10/7 | 80 |
| FL | Pieter LABUSCHAGNE | Kubota Spears Funabashi TOKYO-BAY | 189 | 106 | 1989/1/11 | 16 |
| FL | Shota FUKUI | SAITAMA Panasonic WILD KNIGHTS | 186 | 101 | 1999/9/28 | 2 |
| SH | Kenta FUKUDA | TOYOTA VERBLITZ | 173 | 80 | 1996/12/19 | 0 |
| SH | Naoto SAITO | TOKYO SUNTORY SUNGOLIATH | 165 | 73 | 1997/8/26 | 15 |
| SH | Yutaka NAGARE | TOKYO SUNTORY SUNGOLIATH | 166 | 75 | 1992/9/4 | 34 |
| SO | Rikiya MATSUDA | SAITAMA Panasonic WILD KNIGHTS | 181 | 92 | 1994/5/3 | 33 |
| SO | Seungsin LEE | KOBELCO KOBE STEELERS | 176 | 85 | 2001/1/13 | 10 |
| SO/FB | Jumpei OGURA | YOKOHAMA CANON EAGLES | 172 | 82 | 1992/7/11 | 4 |
| WTB | Jone NAIKABULA | TOSHIBA BRAVE LUPUS TOKYO | 177 | 95 | 1994/4/12 | 4 |
| WTB | Lomano Lava LEMEKI | NEC GREEN ROCKETS TOKATSU | 178 | 96 | 1989/1/20 | 16 |
| WTB | Semisi MASIREWA | HANAZONO KINTETSU LINERS | 181 | 93 | 1992/6/9 | 5 |
| WTB | Siosaia FIFITA | TOYOTA VERBLITZ | 187 | 105 | 1998/12/20 | 12 |
| CTB | Dylan RILEY | SAITAMA Panasonic WILD KNIGHTS | 187 | 102 | 1997/5/2 | 14 |
| CTB | Ryoto NAKAMURA | TOKYO SUNTORY SUNGOLIATH | 182 | 92 | 1991/6/3 | 35 |
| CTB | Tomoki OSADA | SAITAMA Panasonic WILD KNIGHTS | 179 | 90 | 1999/11/25 | 4 |
| FB/WTB | Kotaro MATSUSHIMA | TOKYO SUNTORY SUNGOLIATH | 178 | 88 | 1993/2/26 | 51 |