Message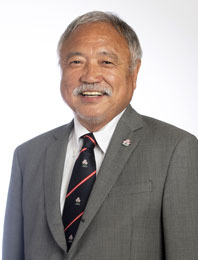 New Year's Greetings
January 1st, 2021
2020 was an unusual and extraordinary year due to the COVID-19 pandemic, forcing us to stop or cancel a number of tournaments and activities. On behalf of the Japan Rugby Football Union, I would like to firstly express my deepest sympathies to everyone affected by the COVID-19 situation. Our Union would also like to pay its respect and appreciation to all the front-line healthcare workers, as well as all those who have been working to prevent the spread of the infection.
The Rugby World Cup 2019™ in Japan, the first ever tournament to be staged in Asia drew to a successful close thanks to the tremendous support of the worldwide rugby family. Our sincere thanks go to everybody who supported us and got behind the tournament. At RWC2019 Japan achieved its goal of reaching the top eight and shared their joy and excitement with fans across Japan and throughout the world. At the same time, the tournament was a great opportunity to showcase to the world rugby's long-cherished values - camaraderie, spirit of self-sacrifice and respect for your opponents and match officials. As a person involved in rugby all my life, I am very happy with such encouraging outcomes.
Our untiring promotion of rugby in Japan is also bearing fruit with children having more opportunities to experience and play rugby. It is now a common site to see children enjoying rugby in schools and parks across the country.
We believe that it is Japan's rugby mission to connect the wonderful ethos of rugby to the future and beyond, to positively contribute to society through the game and open rugby's horizons to Asia and the world.
The Japan Rugby Football Union is determined to, in addition to inheriting the legacy of the past, show the future direction in which Japan rugby should progress and continue to evolve and transform itself. We sincerely hope to host the Rugby World Cup in Japan again in near future, with the ambition to win the tournament on our home soil. We will keep challenging ourselves to achieve these goals.
Your support of the continued growth of Japanese rugby is greatly appreciated!
Shigetaka Mori
President
Japan Rugby Football Union