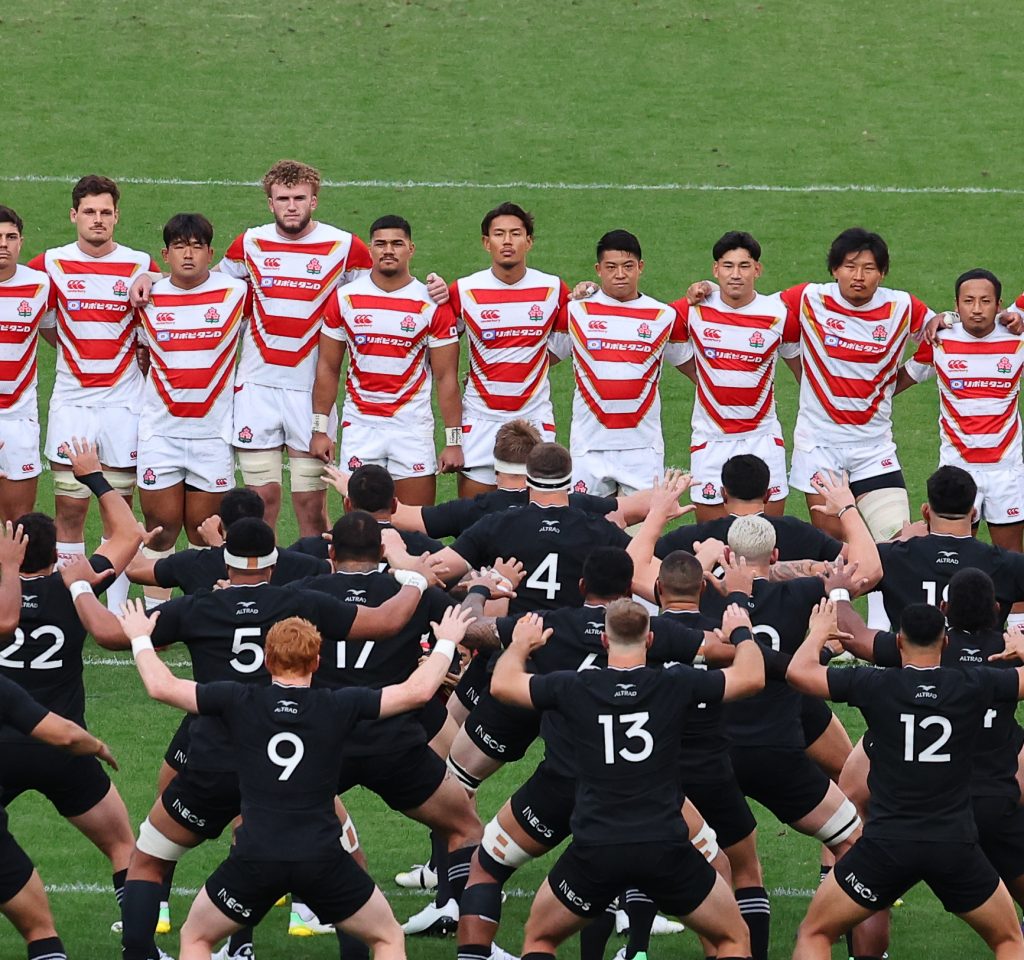 Brave Blossoms' 2023 Domestic Match Schedule Announced

The Japan Rugby Football Union is delighted to announce the 2023 domestic match schedule for the Japan National Team in the lead up to Rugby World Cup 2023 in France. The five-match schedule, played across July and August includes two non-capped matches and three full test matches. The Japan XV will face the All Blacks XV in the first of two Lipovitan D Challenge Cup 2023 matches, which will be followed by a second match between Japan's National Team, the Brave Blossoms and the All Blacks XV. Three test matches will then follow, with the Brave Blossoms taking on Samoa, Tonga, and Fiji in the Lipovitan D Challenge Cup 2023 Pacific Nations Series.
The action gets under way on Saturday, July 8 with the Japan XV taking on the All Blacks XV at Tokyo's historic Chichibunomiya Rugby Stadium. The return match against a full-strength Brave Blossoms side will be played the following weekend on Saturday, July 15 at Egao Kenko Stadium in Kumamoto, one of three stadiums on Japan's southern island of Kyushu that played host to Rugby World Cup matches in 2019. The All Blacks XV is the next senior national representative team after the All Blacks and follows in the footsteps of similar teams which have assembled throughout New Zealand rugby's history, including the Junior All Blacks, New Zealand A and Emerging Players.
The Brave Blossoms will then play their first test match of 2023 against Samoa the following weekend on Saturday, July 22 at Sapporo Dome, on the northern island of Hokkaido. Played at another 2019 World Cup venue, the match takes on extra significance, with Japan set to face Samoa two months later in their Rugby World Cup Pool D clash in France. It will be the third World Cup in a row Japan has drawn Samoa in the same pool, and their fourth ever World Cup match, having faced each other back in 1999 in Wales. While Japan has won two of their three World Cup matches, with victories in 2019, and 2015 in England, Samoa has won 11 out of the total 16 matches between the two sides.
Following the match in Sapporo, the team then travels south to Higashi-Osaka to take on Tonga a week later, on Saturday, July 29 at the iconic Hanazono Rugby Stadium, the spiritual home of Japanese high-school rugby. It will be a welcome return to Hanazono for the Tongans after having defeated the USA at the same venue in their Pool C match in 2019. Having played each other on 18 previous occasions, and with an equal nine victories a piece, both teams will be looking to secure the win to claim bragging rights in this closely contested rivalry.
Finally, the Brave Blossoms take on Fiji on Saturday, 5 August in their final home test of 2023, with the match venue due to be announced at a later date. With four wins across 18 previous meetings, the Brave Blossoms will be looking to record a win to improve upon their win-loss ratio against Fiji and make the best possible start ahead of their World Cup journey.
Commenting on the announcement, Brave Blossoms Head Coach Jamie Joseph said:
"The confirmation of these five home matches is hugely exciting for both the team and our fans in Japan. They will form a massive part of our preparations ahead of the World Cup, providing four diverse and challenging opponents, that along with Italy, will give us a level of competition closely matching the intensity and quality we will face in France. The All Blacks XV will represent a huge challenge with a team made up of players hungry for All Black selection, while Samoa, Tonga and Fiji will bring the physicality and passion typical of Pacific Island rugby. With players in every team looking to impress ahead of the World Cup, these matches are guaranteed to be fast, physical, and highly entertaining."
Japan Rugby Football Union President Masato Tsuchida commented:
"We are delighted to welcome the All Blacks XV, Samoa, Tonga, and Fiji to Japan for these five Lipovitan D Challenge Cup matches in front of Japanese fans ahead of Rugby World Cup 2023 in France. Thank you to all those who have worked so hard to make these matches possible and to our sponsors for their generous support. Together with our fans, the Brave Blossoms will challenge the world's best and we hope that as many people as possible can witness the continuing evolution of our national team under Head Coach Jamie Joseph and cheer them on in packed stadiums throughout Japan.
Further details around these five home matches, including the venue for the Fiji match, match kick-off times, tickets and broadcast details, will be announced in due course.
Following their match against Fiji, the Brave Blossoms will depart for Italy to play the Azzurri in their final Rugby World Cup warm-up on Saturday, August 26. The team will then head to their official Rugby World Cup Base Camp in Toulouse to prepare for their opening Pool D match against Chile on Sunday, September 10 at Stadium de Toulouse. They will then face England on Sunday, September 17 at Stade de Nice, in Nice before returning to Stadium de Toulouse to take on Samoa on Thursday, September 28. The Brave Blossom's final pool match will be against Argentina on Sunday, October 8 at Stade de la Beaujoire, in Nantes.