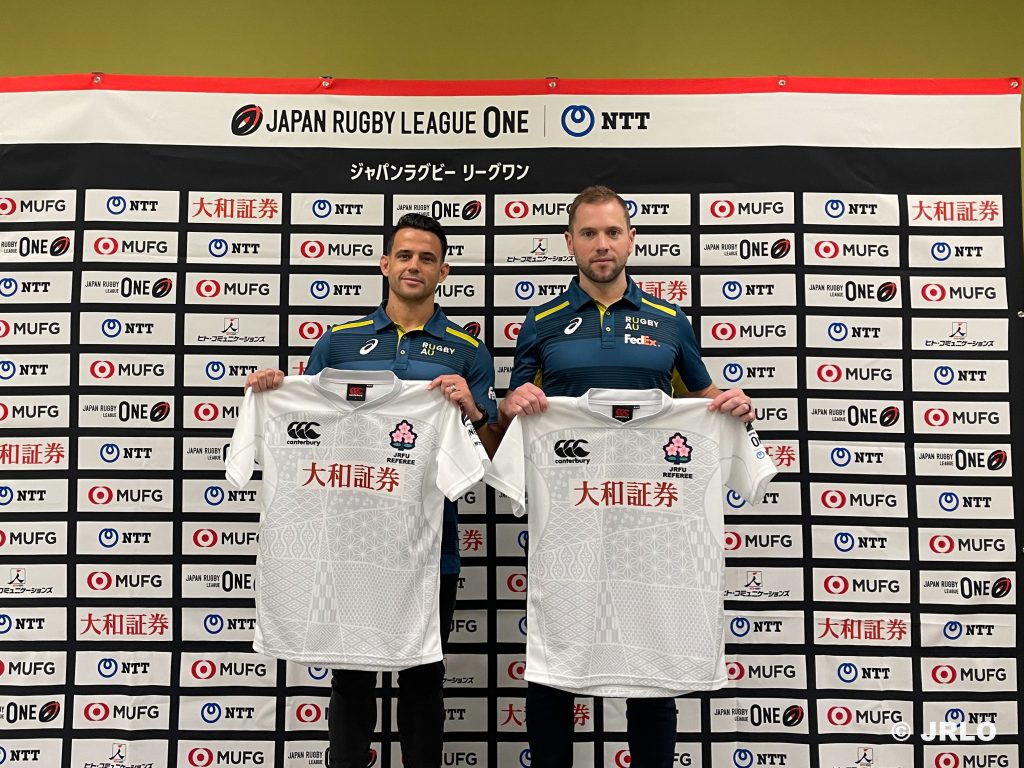 Leading Australian Referees to Take Charge of League One Fixtures
This weekend will see world-class referees Nic Berry and Angus Gardner take charge of two Japan Rugby League One – Division One matches on Sunday, January 22. The two Australians, who are both enroute to Europe ahead of the upcoming Six Nations Championship, will make a welcome return to Japan after having been part of the refereeing team at Rugby World Cup 2019.
Nic Berry is set officiate Sunday's match between Toshiba Brave Lupus and Toyota Verblitz at Chichibunomiya Stadium in Tokyo, while Angus Gardner will take charge of the Mitsubishi Dynaboars versus Shizuoka Blue Revs match at Sagamihara Gion Stadium in Kanagawa.
Both referees were invited to Japan by League One to officiate the matches as part of ongoing efforts within the league to develop the level of refereeing, by bringing in the experience and international perspective of leading referees from abroad. While their input will be to the immediate benefit of their assistant referees in the lead-up to, during and after the matches, the JRFU High Performance Team will also utilise video analysis of the match refereeing in their wider referee training programmes.
Angus Gardner, who refereed three matches at RWC2019 will be well known among Japanese rugby fans as he held the whistle during Japan's historic pool match defeat of Ireland in Shizuoka in 2019. Nic Berry, who refereed four matches at the tournament, also had the opportunity to play in Tokyo against a Japan Fifteen for the Australian Prime Minister's Fifteen, back in 2006 during his playing career, before he turned to refereeing.
Commenting on the announcement, Hajime Shoji, Chief Operating Officer of Japan Rugby League One said:
"We are delighted to welcome Nic and Angus back to Japan and to have them officiate at two huge League One fixtures this weekend. Our league is on a journey to become world-class and an important part of this is building a world-class standard among our referees and match officials. Having two of the best referees in the world officiating this weekend will no doubt make for highly entertaining rugby, but will also have a lasting and valuable impact on helping us raise the standard of our local referees. On behalf of JRLO I would like to express our sincere appreciation to both Nic and Angus, and to our friends at Rugby Australia for their ongoing support of the development of Japanese Rugby."
Speaking from Tokyo ahead of the weekend's matches, Angus Gardner said:
"League One is a very exciting, fast, high-octane, entertaining competition with some fantastic world-class players playing for professional and extremely well-run teams. For us to come up and referee here in such a great competition is very exciting for the both of us and were looking forward to the matches on Sunday.

Nic Berry added:
"Getting the opportunity to come to Japan and work with some of the Japanese referees is a great opportunity for us both, but it also comes with a lot of responsibility. We want to make sure that we put in a good performance, one that's worthy of such a great competition. We want to show the local referees what it's like for us in terms of our preparation and review process, and of course the execution, which will be all about doing a good job on Sunday."