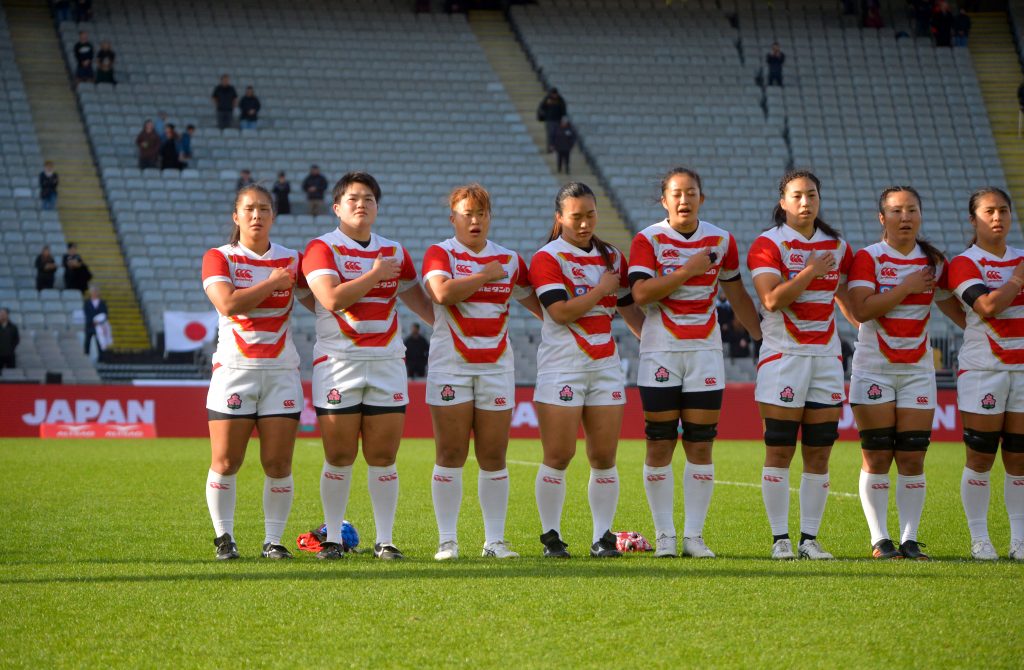 Sakura Fifteen Team Announced for Opening Rugby World Cup Pool Match
Japan Head Coach Lesley McKenzie has today named the Sakura Fifteen team to take on Canada in Japan's opening Pool B match at the Rugby World Cup in New Zealand. Kicking off at 15:15 New Zealand local time, 11:15 Japan Standard Time on Sunday, October 9, the Sakura Fifteen will be looking to make a strong start in the tournament against the number three ranked Canadians.
The side is captained by Saki Minami in her 27th test at loose-head prop, while the impressive Sachiko Kato, who spent the last two seasons playing in England with the Exeter Chiefs, will earn her 12th cap at tighthead prop. The barnstorming Seina Saito, Japan's most capped player (32 caps) will add her considerable leadership and experience to the backrow at blindside flanker, while 30 cap utility forward Misaki Suzuki returns to the team via the reserves bench, having missed the last two matches against Ireland and New Zealand.
The exiting halves pairing of livewire scrumhalf Megumi Abe (11 caps) and impressive fly-half Ayasa Otsuka (10 caps) continues, with the pair looking to ignite the Sakura Fifteens' attack after being starved of attacking opportunities by the Black Ferns two weeks ago at Eden Park. Try scoring, speed-machine Rinka Matsuda (6 caps) returns to fullback after playing on the left-wing against New Zealand and will relish the extra space from which to attack.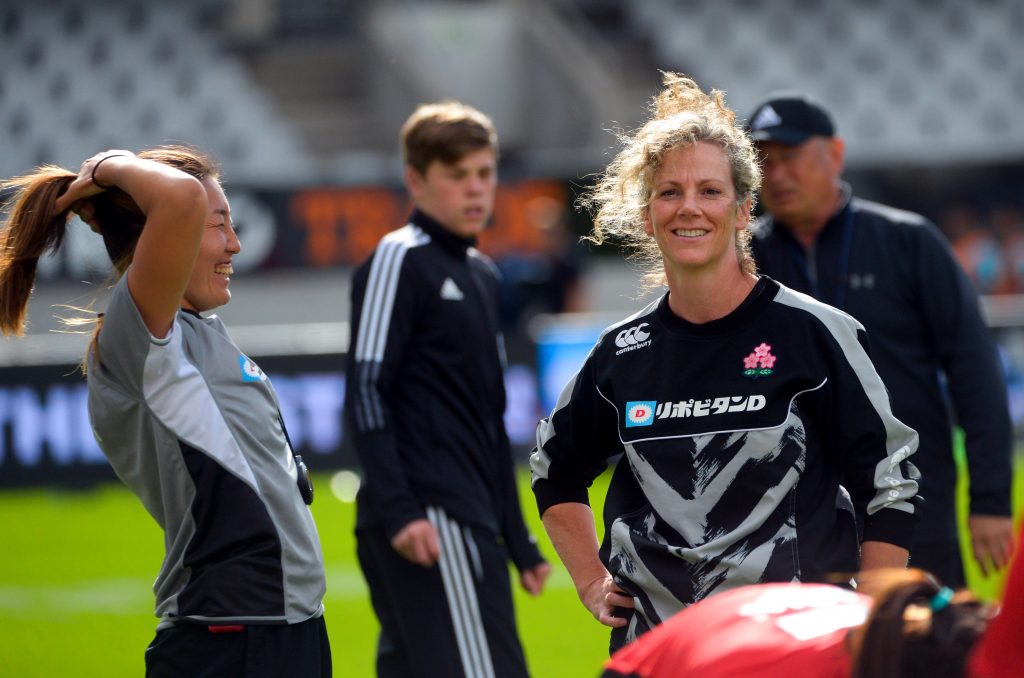 Sakura Fifteen Head Coach, Lesley McKenzie commented:
"We're really excited about our first World Cup game. Our preparations are over and we're looking forward to implementing our style of play against a really strong adversary in Canada. They're a confident team with ball in hand, so we need to be able to consistently stop their attack, which means making our tackles accurately, something we know we can do, as we've done it this year against Ireland, South Africa, Australia and Fiji. Canada also take a lot of pride in their set piece so we will need to neutralise that as best as possible in order to give us the best platform to play our brand of rugby."
Sunday's match will be telecast live in Japan from 11:00 JST via JSports Two and will available live and via catch-up on JSports On-demand.
Following their opening match against Canada in Whangarei, the Sakura Fifteen will play their remaining two Pool B matches against the USA on Saturday, October 15, also in Whangarei, and Italy on Sunday, October 23, at Waitakere Stadium in Auckland.
Team List:
No.
Name
Team
Height
Weight
DOB
Caps
1
Saki MINAMI
YOKOGAWA Musashino Artemi-Stars
163
72
1995/11/18
26
2
Nijiho NAGATA
International Budo Univ.
162
78
2000/12/6
9
3
Sachiko KATO
YOKOGAWA Musashino Artemi-Stars
164
89
2000/2/19
11
4
Yuna SATO
Tokyo Sankyu Phoenix
170
75
1998/9/11
7
5
Maki TAKANO
YOKOGAWA Musashino Artemi-Stars
170
76
1995/8/17
17
6
Seina SAITO
MIE PEARLS
164
73
1992/5/30
32
7
Iroha NAGATA
ARUKAS QUEEN KUMAGAYA
167
72
1998/12/21
16
8
Ayano NAGAI
YOKOHAMA TKM
168
84
1997/10/14
11
9
Megumi ABE
ARUKAS QUEEN KUMAGAYA
147
53
1998/4/28
11
10
Ayasa OTSUKA
RKU GRACE
163
65
1999/5/5
10
11
Komachi IMAKUGI
ARUKAS QUEEN KUMAGAYA /
Rissho Univ.
158
61
2002/1/6
10
12
Shione NAKAYAMA
YOKOGAWA Musashino Artemi-Stars
166
70
1999/1/18
8
13
Mana FURUTA
Tokyo Sankyu Phoenix
167
70
1997/11/16
15
14
Hinano NAGURA
YOKOGAWA Musashino Artemi-Stars
170
76
1997/3/22
11
15
Rinka MATSUDA
Nippon Sport Science Univ.
170
77
2001/12/5
6
16
Hinata KOMAKI
Nippon Sport Science Univ.
166
78
2001/5/9
3
17
Misaki SUZUKI
Tokyo Sankyu Phoenix
164
66
1992/4/9
30
18
Makoto LAVEMAI
YOKOGAWA Musashino Artemi-Stars
163
73
1997/7/2
18
19
Kie TAMAI
MIE PEARLS
168
79
1992/10/24
14
20
Otoka YOSHIMURA
ARUKAS QUEEN KUMAGAYA /
Rissho Univ.
174
84
2001/5/15
5
21
Moe TSUKUI
YOKOGAWA Musashino Artemi-Stars
153
54
2000/3/28
19
22
Minori YAMAMOTO
MIE PEARLS
169
70
1996/12/9
21
23
Kyoko HOSOKAWA
MIE PEARLS
164
71
1999/7/8
8