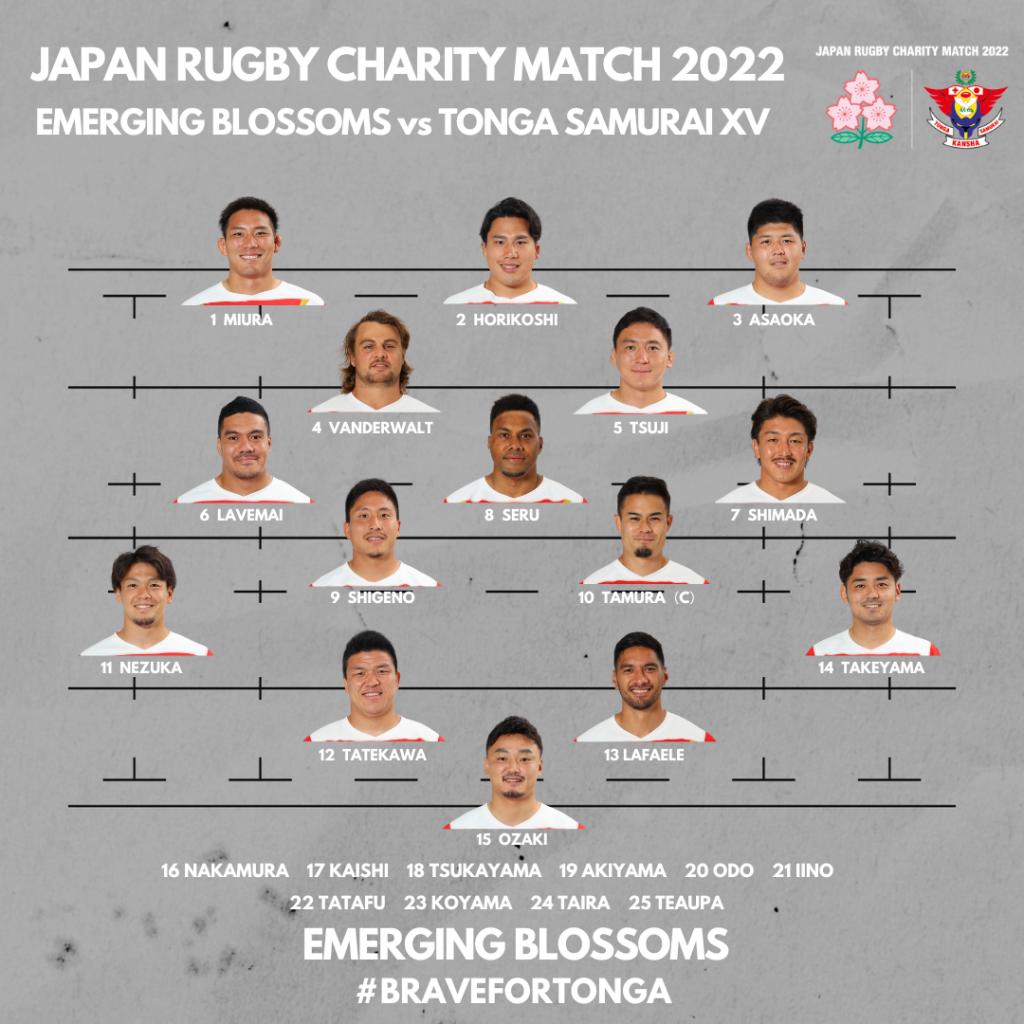 Emerging Blossoms Team for Japan Rugby Charity Match 2022
The Japan Rugby Football Union is pleased to announce the Emerging Blossoms team to take on the Tonga Samurai XV in the Japan Rugby Charity Match 2022, this Saturday, June 11, 2022, at Chichibunomiya Rugby Stadium in Tokyo.
Drawn from the National Development Squad, the 25 member team features 14 uncapped players and six players with less than 10 test caps. The team will be captained by Brave Blossoms veteran and Rugby World Cup 2019 star, Yu Tamura and will field a formidable and experienced backline with 68 test cap Tamura at flyhalf, and a centre pairing of Harumichi Tatekawa and Timothy Lafaele, with 55 and 27 test caps respectively.

In the forwards, Brave Blossoms Rugby World Cup 2019 team member, Wimpie van der Walt, who is coming back into contention for national team selection following a long-term injury layover, has been selected in the second row. Adding to the Tongan flavour of the match, the Emerging Blossoms have also named backrow forwards Sione Lavemai and Tevita Tatafu, and centre Sione Teaupa, all three of whom share Tongan heritage.
The Emerging Blossoms will be coached by Shizuoka Blue Revs Director of Rugby, Takanobu Horikawa.
TEAM LIST
| | | |
| --- | --- | --- |
| No. | Name | Team |
| 1 | Shogo MIURA | TOYOTA VERBLITZ |
| 2 | Kosuke HORIKOSHI | TOKYO SUNTORY SUNGOLIATH |
| 3 | Shunsuke ASAOKA | TOYOTA VERBLITZ |
| 4 | Wimpie VANDERWALT | NTT DOCOMO RED HURRICANES Osaka |
| 5 | Takayasu TSUJI | TOKYO SUNTORY SUNGOLIATH |
| 6 | Sione LAVEMAI | TOSHIBA BRAVE LUPUS TOKYO |
| 7 | Naoto SHIMADA | YOKOHAMA CANON EAGLES |
| 8 | Jose SERU | HANAZONO KINTETSU LINERS |
| 9 | Kaito SHIGENO | TOYOTA VERBLITZ |
| 10 | Yu TAMURA | YOKOHAMA CANON EAGLES |
| 11 | Koga NEZUKA | Kubota Spears Funabashi TOKYO-BAY |
| 12 | Harumichi TATEKAWA | Kubota Spears Funabashi TOKYO-BAY |
| 13 | Timothy LAFAELE | KOBELCO KOBE STEELERS |
| 14 | Koki TAKEYAMA | SAITAMA Panasonic WILD KNIGHTS |
| 15 | Seiya OZAKI | TOKYO SUNTORY SUNGOLIATH |
| 16 | Shunta NAKAMURA | TOKYO SUNTORY SUNGOLIATH |
| 17 | Kota KAISHI | Kubota Spears Funabashi TOKYO-BAY |
| 18 | Rento TSUKAYAMA | YOKOHAMA CANON EAGLES |
| 19 | Daichi AKIYAMA | TOYOTA VERBLITZ |
| 20 | Yuya ODO | SHIZUOKA BlueRevs |
| 21 | Koji IINO | TOKYO SUNTORY SUNGOLIATH |
| 22 | Tevita TATAFU | TOKYO SUNTORY SUNGOLIATH |
| 23 | Taiki KOYAMA | SAITAMA Panasonic WILD KNIGHTS |
| 24 | Taira MAIN | RICOH BlackRams Tokyo |
| 25 | Sione TEAUPA | Kubota Spears Funabashi TOKYO-BAY |