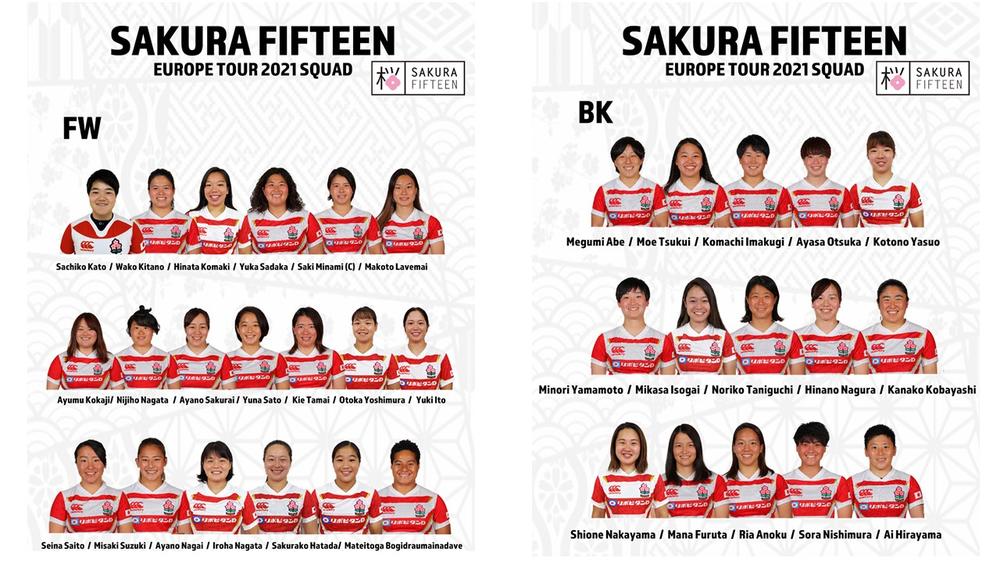 Sakura Fifteen Squad Announced for European Tour
The Japan Rugby Football Union is delighted to announce the Japan Women's National Team squad for their upcoming tour to Europe.
Captained by prop-forward Saki Minami, the Sakura Fifteen 34-player squad comprises 19 forwards and 15 backs. The tour will see the Sakura Fifteen take on Wales in Cardiff on November 7, Scotland in Edinburgh on November 14, and Ireland in Dublin on November 20. The tour marks a welcome return to international rugby for the Sakura Fifteen, with the Wales match being their first international test match since 2019, due to the disruption caused by the Covid-19 pandemic.
Members:
| | | | | | | |
| --- | --- | --- | --- | --- | --- | --- |
| Name | position | DOB | hieght | weight | club team | caps |
| Megumi ABE | SH | 1998/04/28 | 147 | 53 | ARUKAS QUEEN KUMAGAYA | 2 |
| Ria ANOKU | FB | 1996/10/02 | 160 | 57 | MIE WOMEN'S RUGBY FOOTBALL CLUB PEARLS | 2 |
| Mikasa ISOGAI | WTB | 1995/11/12 | 165 | 61 | Nagato Blue Angels | 0 |
| Yuki ITO | BR | 1996/10/24 | 163 | 64 | MIE WOMEN'S RUGBY FOOTBALL CLUB PEARLS | 5 |
| Komachi IMAKUGI | SO | 2002/01/06 | 157 | 56 | ARUKAS QUEEN KUMAGAYA /Rissho Univ. | 2 |
| Ayasa OTSUKA | SO | 1999/05/05 | 163 | 60 | RKU GRACE | 2 |
| Sachiko KATO | PR | 2000/02/19 | 164 | 78 | Exeter Chiefs Women | 6 |
| Wako KITANO | PR | 1999/09/08 | 166 | 79 | RKU GRACE | 2 |
| Ayumu KOKAJI | HO | 2000/11/24 | 160 | 80 | Tokyo Sankyu Phoenix | 3 |
| Kanako KOBAYASHI | CTB | 1998/11/13 | 162 | 70 | Exeter Chiefs Women | 2 |
| Hinata KOMAKI | PR | 2001/05/09 | 166 | 75 | Nippon Sport Science Univ. | 0 |
| Seina SAITO | BR | 1992/05/30 | 164 | 67 | MIE WOMEN'S RUGBY FOOTBALL CLUB PEARLS | 23 |
| Ayano SAKURAI | LO | 1996/04/15 | 167 | 72 | YOKOGAWA Musashino Artemi-Stars | 15 |
| Yuka SADAKA | PR | 1994/11/02 | 167 | 91 | Nagoya Ladies R.F.C. | 5 |
| Yuna SATO | LO | 1998/09/11 | 170 | 75 | Tokyo Sankyu Phoenix | 2 |
| Misaki SUZUKI | BR | 1992/04/09 | 164 | 66 | Tokyo Sankyu Phoenix | 23 |
| Noriko TANIGUCHI | WTB | 1992/09/07 | 166 | 66 | ARUKAS QUEEN KUMAGAYA | 5 |
| Kie TAMAI | LO | 1992/10/24 | 168 | 76 | MIE WOMEN'S RUGBY FOOTBALL CLUB PEARLS | 4 |
| Moe TSUKUI | SH | 2000/03/28 | 153 | 53 | YOKOGAWA Musashino Artemi-Stars /Aoyama Gakuin Univ. | 13 |
| Shione NAKAYAMA | CTB | 1999/01/18 | 167 | 70 | YOKOGAWA Musashino Artemi-Stars | 2 |
| Ayano NAGAI | BR | 1997/10/14 | 169 | 86 | YOKOHAMA TKM | 2 |
| Iroha NAGATA | BR | 1998/12/21 | 167 | 70 | ARUKAS QUEEN KUMAGAYA | 7 |
| Nijiho NAGATA | HO | 2000/12/06 | 163 | 77 | International Budo Univ. | 0 |
| Hinano NAGURA | WTB | 1997/03/22 | 170 | 71 | YOKOGAWA Musashino Artemi-Stars | 2 |
| Sora NISHIMURA | FB | 2000/09/29 | 167 | 67 | ARUKAS QUEEN KUMAGAYA/ Rissho Univ. | 0 |
| Sakurako HATADA | BR | 2003/05/08 | 161 | 65 | Chikushi HS /Fukuoka Ladies | 0 |
| Ai HIRAYAMA | FB | 1992/05/07 | 156 | 61 | JSDF Physical Training School | 2 |
| Mana FURUTA | CTB | 1997/11/16 | 167 | 68 | Tokyo Sankyu Phoenix | 6 |
| Mateitoga BOGIDRAUMAINADAVE | BR | 1984/06/06 | 170 | 96 | MIE WOMEN'S RUGBY FOOTBALL CLUB PEARLS | 11 |
| Saki MINAMI | PR | 1995/11/18 | 163 | 72 | YOKOGAWA Musashino Artemi-Stars | 16 |
| Kotono YASUO | SO | 2001/10/02 | 157 | 61 | ARUKAS QUEEN KUMAGAYA/ Rissho Univ. | 0 |
| Minori YAMAMOTO | SO | 1996/12/09 | 168 | 72 | Worcester Warriors Women | 14 |
| Otoka YOSHIMURA | LO | 2001/05/15 | 175 | 83 | ARUKAS QUEEN KUMAGAYA /Rissho Univ. | 0 |
| Makoto LAVEMAI | PR | 1997/07/02 | 164 | 67 | YOKOGAWA Musashino Artemi-Stars | 9 |