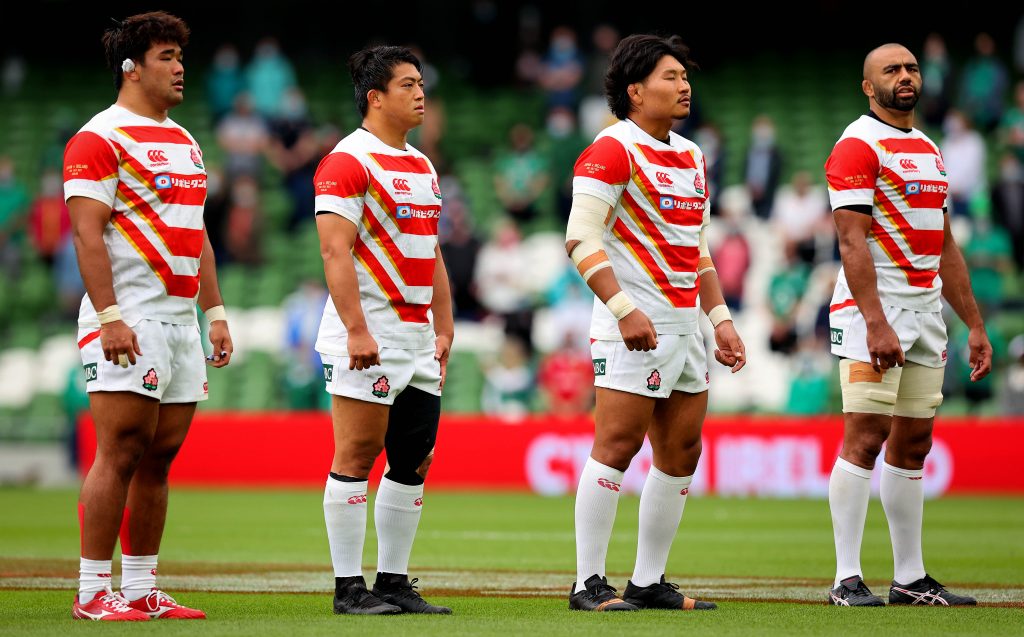 Brave Blossoms Training Squad Announced
The Japan Rugby Football Union is delighted to announce the Japan Men's National Team Training Squad for the Brave Blossoms' upcoming autumn test matches.
The 44 player squad will go into camp in Miyazaki, and then Oita, on Japan's southern island of Kyushu, before the match against Wallabies in Oita on October 23. The team will then head to Europe to take on Ireland in Dublin on November 6, Portugal in Lisbon on November 13, and finally Scotland in Edinburgh on November 20.
Brave Blossoms Head Coach Jamie Joseph commented:
"I'm delighted to announce this Brave Blossoms' Training squad as we prepare for our upcoming autumn fixtures. The squad members were put on training programs for the summer months, to be in the best possible condition for the upcoming training camps, and all the players have done extremely well in preparing themselves. Having played together on tour earlier in the year, there is now a huge sense of anticipation and excitement among the team as we look ahead to our upcoming matches.
This squad brings together a solid combination of youth and experience, with strength and depth right across the group, with several new young players who will assemble with the team for the first time. We consider this group of men as players with potential, that we would like to work with for the future of Japanese rugby. It's possible that the same players may be selected in the final National squad.
​
The coming matches will see us take on some tough opposition, both at home and away in Europe. Playing the world's best teams consistently is the preparation we need as we look towards France 2023."​
Forwards
| | | |
| --- | --- | --- |
| Position | Name | Club Team |
| PR | Keita INAGAKI | SAITAMA Panasonic WILD KNIGHTS |
| PR | Asaeli Ai VALU | SAITAMA Panasonic WILD KNIGHTS |
| PR | Shinnosuke KAKINAGA | TOKYO SUNTORY SUNGOLIATH |
| PR | Jiwon GU | KOBELCO KOBE STEELERS |
| PR | Isileli NAKAJIMA | KOBELCO KOBE STEELERS |
| PR | Craig MILLAR | SAITAMA Panasonic WILD KNIGHTS |
| PR | Yukio MORIKAWA | TOKYO SUNTORY SUNGOLIATH |
| HO | Atsushi SAKATE | SAITAMA Panasonic WILD KNIGHTS |
| HO | Yusuke NIWAI | YOKOHAMA CANON EAGLES |
| HO | Kosuke HORIKOSHI | TOKYO SUNTORY SUNGOLIATH |
| LO | Wimpie VAN DER WALT | NTTdocomo RedHurricanes Osaka |
| LO | James MOORE | NTTCommunications ShiningArcs TOKYO-BAY URAYASU |
| LO | Liaki MOLI | YOKOHAMA CANON EAGLES |
| FL | Naoki OZAWA | TOKYO SUNTORY SUNGOLIATH |
| FL | Ben GUNTER | SAITAMA Panasonic WILD KNIGHTS |
| FL | Jack CORNELSEN | SAITAMA Panasonic WILD KNIGHTS |
| FL | Yoshitaka TOKUNAGA | TOSHIBA BRAVE LUPUS TOKYO |
| FL | Ryota HASEGAWA | SAITAMA Panasonic WILD KNIGHTS |
| FL | Pieter LABUSCHAGNE | Kubota Spears Funabashi TOKYO-BAY |
| FL | Michael LEITCH | TOSHIBA BRAVE LUPUS TOKYO |
| No.8 | Tevita TATAFU | TOKYO SUNTORY SUNGOLIATH |
| No.8 | Amanaki Lelei MAFI | YOKOHAMA CANON EAGLES |
| No.8 | Kazuki HIMENO | TOYOTA VERBLITZ |
Backs
| | | |
| --- | --- | --- |
| Position | Name | Club Team |
| SH | Koki ARAI | YOKOHAMA CANON EAGLES |
| SH | Naoto SAITO | TOKYO SUNTORY SUNGOLIATH |
| SH | Kaito SHIGENO | TOYOTA VERBLITZ |
| SH | Yutaka NAGARE | TOKYO SUNTORY SUNGOLIATH |
| SO | Yu TAMURA | YOKOHAMA CANON EAGLES |
| SO | Rikiya MATSUDA | SAITAMA Panasonic WILD KNIGHTS |
| WTB | Taichi TAKAHASHI | TOYOTA VERBLITZ |
| WTB | Jone NAIKABULA | TOSHIBA BRAVE LUPUS TOKYO |
| WTB | Siosaia FIFITA | HANAZONO KINTETSU LINERS |
| WTB | Lomano Lava LEMEKI | NEC GREEN ROCKETS TOKATSU |
| WTB/FB | Semisi MASIREWA | HANAZONO KINTETSU LINERS |
| CTB | Shane GATES | NTTCommunications ShiningArcs TOKYO-BAY URAYASU |
| CTB | Ryoto NAKAMURA | TOKYO SUNTORY SUNGOLIATH |
| CTB | Timothy LAFAELE | KOBELCO KOBE STEELERS |
| CTB | Dylan RILEY | SAITAMA Panasonic WILD KNIGHTS |
| FB | Ryohei YAMANAKA | KOBELCO KOBE STEELERS |
National Development Squad
| | | |
| --- | --- | --- |
| Position | Name | Club Team |
| PR | Shunsuke ASAOKA | TOYOTA VERBLITZ |
| HO | Hinata TAKEI | RICOH BlackRams Tokyo |
| LO/FL | Warner DEARNS | TOSHIBA BRAVE LUPUS TOKYO |
| FL/No.8 | Shota FUKUI | SAITAMA Panasonic WILD KNIGHTS |
| WTB | Shogo NAKANO | TOKYO SUNTORY SUNGOLIATH |