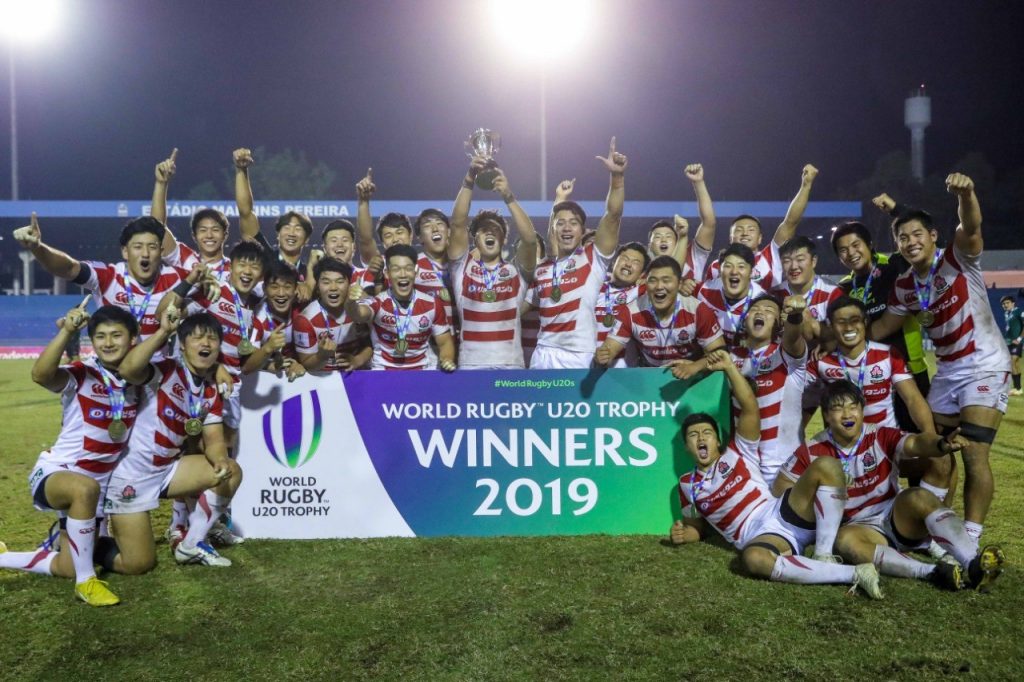 World Rugby U20 Trophy 2019: Japan U20 Beat Portugal U20 in Dramatic Final to Win Trophy
In the final of the 2019 World Rugby Under-20 Trophy in Sao Jose dos Campos, Brazil, Japan Under-20 beat Portugal Under-20 35-34.
The win sees Japan Under-20 promoted to the 2020 World Rugby Under-20 Championship.
Converted tries to back-rowers Takamasa Maruo and Halatoa Vailea got Japan Under-20 out to a 14-0 lead after ten minutes of play. However, Portugal Under-20 fought back with tries to centre Rodrigo Marta, prop David Costa and wing Raffaele Storti pushing the Europeans ahead 21-14 at the break. The Japanese increased the pressure on themselves late in the first half with two yellow cards resulting in them starting the second stanza with only 13 players on the field.
A penalty to Jeronimo Portela furthered the lead to 24-14 early in the second half, before the Japanese started their fightback. A converted try to hooker Mamoru Harada made it 24-21, but Portugal extended their lead to 29-21 when Storti crossed for his second five pointer. A penalty try awarded to Japan narrowed the gap to one point at 29-28, but once again, Portugal crept ahead 34-28 with a try to left wing Francisco Salgado. With time ticking down, fullback Ryosuke Kawase well and truly made up for the yellow card he received in the first half with a late try. Fukuyama slotted the conversion to give Japan Under-20 the dramatic win.
Japan U20 35 d Portugal U20 34
Date: Sunday, 21 July 2019
Venue: Estadio Martins Pereira, Sao Jose dos Campos
Kick-off: 19:00 (+1, 07:00 JST)
Halftime: Japan U20 14 – Portugal U20 21
Japan U20 35 – Tries: Halatoa Vailea, Ryosuke Kawase, Mamoru Harada, Takamasa Maruo and penalty try; Conversions: Ryuto Fukuyama 4 d.
Portugal U20 34 – Tries: Rodrigo Marta, David Costa, Raffaele Storti 2 and Francisco Salgado; Conversions: Jeronimo Portela 3; Penalty: Jeronimo Portela.
Japan U20s: 1- Yota Kamimori, 2- Mamoru Harada, 3- Sho Maeda, 4- Shu Yamamoto, 5- Ryusei Koike, 6- Halatoa Vailea, 7- Shota Fukui (c), 8- Takamasa Maruo, 9- Kaisei Tamura, 10- Ryuto Fukuyama, 11- Futo Yamaguchi, 12- Taihei Kusaka, 13- Tomoki Osada, 14- Yuichiro Wada and 15- Ryosuke Kawase. Reserves: 16- Daiki Nishiyama, 17- Gun Tajima, 18- Shohei Tsujimura, 19- Terutaka Oka, 20- Koki Matsumoto, 21- Akito Okui, 22- Hayato Fukunishi, 23- Ryota Tomoike, 24- Takumi Aoki, 25- Moeki Fukushi and 26- Keita Inayoshi. Coach: Yoshitake Mizuma.
NB: Teams were allowed to list eleven reserves but only eight can be used.