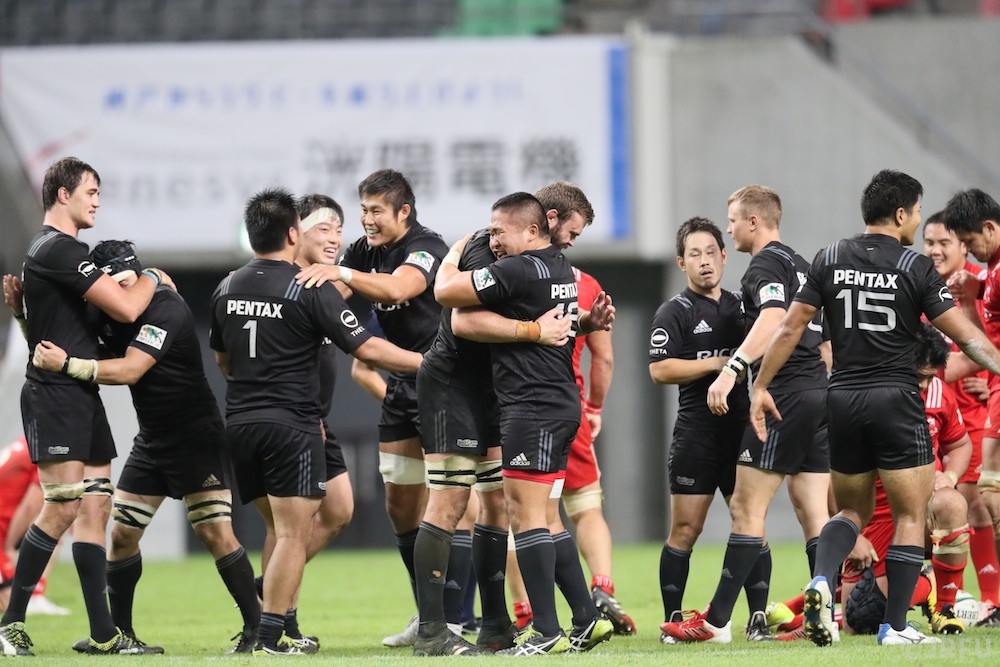 Ricoh Hand Kobe Their 3rd Straight Loss
KOBE, Japan (Oct. 22) – Ricoh Black Rams and NTT Docomo Red Hurricanes both won Sunday as the Japan Rugby Top League heads into a 5-week break during which Japan will play three tests and a warm-up game against a World XV.
Ricoh handed Kobe Kobelco Steelers their third straight loss as they won 15-10 under the roof at Noevir Stadium.
Yusuke Matsumoto and  Daisuke Hamano both crossed the chalk for the Black Rams with Tamati Ellison adding a penalty goal and conversion.
Kobe's two tries both came from rookie centre Issei Shige.
The victory sees Ricoh finish the first 9 Rounds in third place in the White Conference with 29 points, 15 behind leaders Panasonic Wild Knights, six behind second-place Yamaha Jubilo and eight ahead of NEC Green Rockets.
Kobe, who opened the season with six straight wins, are second in the Red Conference on 29 points, nine behind leaders Suntory Sungoliath and one ahead of third-place Toyota Verblitz.
In the first game of the doubleheader, NTT Docomo Red Hurricanes beat Canon Eagles 36-14 with Riaan Viljoen contributing nine points through three conversions and a penalty goal.
The victory sees Docomo in sixth place in the Red Conference with 17 points, while Canon are fifth in the White Conference with 13 points.
This season the league has been split into two conferences.
Teams play the seven other sides in their conference plus six from the other group to determine the rankings for the end of season playoffs, with the top four sides competing for the league title, which doubles as the All-Japan Championship.
League action resumes on Dec. 2 with two games with a further six slated for Dec. 3.