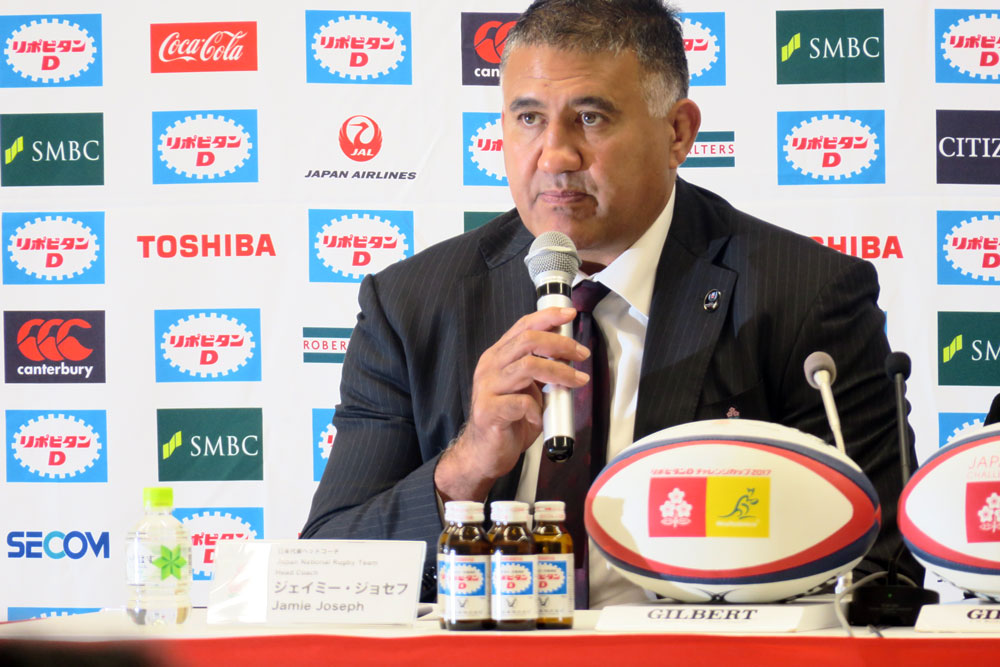 Joseph Names Squad for Autumn Tests
TOKYO (Oct.19 ) – Head coach Jamie Joseph named a 34-man squad Thursday for Japan's four games beginning Oct. 28.
The Brave Blossoms take on a World XV at Fukuoka's Level 5 Stadium on Oct. 28. They then play Australia on Nov. 4 at Yokohama's Nissan Stadium before flying to France where they will play Tonga on Nov. 18 at Stade Ernest Wallon in Toulouse and France at the U Arena in Nanterre, on the outskirts of Paris on Nov. 25.
The squad contains six uncapped players and will be led by Michael Leitch.
"I am excited and happy to be appointed as a captain but feel responsibly at the same time," Leitch said.
"I am excited because there are a lot of good leaders within the team and I will do my best. Rugby World Cup 2019 is two years away.  There is still plenty of work to be done to reach our goals. We have a big and exciting challenge ahead of us and we look forward to your support throughout our journey to the World Cup."
Five of the six uncapped players are forwards with props Koo Ji Won and Asaeli Ai Valu, lock/flankers Wimpie van der Walt and Kazuki Himeno and No. 8 Fetuani Lautaimi all in line to win their first caps.
The one uncapped back is centre Sione Teaupa.
"Outside the specialist positions of front row and halfback, I am looking for players who can play a number of positions," Joseph said.
"In a World Cup you can suffer from injuries so it is a real advantage and I have selected the team with that in mind."
Male Sa'u is recalled to national colours in part because injury means co-captain Harumichi Tatekawa will miss the first two games, while Olympian Lomano Lava Lemeki is also back after recovering from injury.
Ryuji Noguchi, Rikiya Matsuda and Ryoto Nakamura ensure there is plenty of youth in the backline, while wings Kenki Fukuoka and Akihito Yamada have been in sparkling form in the Japan Rugby Top League.
"We have a great balance of up-and-coming players and some very experienced international players." Joseph said.
"The caliber of the teams we are playing is very challenging but we are going in with a winning mindset."
---
■FW
| Position | Name | Club Team | Graduate | cm | kg | D/O/B | Caps |
| --- | --- | --- | --- | --- | --- | --- | --- |
| PR1 | Shintaro ISHIHARA | SUNTORY Sungoliath | Meiji Univ. | 181 | 105 | 1990/6/17 | 6 |
| PR1 | Keita INAGAKI | PANASONIC Wild Knights | Kanto Gakuin Univ. | 186 | 116 | 1990/6/2 | 16 |
| PR1 | Koki YAMAMOTO | YAMAHA Jubilo | Kinki Univ. | 181 | 118 | 1990/10/29 | 4 |
| HO | Atsushi SAKATE | PANASONIC Wild Knights | Teikyo Univ. | 180 | 104 | 1993/6/21 | 8 |
| HO | Takeshi HINO | YAMAHA Jubilo | Doshisha Univ. | 172 | 100 | 1990/1/20 | 4 |
| HO | Shota HORIE | PANASONIC Wild Knights | Teikyo Univ. | 180 | 104 | 1986/1/21 | 52 |
| PR3 | Takuma ASAHARA | TOSHIBA Brave Lupus | Hosei Univ. | 179 | 113 | 1987/9/7 | 8 |
| PR3 | Asaeli Ai VALU | PANASONIC Wild Knights | Saitama Institute of Technology Univ. | 187 | 115 | 1989/5/7 | – |
| PR3 | Jiwon KOO | HONDA Heat | Takushoku Univ. | 183 | 122 | 1994/7/20 | – |
| LO | Samuela ANISE | CANON Eagles | Fiji Institute of Technology | 198 | 118 | 1986/8/30 | 7 |
| LO | Wimpie VAN DER WALT | NTT DOCOMO Red Hurricanes | Nelspruit HS | 188 | 106 | 1989/1/6 | – |
| LO | Uwe HELU | YAMAHA Jubilo | Takushoku Univ. | 193 | 115 | 1990/7/12 | 6 |
| LO | Kotaro YATABE | PANASONIC Wild Knights | Kokushikan Univ. | 190 | 107 | 1986/7/29 | 15 |
| FL | Shunsuke NUNOMAKI | PANASONIC Wild Knights | Waseda Univ. | 178 | 96 | 1992/7/13 | 3 |
| FL | Kazuki HIMENO | TOYOTA Verblitz | Teikyo Univ. | 187 | 108 | 1994/7/27 | – |
| FL | Shuhei MATSUHASHI | RICOH Black Rams | Meiji Univ. | 180 | 99 | 1993/11/24 | 8 |
| FL | Michael LEITCH (Cap) | TOSHIBA Brave Lupus | Tokai Univ. | 189 | 105 | 1988/10/7 | 50 |
| No.8 | Amanaki Lelei MAFI | NTT COMMUNICATIONS Shining Arcs | Hanazono Univ. | 189 | 112 | 1990/1/11 | 16 |
| No.8 | Fetuani LAUTAIMI | TOYOTA Verblitz | Setsunan Univ. | 185 | 115 | 1992/10/21 | – |
■BK
| Position | Name | Club Team | Graduate | cm | kg | D/O/B | Caps |
| --- | --- | --- | --- | --- | --- | --- | --- |
| SH | Keisuke UCHIDA | PANASONIC Wild Knights | Univ. of Tsukuba | 179 | 86 | 1992/2/22 | 22 |
| SH | Fumiaki TANAKA | PANASONIC Wild Knights | Kyoto Sangyo Univ. | 166 | 72 | 1985/1/3 | 61 |
| SH | Yutaka NAGARE | SUNTORY Sungoliath | Teikyo Univ. | 166 | 71 | 1992/9/4 | 6 |
| SO | Yu TAMURA | CANON Eagles | Meiji Univ. | 181 | 91 | 1989/1/9 | 45 |
| SO | Rikiya MATSUDA | PANASONIC Wild Knights | Teikyo Univ. | 181 | 92 | 1994/5/3 | 9 |
| WTB | Male SAU | YAMAHA Jubilo | Tangaroa College | 184 | 98 | 1987/10/13 | 27 |
| WTB | Kenki FUKUOKA | PANASONIC Wild Knights | Univ. of Tsukuba | 175 | 83 | 1992/9/7 | 23 |
| WTB | Akihito YAMADA | PANASONIC Wild Knights | Keio Univ. | 182 | 88 | 1985/7/26 | 23 |
| WTB | Lomano Lava LEMEKI | HONDA Heat | Runcorn HS | 177 | 92 | 1989/1/20 | 2 |
| CTB | Harumichi TATEKAWA | KUBOTA Spears | Tenri Univ. | 180 | 95 | 1989/12/2 | 51 |
| CTB | Sione TEAUPA | KUBOTA Spears | Ryutsu Keizai Univ. | 183 | 99 | 1992/7/9 | – |
| CTB | Ryoto NAKAMURA | SUNTORY Sungoliath | Teikyo Univ. | 178 | 92 | 1991/6/3 | 11 |
| CTB | Timothy LAFAELE | COCA-COLA Red Sparks | Yamanashi Gakuin Univ. | 186 | 98 | 1991/8/19 | 5 |
| FB | Ryuji NOGUCHI | Tokai Univ. | Tokai Univ. Gyosei HS | 177 | 86 | 1995/7/15 | 11 |
| FB | Kotaro MATSUSHIMA | SUNTORY Sungoliath | Toin Gakuen HS | 178 | 87 | 1993/2/26 | 25 |