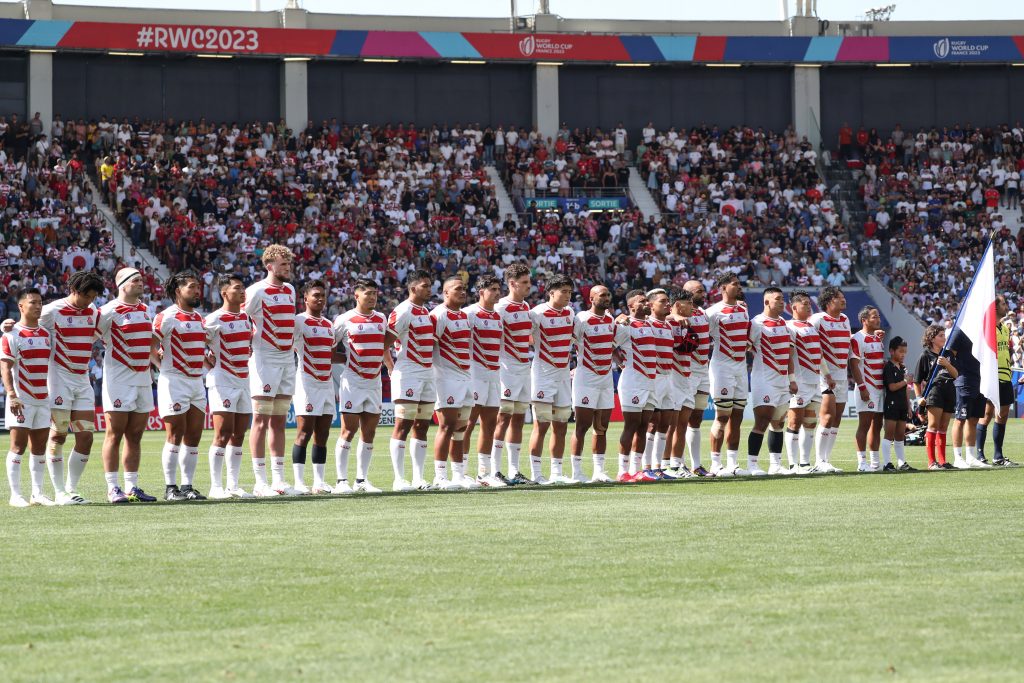 Brave Blossoms Side Named Ahead of Massive England Clash
Following their 42-12 win over Chile, Japan now turn their attention to England ahead of their second Pool D match at Stade de Nice, this coming Sunday 17 September at 21:00 French local time. With England having also won their opening fixture, beating Argentina 27-10 in Marseille, they come into the match with a renewed sense of belief and will provide a tough challenge for the Brave Blossoms. Both sides will be hoping to build on their opening match victories as they look advance through Pool D.
Head Coach, Jamie Joseph has named a side with a backline near identical to the one that dismantled Chile in Toulouse. While in the forwards, a reshuffled pack sees the return of some much-needed experience as Japan prepares to face a strong English pack. Captain, Kazuki Himeno returns to the side after being a late injury withdrawal from the Chile match, while experienced backrower Pieter 'Lappies' Labuschagne returns following his two-match suspension.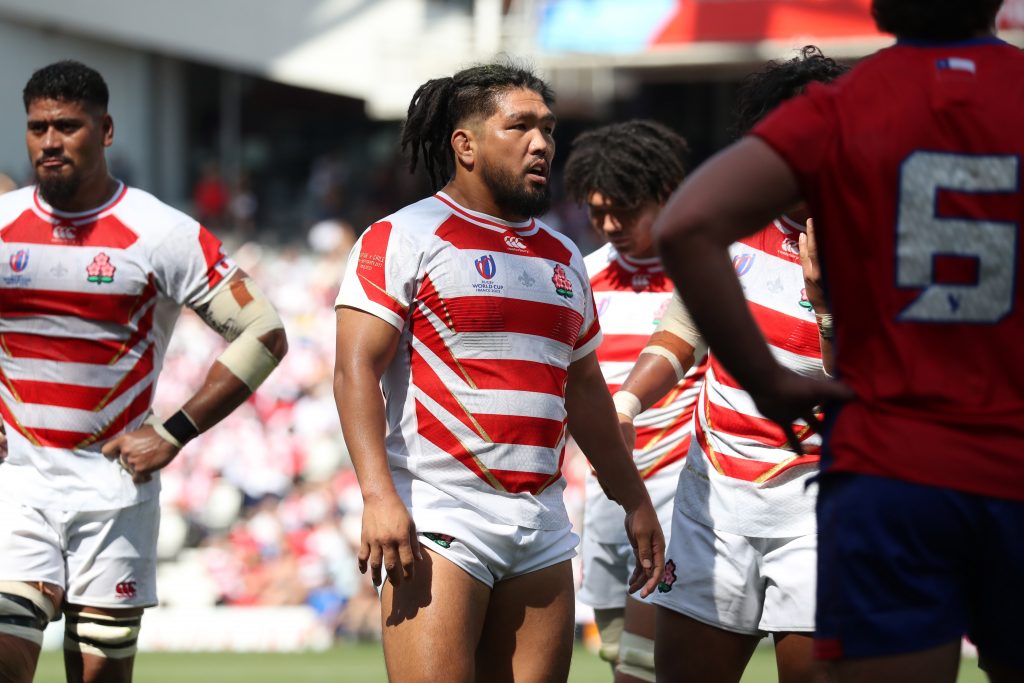 In the front row, loosehead prop, Keita Inagaki packs down once again opposite Jiwon Gu at tighthead. At hooker, Atsushi Sakate makes a direct swap with the veteran Shota Horie, who moves from the bench to starting rake. Sakate is joined on the bench by reserve props, Craig Millar and Asaeli Valu.
With the return of Himeno to number-eight, the versatile and ever-reliable Jack Cornelsen moves back into the second-row alongside try-scoring sensation, Amato Fakatava. The barnstorming lock and backrower, who burst onto the international scene this year, will be looking to add to his four test tries from just four test match appearances for Japan. Lappies Labuschagne comes into the team and slots back into openside, while the indomitable Michael Leitch, who scored a try against Chile, rounds of the starting pack at blindside.
On the bench, Warner Dearns, also having scored a try in the last match retains his position as reserve lock, while Kanji Shimokawa, who started last week at number-seven moves to the bench as the reserve backrow forward.
In the backs, Yutake Nagare and playmaker, Rikiya Matsuda will once again take to the field as the starting halves combination, at numbers nine and ten respectively. Matsuda, who put in an elite kicking display last weekend, with six conversations from six attempts, will be looking for another strong performance with the boot.
In the midfield, last week's try scorer, Ryoto Nakamura retains his starting role at inside-centre, while Tomoki Osada has been promoted from the bench to starting outside-centre at the expense of Dylan Riley who starts this weekend from the pine.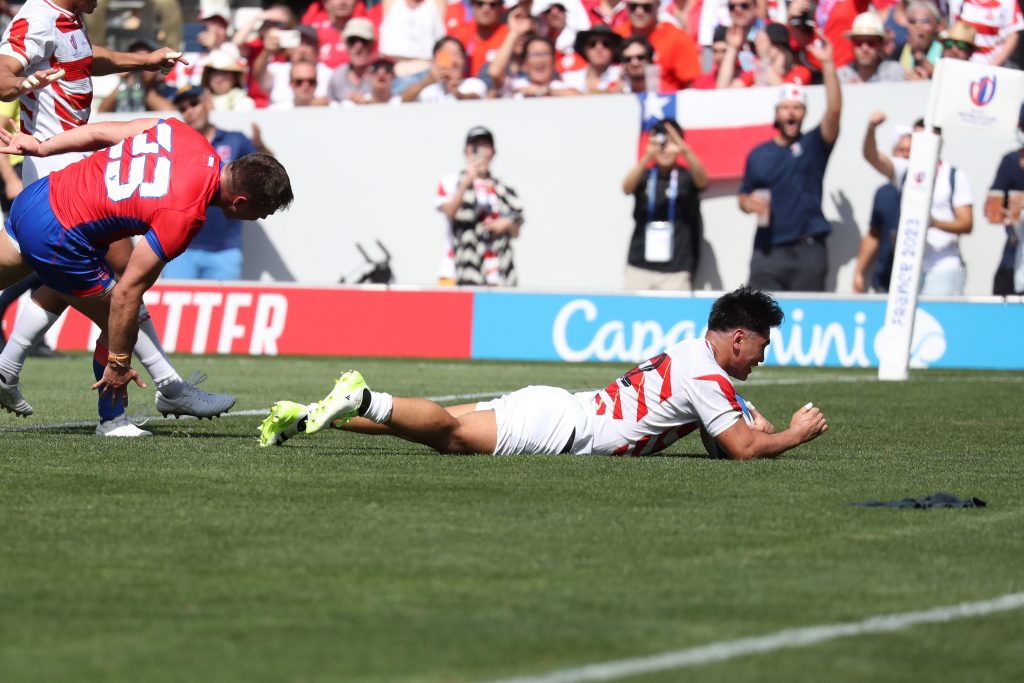 The outside backs remain unchanged with Jone Naikabula, who scored a try against Chile, and Kotaro Matsushima on the left and right wings respectively, and Semisi Masiwera once again starting at fullback. The remaining backline reserves consist of scrumhalf, Naoto Saito and the versatile Lomano Lemeki who covers every position across the backline.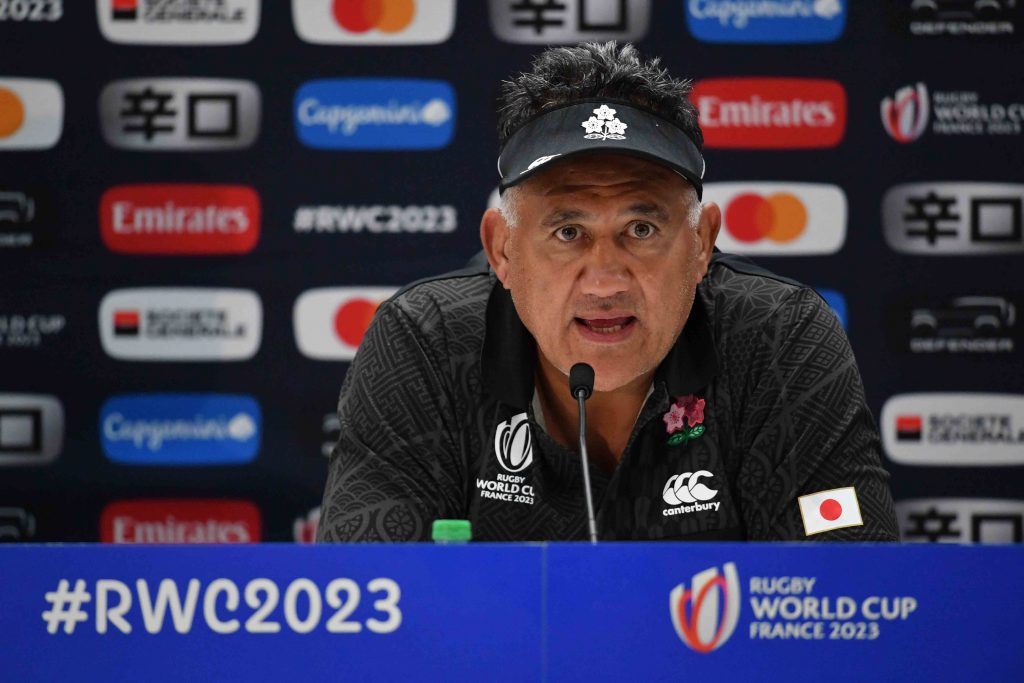 Commenting on the Brave Blossoms' team selection, Japan Head Coach Jamie Joseph said:
"England played very well against Argentina, controlling the whole game through their pressure. Argentina didn't really get a chance at all, which was England at its best. So we've seen them at their best in the last match they played, but prior to that we've seen that they also have a few weaknesses. If we can find them, then we can create some opportunities for us.
"England play differently to everybody else at the World Cup. They control the game very well, through their kicking game and set piece. We're expecting a lot of high balls, which is a consistent part of their game in putting pressure on the opposition through their kicking game.
"In the forwards we've got some experience coming in with Lappies, who is the type of player we need for this match against England. Fakatava is back to his very best, scoring two tries last week. Every time he's put the Blossoms jersey on, he's been one of our best players. Shota is back in the front row, Jiwon Gu is ready to go, and we have Warner coming off the bench. We like our forward pack and I think it's the best we can name. But we understand that that is where England will come at us as that's how they play against every team. It's going to be a hefty challenge for us."
With a 21:00 local kick-off in France on Sunday night, it will be an early 04:00 start for fans in Japan on Monday morning. The match will be broadcast live, nationwide on Nippon TV, Hulu, NHK and J Sports One. It will also be available for streaming and catch-up through J Sports On Demand.
Following the match against England, the Brave Blossoms return to Toulouse to take on Samoa on Thursday, 28 September at Stadium de Toulouse. Japan's final pool match will be against Argentina on Sunday, 8 October at Stade de la Beaujoire, in Nantes.
TEAM LIST
| | | | | | | |
| --- | --- | --- | --- | --- | --- | --- |
| No. | Name | Team | Height | Weight | Date of Birth | Caps |
| 1 | Keita INAGAKI | SAITAMA Panasonic WILD KNIGHTS | 1900/7/4 | 116 | 1990/6/2 | 50 |
| 2 | Shota HORIE | SAITAMA Panasonic WILD KNIGHTS | 1900/6/28 | 104 | 1986/1/21 | 73 |
| 3 | Jiwon GU | KOBELCO KOBE STEELERS | 1900/7/1 | 117 | 1994/7/20 | 26 |
| 4 | Jack CORNELSEN | SAITAMA Panasonic WILD KNIGHTS | 1900/7/13 | 110 | 1994/10/13 | 17 |
| 5 | Amato FAKATAVA | RICOH BLACKRAMS TOKYO | 1900/7/13 | 118 | 1994/12/7 | 4 |
| 6 | Michael LEITCH | TOSHIBA BRAVE LUPUS TOKYO | 1900/7/7 | 113 | 1988/10/7 | 81 |
| 7 | Pieter LABUSCHAGNE | Kubota Spears Funabashi TOKYO-BAY | 189 | 106 | 1989/1/11 | 16 |
| 8 | Kazuki HIMENO | TOYOTA VERBLITZ | 1900/7/5 | 108 | 1994/7/27 | 30 |
| 9 | Yutaka NAGARE | TOKYO SUNTORY SUNGOLIATH | 1900/6/14 | 75 | 1992/9/4 | 35 |
| 10 | Rikiya MATSUDA | SAITAMA Panasonic WILD KNIGHTS | 1900/6/29 | 92 | 1994/5/3 | 34 |
| 11 | Jone NAIKABULA | TOSHIBA BRAVE LUPUS TOKYO | 1900/6/25 | 95 | 1994/4/12 | 5 |
| 12 | Ryoto NAKAMURA | TOKYO SUNTORY SUNGOLIATH | 1900/6/30 | 92 | 1991/6/3 | 36 |
| 13 | Tomoki OSADA | SAITAMA Panasonic WILD KNIGHTS | 1900/6/27 | 90 | 1999/11/25 | 5 |
| 14 | Kotaro MATSUSHIMA | TOKYO SUNTORY SUNGOLIATH | 1900/6/26 | 88 | 1993/2/26 | 52 |
| 15 | Semisi MASIREWA | HANAZONO KINTETSU LINERS | 1900/6/29 | 93 | 1992/6/9 | 6 |
| 16 | Atsushi SAKATE | SAITAMA Panasonic WILD KNIGHTS | 1900/6/28 | 104 | 1993/6/21 | 38 |
| 17 | Craig MILLAR | SAITAMA Panasonic WILD KNIGHTS | 1900/7/4 | 116 | 1990/10/29 | 14 |
| 18 | Asaeli Ai VALU | SAITAMA Panasonic WILD KNIGHTS | 1900/7/5 | 115 | 1989/5/7 | 27 |
| 19 | Warner DEARNS | TOSHIBA BRAVE LUPUS TOKYO | 1900/7/19 | 117 | 2002/4/11 | 8 |
| 20 | Kanji SHIMOKAWA | TOKYO SUNTORY SUNGOLIATH | 1900/7/6 | 105 | 1999/1/17 | 3 |
| 21 | Naoto SAITO | TOKYO SUNTORY SUNGOLIATH | 1900/6/13 | 73 | 1997/8/26 | 16 |
| 22 | Dylan RILEY | SAITAMA Panasonic WILD KNIGHTS | 1900/7/5 | 102 | 1997/5/2 | 15 |
| 23 | Lomano Lava LEMEKI | NEC GREEN ROCKETS TOKATSU | 1900/6/26 | 96 | 1989/1/20 | 17 |
---

SUBSCRIBE JAPAN RUGBY NEWS