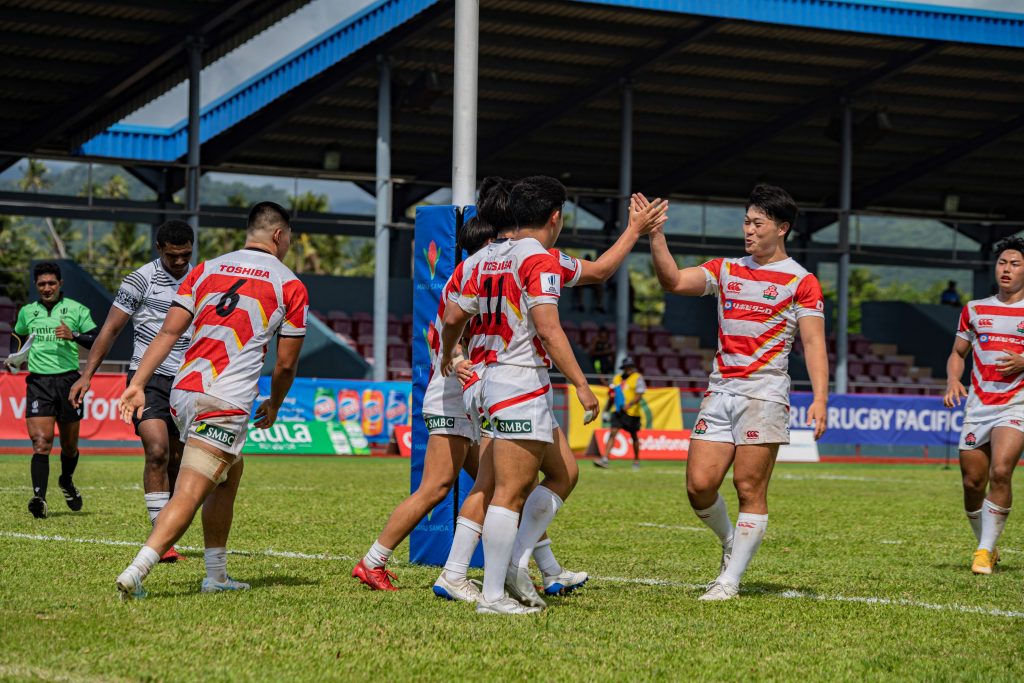 Japan U20 Team Announced to Take on New Zealand Universities in Tokyo
Japan U20 Coach Rob Penney has announced his Japan U20 team to take on New Zealand Universities at Chichibunomiya Rugby Stadium in Tokyo on Saturday, 27 May. With the World Rugby U20 Championship taking place this year in South Africa from 24 June to 14 July, the match against a side selected from the best university players in New Zealand, will be another huge step in their tournament preparations.
Captained by fullback Yoshiki Omachi from Teikyo University, who led the team on their recent tour to Samoa where they played Fiji, Tonga and Samoa in the 2023 Pacific Challenge, the team will be looking to play clinical, fast paced, attacking rugby in front of their home crowd.
TEAM LIST
| | | | | | |
| --- | --- | --- | --- | --- | --- |
| No. | Name | School | Height | Weight | DOB |
| 1 | Tomoki YUMBE | Kindai Univ. | 173 | 100 | 2003/7/4 |
| 2 | Kota NAGASHIMA | Doshisha Univ. | 175 | 102 | 2003/11/2 |
| 3 | Kosuke SUGIURA | Tokai Univ. | 177 | 110 | 2003/12/22 |
| 4 | Harry WILLARD | Durham Univ. | 190 | 110 | 2003/11/8 |
| 5 | Kantaro TAJIMA | Meiji Univ. | 195 | 98 | 2003/2/26 |
| 6 | Tenta KOBAYASHI | Kansei Gakuin Univ. | 185 | 100 | 2003/11/27 |
| 7 | Bunsuke KURITA | Waseda Univ. | 183 | 110 | 2003/12/18 |
| 8 | Taison MOGAMI | Meiji Univ. | 183 | 104 | 2003/10/14 |
| 9 | Asahi DOEI | Kyoto Sangyo Univ. | 170 | 70 | 2003/1/9 |
| 10 | Kanjiro NARAMOTO | Tsukuba Univ. | 177 | 84 | 2004/1/16 |
| 11 | Kosho MUTO | Kansei Gakuin Univ. | 174 | 82 | 2004/3/23 |
| 12 | Kengo NONAKA | Waseda Univ. | 181 | 93 | 2003/4/29 |
| 13 | Shota TAIRA | Meiji Univ. | 175 | 87 | 2003/11/18 |
| 14 | Renji OIKE | Ritsumeikan Univ. | 173 | 80 | 2003/12/5 |
| 15 | Yoshiki OMACHI (C) | Teikyo Univ. | 173 | 82 | 2004/1/23 |
| 16 | Takashi OMOTO | Ritsumeikan Univ. | 173 | 100 | 2003/4/25 |
| 17 | Hampei NISHINO | Meiji Univ. | 176 | 102 | 2003/5/22 |
| 18 | Sera HWANG | Kansei Gakuin Univ. | 180 | 110 | 2003/2/3 |
| 19 | Yuzuki SASAKI | Daito Bunka Univ. | 188 | 106 | 2003/2/19 |
| 20 | Koki MIYASHITA | Hosei Univ. | 185 | 100 | 2003/12/22 |
| 21 | Yutaro TAKAHASHI | Tsukuba Univ. | 172 | 76 | 2003/11/18 |
| 22 | Genki IKUTA | Teikyo Univ. | 170 | 81 | 2003/6/26 |
| 23 | Yoshitaka YAZAKI | Waseda Univ. | 180 | 84 | 2004/5/12 |