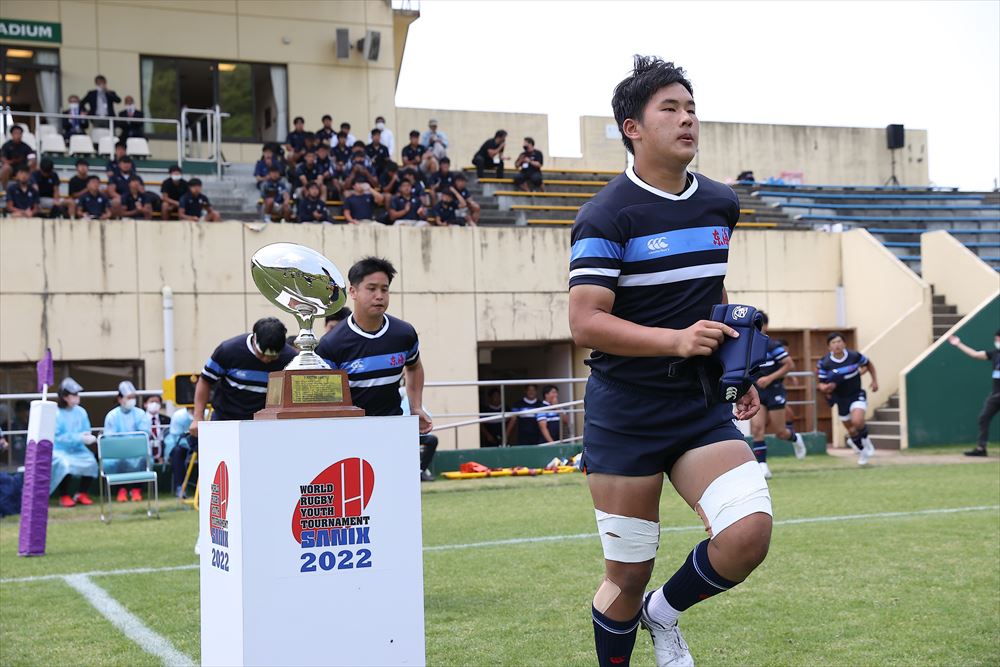 Renowned International High School Rugby Tournament Returns
The JRFU, in conjunction with the Sanix Sports Promotion Foundation, Global Arena, the Kyushu Rugby Football Union and Fukuoka Rugby Football Union is delighted to announce the return of the Sanix World Rugby Youth Tournament in 2023. This comes as welcome news following the cancellation of the event in 2020 and 2021, and the amended format of the tournament in 2022, which saw only Japanese teams compete, due to the impact of the global pandemic.
Played annually at the Global Arena sports complex in Munakata City, on Japan's southern island of Kyushu, the competition sees high school teams from around the world compete against a selection of local Japanese schools. Taking place during Japan's Golden Week holiday, this year's event will run from April 28th to May 5th. It will see 12 teams compete across five days of competition in Men's Fifteens and eight teams compete in a two-day Women's Sevens tournament on April 28 and 29.
The inaugural tournament in 2000 was the result of the vision of the late Shinichi Munemasa, the former President of Sanix Corporation, a leading Japanese company specialising in environmental management. A passionate rugby fan, Mr Munemasa believed in the unique power of sport to elevate the ambition and achievements of young people and to act as a cultural bridge among different nations. Through his inspiration and drive, the support of numerous sponsors, and with the dedication and hard work of hundreds of members of Japan's rugby family, the tournament has grown to become one of the world's great youth rugby tournaments.
While there is a strong focus on rugby, equal importance is placed on the off-field exchange among the teams. With the entire event taking place within the Global Arena complex and with all teams housed on-site, there is tremendous opportunity for interaction between the players off the pitch, during mealtimes and other social events.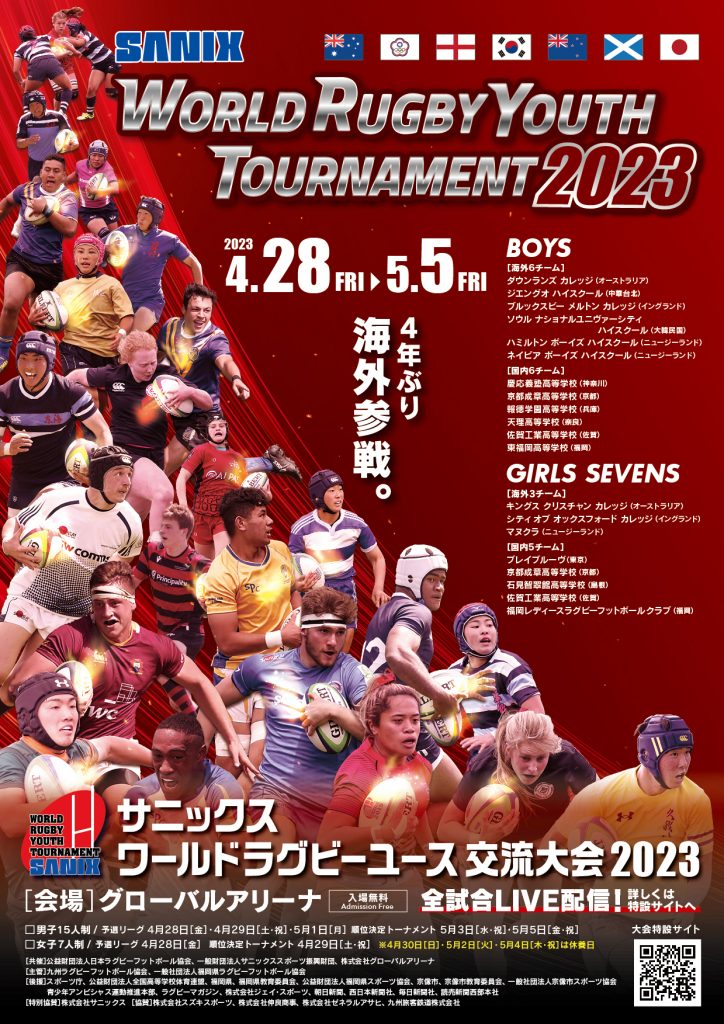 Throughout its history, the tournament has hosted many players who have gone on to play for their national teams including Japan's Timothy Lafaele, England's Jack Nowell, South Africa's JP Pietersen and New Zealand's Owen Franks, Colin Slade and Matt Todd. Schools from 20 nations have contested the tournament since 2000.
2023 Sanix World Rugby Youth Exchange Tournament – Participating Teams:
Men's Fifteens – 12 teams
International Teams (6)
Downlands College (Australia)
Jianguo High School (Chinese Taipei)
Brooksby Melton College (England)
Seoul National University High School (Korea)
Hamilton Boys High School (New Zealand)
Napier Boys High School (New Zealand)
Domestic Teams (6)
Keio Gijuku High School (Kanagawa Prefecture)
Kyoto Seisho High School (Kyoto Prefecture)
Houtoku Gakuen High School (Hyogo Prefecture)
Tenri High School (Nara Prefecture)
Saga Technical High School (Saga Prefecture)
Higashi Fukuoka High School (Fukuoka Prefecture)
Women's Sevens – Eight teams
International Teams (4)
King's Christian College (Australia)
City of Oxford College (England)
Manukura School (New Zealand)
Domestic Teams (4)
Brave Louve (Tokyo)
Kyoto Seisho High School (Kyoto Prefecture)
Iwami Chisuikan High School (Shimane Prefecture)
Saga Technical High School (Saga Prefecture)
Fukuoka Lady's Rugby Football Club (Fukuoka Prefecture)
Fans looking to watch the action can tune into a live stream at https://sanix-worldrugbyyouth.com/* and the competition will also be shown domestically in Japan on J SPORTS. For all match schedules and results, please check the 2023 Sanix World Rugby Youth Invitational Tournament official website at http://sanix-sports.info/rugby.
*The tournament website is available only in Japanese. To translate into the language of your choice, please open the URL and use the translation function of your web browser.