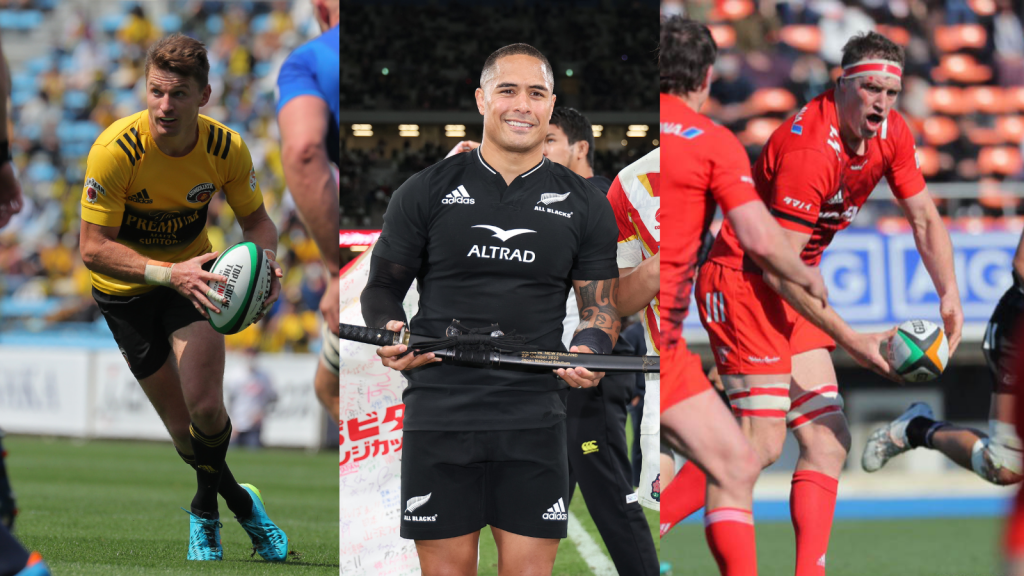 League One Continues to Attract Top International Talent
The elite club game in Japan has long been an attractive destination for top international talent, with players from around the world motivated by the experience of playing professional rugby in its unique environment and for the opportunity to spend time living and working in Japan. Legendary players such as Australia's George Smith, England's James Haskell, Shane Williams of Wales and the USA's Todd Clever have all played in Japan's Top League, the forerunner of today's Japan Rugby League One, while former All Black and Japan representative, and Brave Blossoms Head Coach, Jamie Joseph played six years of club rugby in Japan from 1995 until 2001.
In 2022, Japanese club rugby moved into its next phase of evolution with the inaugural season of Japan Rugby League One. Following the success of Rugby World Cup 2019, when all the eyes of the rugby world were cast firmly on Japan, the new league was set up with the ambition of becoming a world-class competition, known and loved around the world.
While seeking to keep its strong and unique Japanese culture and maintaining its important role of nurturing and developing the Japan national team, the league also recognised the importance of attracting the world's best rugby talent. Bringing many of rugby's most recognised players to League One has not only lifted the standard of play, it has also attracted new fans and increased the league's international flavour as it looks to broaden its profile in international markets
Currently, there are more than 50 capped international players spread across the 23 League One teams. This includes a strong South African contingent with stars like Faf de Klerk, Malcolm Marx, Lood de Jager, Franco Mostert, Pieter-Steph du Toit and Willie le Roux playing across a variety of clubs. There is a similarly large Australian group, including Marika Koroibete, Tom Banks, Rory Arnold, Sean McMahon and Samu Kerevi. New Zealand also has a strong contingent including Aaron Cruden, Ryan Crotty and Matt Todd. Other high-profile internationals include Argentina's Pablo Matera, Welsh internationals Hadleigh Parkes and Jake Ball, and Joe Launchbury, James Gaskell and Nathan Hughes from England.
A number of high-profile players have already announced that following this year's Rugby World Cup in France, they will be coming to play in Japan in the 2024 season. This includes legendary All Blacks Brodie Retallick, who will return to Kobelco Steelers where he played in 2020 and 2021 and Beauden Barrett who will join Toyota Verblitz, after having played for Suntory Sungoliath in 2021. Barrett will be joined at Verblitz by fellow All Black Aaron Smith, in his first stint playing club rugby outside New Zealand, while the All Blacks' incumbent flyhalf, Richie Mo'unga is also set to play club rugby abroad for the first time when he joins Toshiba Brave Lupus.
"Attracting elite international talent is a key pillar in our ongoing strategy to continually develop the quality and professionalism of League One so that we offer a world-class fan experience and a playing spectacle recognised around the world for its global appeal. This is an ongoing journey and we have made strong progress as we cross the halfway mark of our second season", commented Hajime Shoji, Chief Operating Officer of Japan Rugby League One. "These incredibly talented players, along with others who will be announced throughout the year, will play an important role in the development of our league. They will enjoy an experience of a lifetime, living and playing in Japan, while also delighting League One fans here in Japan and around the world."
Commenting on his impending return to Kobelco Steelers, All Blacks legend Brodie Retallick said, "I'm deeply honoured to be given the opportunity to return to Kobe and represent the team and company once again. Our previous experience of life in Kobe was really enjoyable for both myself and my family, and we are looking forward to experiencing even more Japanese culture upon our return."
🔥WELCOME BACK GUZZLER🔥
2023-2024シーズンの新加入選手が決定しましたのでお知らせいたします📢 https://t.co/1dcWXJa6w3

🟥Brodie Retallick 
(ブロディ・レタリック)
国籍:ニュージーランド🇳🇿   
ポジション:LO
身長/体重:204cm/121kg
代表歴:ニュージーランド代表(100CAPS) pic.twitter.com/lco2mlxfLp

— コベルコ神戸スティーラーズ (@kobe_steelers) February 8, 2023

 
In the announcement from Toyota Verblitz on the signing Aaron Smith and Beauden Barrett, Smith commented, "I'm really excited to have signed with Toyota Verblitz and can't wait to take to the field and meet the fans next season. I've loved my time in Japan when I've visited with the All Blacks and I'm excited that my family can now share these experiences with me."
✨WELCOME to TOYOTA VERBLITZ✨

⭐️ アーロン・スミス
(Aaron Smith)

ポジション:SH
身長/体重:171cm/83kg
主な経歴:
New ZealandCap:114
New Zealand 2012 ‐Present
Highlanders 2011 - Present
Manawatu 2008 - Present

🗣コメントhttps://t.co/IV1lyZb9pm#トヨタヴェルブリッツ pic.twitter.com/02q6Pa4uxV

— トヨタヴェルブリッツ TOYOTA VERBLITZ (@toyotaverblitz) February 7, 2023

 
Beauden Barrett also commented, "My family and I are excited to be going back to Japan, to play for Toyota Verblitz. I thoroughly enjoyed my stint in Japan back in 2021 and learnt a lot both on and off the field. I'm looking forward to reconnecting with Toyota's Director of Rugby, Sir Steve Hansen and playing alongside Aaron Smith."
✨WELCOME to TOYOTA VERBLITZ✨

⭐️ ボーデン・バレット
(Beauden Barrett)

ポジション:SO/FB
身長/体重:187cm/91kg
主な経歴:
New Zealand Cap:112
New Zealand 2012 – Present
Blues 2020 – Present
Taranaki 2010 – Present

🗣コメントhttps://t.co/6AMjHK8qpe#トヨタヴェルブリッツ pic.twitter.com/CdKWRlYN5s

— トヨタヴェルブリッツ TOYOTA VERBLITZ (@toyotaverblitz) February 7, 2023