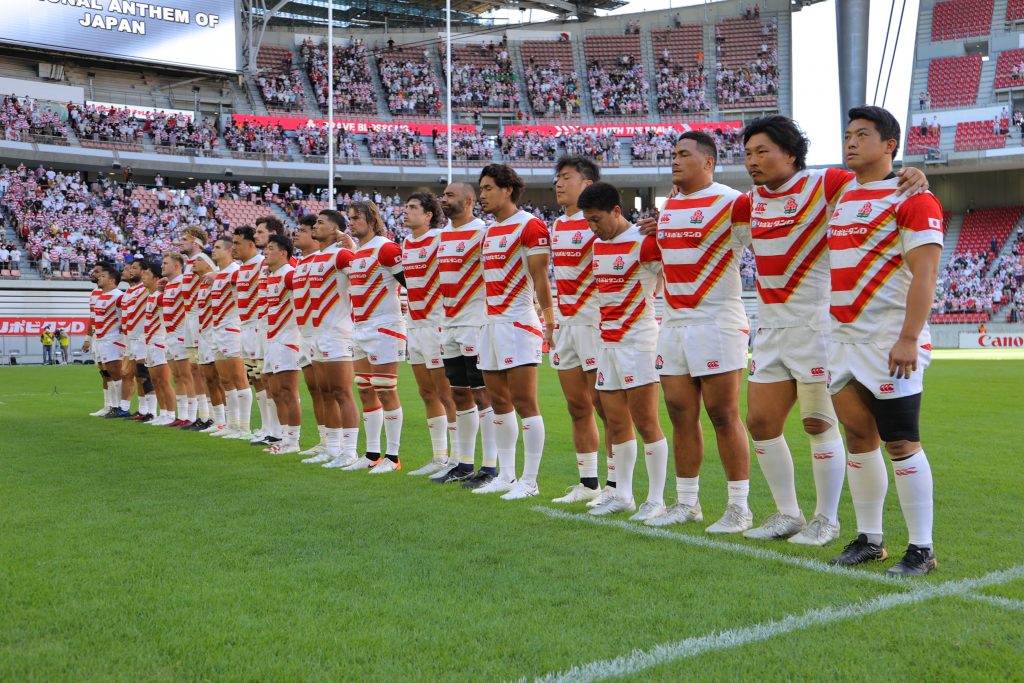 Brave Blossoms Team Announced For Second Test Against France
Japan Head Coach Jamie Joseph has today announced the Brave Blossoms team to take on France this Saturday, July 9 at the National Stadium in Tokyo. The final match of the Lipovitan D Challenge Cup 2022 four test match series sees Japan take on France once again following their 42-23 loss at Toyota Stadium last weekend.
Japan will be looking to make amends for the lopsided score line in their first test against the current grand slam winning, Six Nations champions. Having gone into the half time break 13 points all, the French took ruthless advantage of the Brave Blossoms' inaccuracy in the second half, running in four tries. Japan however had the last say in the match, scoring a consolation try in the 82nd minute.
Commenting on the Brave Blossom's team selection for this week, Japan Head Coach Jamie Joseph said:
"Last week we were able to play well and put pressure on France, but in the second half we lost a bit of control and started overplaying at times. This week we've got to be more balanced and controlled. We won't look to change how we play but will need to be a little smarter when we have the ball. If we have fast ball, we can gain momentum and create pressure. It's another big test match for us and we have to plan and prepare accordingly."
Captained by hooker Atsushi Sakate, the matchday 23 brings together a strong combination of new and exciting talent, as well as players with solid test-match experience. Debutant Takayusa Tsuji is set to earn his first cap after being named on the bench as the reserve second-row. He is joined by 13 players with less than ten test caps, including Sanaila Waqa in the second-row and front-row reserve Yukio Morikawa, both of whom will earn their second test caps this weekend.
Following his solid performance at five-eight against France last weekend, Seungsin Lee has retained the number 10 jersey, with 69 test cap veteran Yu Tamura returning to the team via the bench, as the reserve playmaker. Naoto Saito at scrumhalf and reserve hooker Shota Horie have also returned to the matchday 23 after missing selection last week.
The match kicks off at 14:50 JST and will be telecast in Japan on NTV and J Sports 3 and available for streaming on J Sports On-Demand and Hulu. Internationally, the match will be telecast via TF1 (France), Premier Sports (Asia, Middle East, UK & Ireland), ESPN Sur (South & Central America, Caribbean), Flo Sports (North America) and Super Sports (Sub-Saharan Africa).
TEAM LIST
| | | | |
| --- | --- | --- | --- |
| No. | Name | Club Team | Caps |
| 1 | Keita INAGAKI | SAITAMA Panasonic WILD KNIGHTS | 41 |
| 2 | Atsushi SAKATE | SAITAMA Panasonic WILD KNIGHTS | 29 |
| 3 | Asaeli Ai VALU | SAITAMA Panasonic WILD KNIGHTS | 22 |
| 4 | Warner DEARNS | TOSHIBA BRAVE LUPUS TOKYO | 3 |
| 5 | Sanaila WAQA | HANAZONO KINTETSU LINERS | 1 |
| 6 | Michael LEITCH | TOSHIBA BRAVE LUPUS TOKYO | 74 |
| 7 | Ben GUNTER | SAITAMA Panasonic WILD KNIGHTS | 4 |
| 8 | Jack CORNELSEN | SAITAMA Panasonic WILD KNIGHTS | 8 |
| 9 | Naoto SAITO | TOKYO SUNTORY SUNGOLIATH | 7 |
| 10 | Seungsin LEE | KOBELCO KOBE STEELERS | 2 |
| 11 | Siosaia FIFITA | HANAZONO KINTETSU LINERS | 8 |
| 12 | Shogo NAKANO | TOKYO SUNTORY SUNGOLIATH | 4 |
| 13 | Dylan RILEY | SAITAMA Panasonic WILD KNIGHTS | 6 |
| 14 | Gerhard Van Den HEEVER | Kubota Spears Funabashi TOKYO-BAY | 2 |
| 15 | Ryohei YAMANAKA | KOBELCO KOBE STEELERS | 23 |
| 16 | Shota HORIE | SAITAMA Panasonic WILD KNIGHTS | 67 |
| 17 | Yukio MORIKAWA | TOKYO SUNTORY SUNGOLIATH | 1 |
| 18 | Yusuke KIZU | TOYOTA VERBLITZ | 4 |
| 19 | Takayasu TSUJI | TOKYO SUNTORY SUNGOLIATH | – |
| 20 | Tevita TATAFU | TOKYO SUNTORY SUNGOLIATH | 11 |
| 21 | Kaito SHIGENO | TOYOTA VERBLITZ | 15 |
| 22 | Yu TAMURA | YOKOHAMA CANON EAGLES | 69 |
| 23 | Shane GATES | NTT Communications ShinigArcs TOKYO-BAY URAYASU | 3 |

Japan vs France Past Results:
October 27, 1973 (L) 18-30 Bordeaux
September 23, 1978 (L) 16-55 Tokyo
October 19, 1980 (L) 3-23 Toulouse
September 30, 1984 (L) 0-52 Osaka
October 7, 1984 (L) 12-40 Tokyo
October 19, 1985 (L) 0-50 Dax
October 26, 1985 (L) 0-52 Beaujoire
October 18, 2003 (L) 29-51 Townsville (RWC2003)
September 10, 2011 (L) 21-47 North Harbour (RWC2011)
November 26, 2017 (D) 23-23 Nanterre
July 2, 2022 (L) 42-23 Toyota City