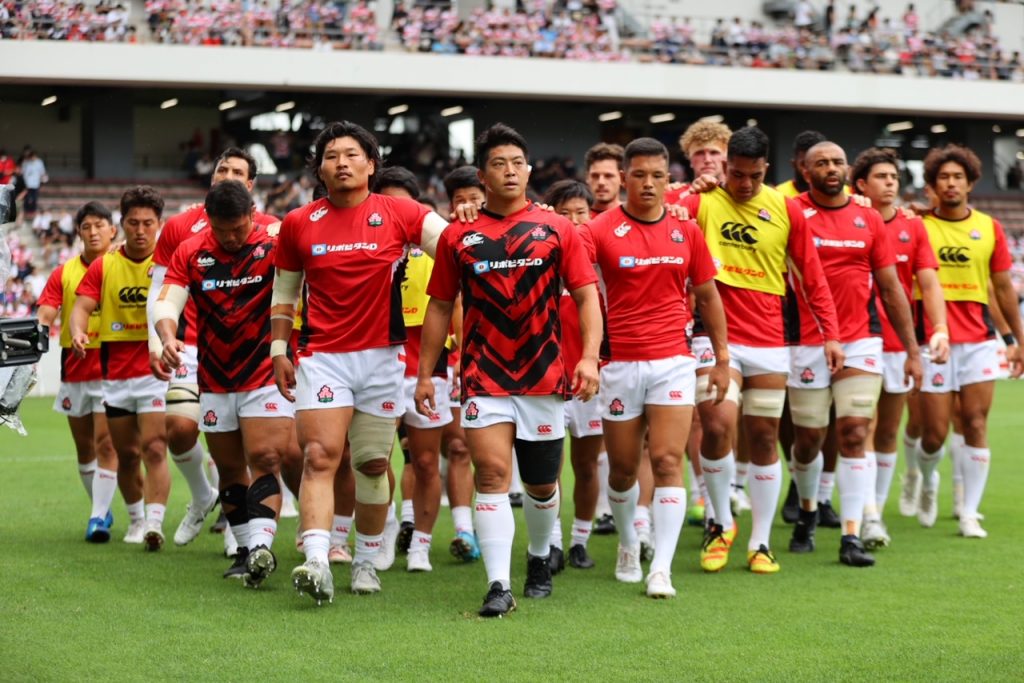 Brave Blossoms Team Announced For First French Test
Japan Head Coach Jamie Joseph has today announced the Brave Blossoms team to take on France this Saturday, July 2 at Toyota Stadium in Aichi, one of the key Rugby World Cup venues in 2019. Part of the Lipovitan D Challenge Cup 2022, the first of Japan's two test series against France will be followed by a second test match at the National Stadium in Tokyo on Saturday, July 9.
Following Japan's two match series against Uruguay, in which they won both matches 34-15 and 43-7 respectively, the Brave Blossoms go into this week against a tougher opponent in Les Bleus, the current grand slam winning, Six Nations champions and hosts of next year's Rugby World Cup. Japan will be looking to go one better than the 23-23 draw when they last played France in November 2017, in Nanterre. Prior to this, France has beaten Japan in all of their previous nine encounters, dating back to their first match in 1973, in Bordeaux.
Commenting on the Brave Blossom's team selection, Japan Head Coach Jamie Joseph said:
"I'm really confident around the application of our players. They've been training hard, been very diligent and we're really keen to put in a good performance. We're looking to build depth and competition in every position, so I'm really heartened by the guys that have come into this test match against France and how they're putting pressure on the other players.
"The first thing we have to do is match their set piece, or better it. They're very strong in the line out and at scrum time and they play a power game. This is what France will bring to the match, and we've got to be able to handle that. Our game plan will be to keep the ball in play and attack them at every opportunity, while being mindful that we need to strike the right balance and understand that the heat is going to play a big part. We've got the keep the game as fast as possible and back our ability to handle the heat a little bit better than our opposition."
The team selection this week sees Atsushi Sakate play his second test as Captain in his 29th cap for Japan at hooker, while veteran backrower Michael Leitch will earn his 74th cap at blindside-flanker. Building depth ahead of next year's Rugby World Cup, two debutants have been named on the bench, with Yukio Morikawa as reserve prop and Taichi Takahashi as a replacement wing.
Wimpie van der Walt returns to the test side in the second-row following his strong performances for the Emerging Blossoms in the recent Tonga Charity Match and during the first test against Uruguay on June 18 in Tokyo. Meanwhile, Gerhard van den Heever earns his second cap on the right-wing after scoring a try on debut against Uruguay in Kitakyushyu, while a new centre paring of Shogo Nakano at 12 and Dylan Riley 13 will be tasked with shutting down the big, hard running French ball carriers.
The match kicks off at 15:00 JST and will be telecast in Japan on NHK General / NHK Plus and J Sports One and J Sports On-Demand. The match will be telecast internationally via FT1 (France), Premier Sports (Asia, Middle East, UK & Ireland), ESPN Sur (South & Central America, Caribbean), Flo Sports (North America) and Super Sports (Sub-Saharan Africa).
Team List
| | | | | | |
| --- | --- | --- | --- | --- | --- |
| No. | Name | Club Team | cm | kg | DO.B |
| 1 | Keita INAGAKI | SAITAMA Panasonic WILD KNIGHTS | 186 | 116 | 1990/06/02 |
| 2 | Atsushi SAKATE | SAITAMA Panasonic WILD KNIGHTS | 180 | 104 | 1993/06/21 |
| 3 | Asaeli Ai VALU | SAITAMA Panasonic WILD KNIGHTS | 187 | 115 | 1989/05/07 |
| 4 | Wimpie VANDERWALT | NTT DOCOMO RED HURRICANES OSAKA | 188 | 112 | 1989/01/06 |
| 5 | Jack CORNELSEN | SAITAMA Panasonic WILD KNIGHTS | 195 | 110 | 1994/10/13 |
| 6 | Michael LEITCH | TOSHIBA BRAVE LUPUS TOKYO | 189 | 113 | 1988/10/07 |
| 7 | Ben GUNTER | SAITAMA Panasonic WILD KNIGHTS | 195 | 120 | 1997/10/24 |
| 8 | Tevita TATAFU | TOKYO SUNTORY SUNGOLIATH | 183 | 124 | 1996/01/02 |
| 9 | Kaito SHIGENO | TOYOTA VERBLITZ | 170 | 75 | 1990/11/21 |
| 10 | Takuya YAMASAWA | SAITAMA Panasonic WILD KNIGHTS | 176 | 84 | 1994/09/21 |
| 11 | Siosaia FIFITA | HANAZONO KINTETSU LINERS | 187 | 105 | 1998/12/20 |
| 12 | Shogo NAKANO | TOKYO SUNTORY SUNGOLIATH | 186 | 98 | 1997/06/11 |
| 13 | Dylan RILEY | SAITAMA Panasonic WILD KNIGHTS | 187 | 102 | 1997/05/02 |
| 14 | Gerhard Van Den HEEVER | Kubota Spears Funabashi TOKYO-BAY | 192 | 102 | 1989/04/13 |
| 15 | Ryohei YAMANAKA | KOBELCO KOBE STEELERS | 188 | 98 | 1988/06/22 |
| 16 | Daigo HASHIMOTO | TOSHIBA BRAVE LUPUS TOKYO | 174 | 105 | 1994/01/28 |
| 17 | Yukio MORIKAWA | TOKYO SUNTORY SUNGOLIATH | 180 | 113 | 1993/02/06 |
| 18 | Shinnosuke KAKINAGA | TOKYO SUNTORY SUNGOLIATH | 180 | 115 | 1991/12/19 |
| 19 | Warner DEARNS | TOSHIBA BRAVE LUPUS TOKYO | 201 | 117 | 2002/04/11 |
| 20 | Faulua MAKISI | Kubota Spears Funabashi TOKYO-BAY | 187 | 112 | 1997/01/20 |
| 21 | Daiki NAKAJIMA | a | 171 | 80 | 1996/03/25 |
| 22 | Seungsin LEE | KOBELCO KOBE STEELERS | 176 | 85 | 2001/01/13 |
| 23 | Taichi TAKAHASHI | TOYOTA VERBLITZ | 180 | 91 | 1996/06/24 |
Japan vs France Past Results:
October 27, 1973 (L) 18-30 Bordeaux
September 23, 1978 (L) 16-55 Tokyo
October 19, 1980 (L) 3-23 Toulouse
September 30, 1984 (L) 0-52 Osaka
October 7, 1984 (L) 12-40 Tokyo
October 19, 1985 (L) 0-50 Dax
October 26, 1985 (L) 0-52 Beaujoire
October 18, 2003 (L) 29-51 Townsville (RWC2003)
September 10, 2011 (L) 21-47 North Harbour (RWC2011)
November 26, 2017 (D) 23-23 Nanterre