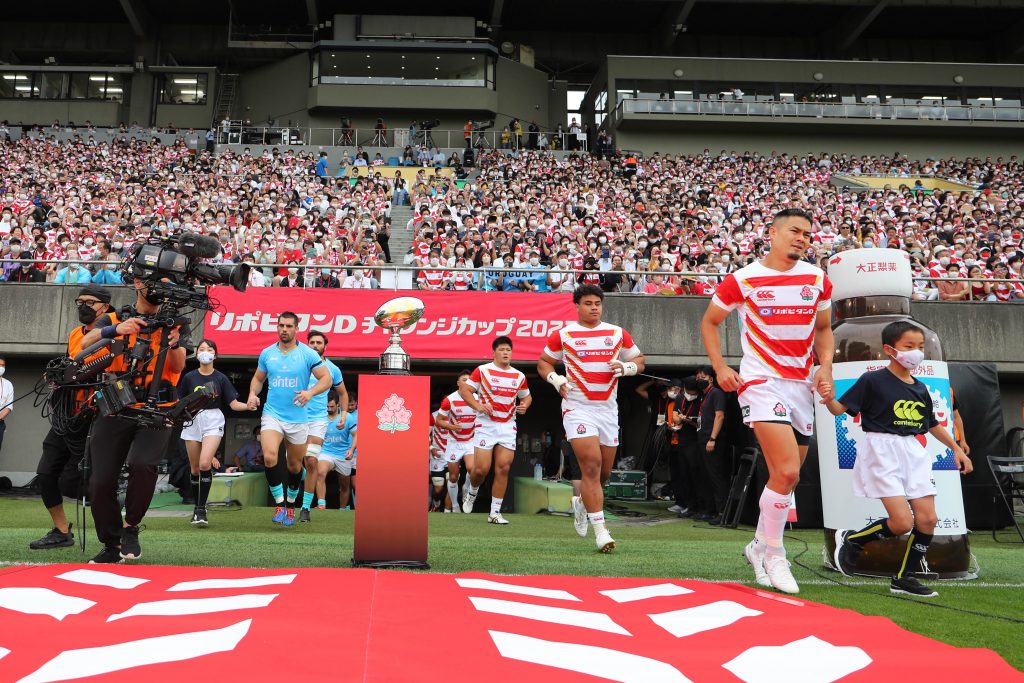 Brave Blossoms Team Announced Ahead of Second Uruguay Test
Japan Head Coach Jamie Joseph has today announced the Brave Blossoms team to take on Uruguay this Saturday, June 25 at Kitakyushu's Mikuni World Stadium, on Japan's southern island of Kyushu. Part of the Lipovitan D Challenge Cup 2022, the second in Japan's two test match series against Uruguay will see the Brave Blossoms play their first ever test match at the Kitakyushyu venue.
With a focus on developing new talent across the team, the selection sees four un-capped debutants, and 14 players with less than 10 test caps, making up the bulk of the matchday 23. Captained by Atsushi Sakate at Hooker, the team also includes 72 test cap Michael Leitch at Blindside Flanker, while replacement Hooker, 66 test cap Shota Horie, returns to the national team for the first time since Japan's Quarter-Final against South Africa in Tokyo, at Rugby World Cup 2019
The match kicks off at 15:00 JST and will be telecast in Japan on NTV and J Sports One and available for streaming on J Sports On-Demand and Hulu.
Following the Brave Blossom's 34-15 victory over Uruguay last weekend in Tokyo, Japan will take on Uruguay for the fifth time on Saturday. Japan previously hosted Los Teros for a two test match series in August 2015, winning both matches, 40-0 in Tokyo and 30-8 in Fukuoka. Prior to that, Uruguay beat Japan at home in Montevideo in their first meeting, 24-18 in April 2005.
Commenting on the Brave Blossom's team selection, Japan Head Coach Jamie Joseph said:
"Uruguay will be hurting from last week's result. They're a proud people, so following their loss last week, they're going to come out fighting. We're under no illusions, we know it's going to be a really tough test match.
"We have a lot of new players in the squad, so while we want to give them an opportunity, we also have to make sure we have enough experience in the team to bring the right level of performance."
TEAM LIST
| | | | |
| --- | --- | --- | --- |
| No. | Name | Club Team | Caps |
| 1 | Keita INAGAKI | SAITAMA Panasonic WILD KNIGHTS | 39 |
| 2 | Atsushi SAKATE | SAITAMA Panasonic WILD KNIGHTS | 27 |
| 3 | Yusuke KIZU | TOYOTA VERBLITZ | 3 |
| 4 | Jack CORNELSEN | SAITAMA Panasonic WILD KNIGHTS | 6 |
| 5 | Warner DEARNS | TOSHIBA BRAVE LUPUS TOKYO | 1 |
| 6 | Michael LEITCH | TOSHIBA BRAVE LUPUS TOKYO | 72 |
| 7 | Ben GUNTER | SAITAMA Panasonic WILD KNIGHTS | 2 |
| 8 | Faulua MAKISI | Kubota Spears Funabashi TOKYO-BAY | 2 |
| 9 | Naoto SAITO | TOKYO SUNTORY SUNGOLIATH | 6 |
| 10 | Takuya YAMASAWA | SAITAMA Panasonic WILD KNIGHTS | 3 |
| 11 | Siosaia FIFITA | HANAZONO KINTETSU LINERS | 6 |
| 12 | Yusuke KAJIMURA | YOKOHAMA CANON EAGLES | 1 |
| 13 | Dylan RILEY | SAITAMA Panasonic WILD KNIGHTS | 4 |
| 14 | Gerhard Van Den HEEVER | Kubota Spears Funabashi TOKYO-BAY | – |
| 15 | Ryuji NOGUCHI | SAITAMA Panasonic WILD KNIGHTS | 13 |
| 16 | Shota HORIE | SAITAMA Panasonic WILD KNIGHTS | 66 |
| 17 | Yukio MORIKAWA | TOKYO SUNTORY SUNGOLIATH | – |
| 18 | Asaeli Ai VALU | SAITAMA Panasonic WILD KNIGHTS | 20 |
| 19 | Sanaila WAQA | HANAZONO KINTETSU LINERS | – |
| 20 | Masato FURUKAWA | TOYOTA VERBLITZ | 2 |
| 21 | Daiki NAKAJIMA | KOBELCO KOBE STEELERS | 2 |
| 22 | Seungshin LEE | KOBELCO KOBE STEELERS | – |
| 23 | Shogo NAKANO | TOKYO SUNTORY SUNGOLIATH | 2 |