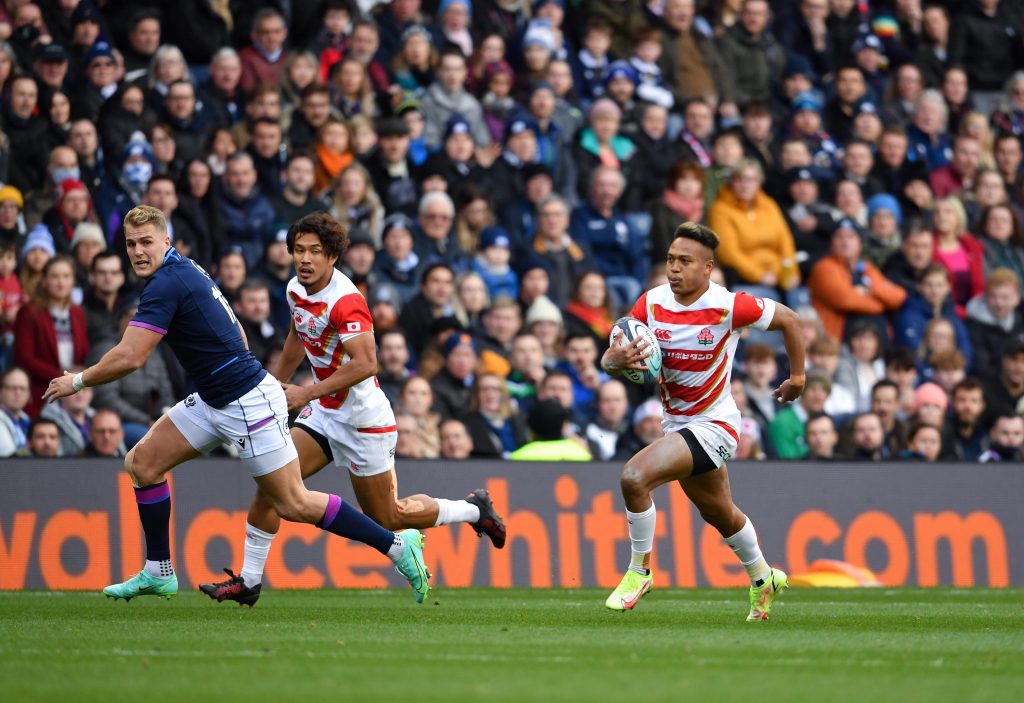 Brave Blossoms Set to Face Les Bleus in Toulouse on Autumn Tour
The Japan Rugby Football Union is pleased to announce that the Brave Blossoms will face France for a third time in 2022, when they take on Les Bleus during their Autumn tour to Europe, on Sunday, November 20 in Toulouse. This follows Japan hosting France, currently ranked second in the world, over the summer as part of the Lipovitan D Challenge Cup 2022. The two sides are set to play at Toyota Stadium in Aichi on Saturday, July 2, and the following weekend on Saturday, July 9 at the National Stadium in Tokyo.
Match: France v Japan
Date: Sunday, 20 November
Venue: Stadium de Toulouse
The match kick-off time, ticket information and broadcast schedules will be announced as soon as they are confirmed.
This announcement further cements the special relationship between Japanese rugby and Toulouse and follows the recent news that Toulouse has been selected as the Brave Blossoms' Official Base Camp for Rugby World Cup 2023. Furthermore, the city will also play host to two of Japan's four RWC2023 pool matches, with the Brave Blossoms taking on the Americas 2 qualifier on Sunday, September 10, and Samoa on Thursday, September 28, at Stadium de Toulouse.
Located in the south-west of France, Toulouse is already familiar to the Brave Blossoms, with the team having prepared and played there against Tonga during their European tour in 2017. The city also hosted Japan's Rugby World Cup 2007 pool match against Fiji when Japan took the eventual 2007 quarter finalists all the way, narrowly losing the match 35-31.
Shigetaka Mori, President of the Japan Rugby Football Union commented: 
"France are currently the strongest and most dynamic team in Europe, following their all-conquering Grand Slam in this year's Six Nations Championship. It is a great honour and pleasure for us to be able to challenge them in three separate test matches this year, as both of our teams build towards Rugby World Cup 2023, which will be hosted in France. Japanese rugby fans will be captivated by the awesome speed and power of the French game, and it will be a great opportunity for the Brave Blossoms to measure themselves against one of the best teams in the world."
Japan vs France Historical Results
27 October 1973 – Bordeaux 18-30 LOSS
23 September 1978 – Tokyo 16-55 LOSS
19 October 1980 – Toulouse 3-23 LOSS
30 September 1984 – Osaka 0-52 LOSS
7 October 1984 – Tokyo 12-40 LOSS
19 October 1985 – Dax 0-50 LOSS
26 October 1985 – Beaujoir 0-52 LOSS
18 October 2003 – Townsville (RWC 2003) 29-51 LOSS
10 September 2011 – North Harbour (RWC 2011) 21-47 LOSS
26 November 2017 – Nanterre 23-23 DRAW
Japan 2022 Test Match Schedule
Saturday, June 18 Japan vs Uruguay – Chichibunomiya Rugby Ground (Tokyo)
Saturday, June 25 Japan vs Uruguay – Mikuni World Stadium Kitakyushu (Fukuoka)
Saturday, July 2 Japan vs France – Toyota Stadium (Aichi)
Saturday, July 9, Japan vs France – National Stadium (Tokyo)
Saturday, November 12 England vs Japan – Twickenham Stadium, (London, England)
Sunday, November 20 France vs Japan – Stadium de Toulouse (Toulouse, France)
Japan Match Schedule Rugby World Cup 2023
September 10, 2023 – Round 1 vs Americas Qualifier 2 – Stadium de Toulouse (Toulouse)
September 17, 2023 – Round 2 vs England – Stade de Nice (Nice)
September 28, 2023 – Round 3 vs Samoa – Stadium de Toulouse (Toulouse)
October 8, 2023 – Round 4 vs Argentina – Stade de la Beaujoire (Nantes)