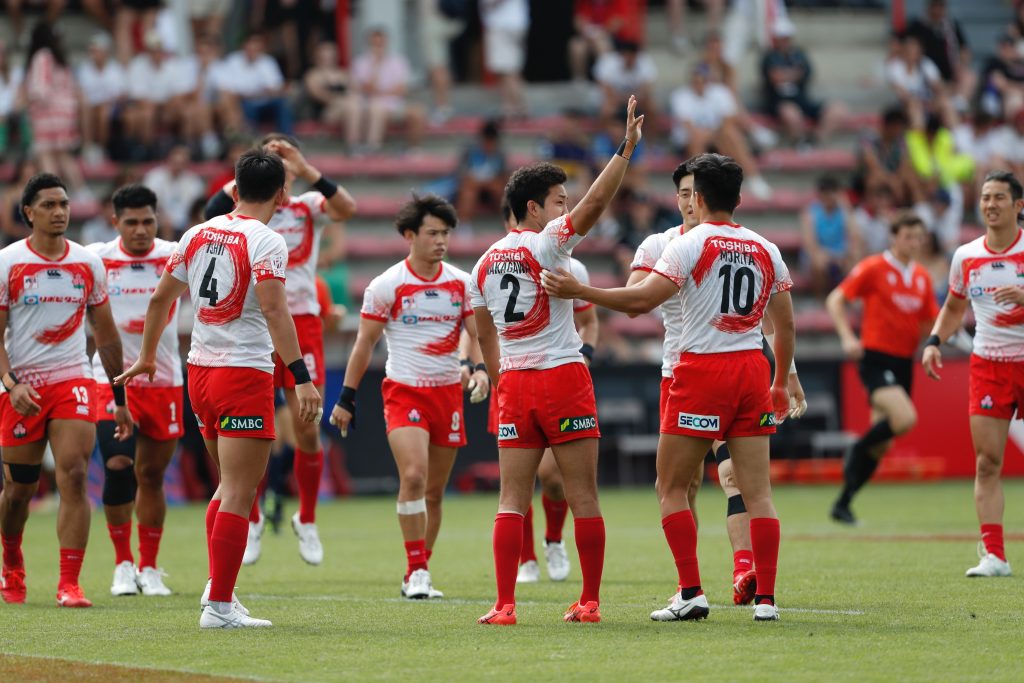 Japan Men's Sevens Team Named for the London Sevens
The Japan Rugby Football Union is happy to announce the Japan Men's Sevens Team to play at the HSBC World Rugby Sevens Series in London, from May 28 to 29. Having finished in 13th place at the Toulouse Sevens last weekend, the team will be looking to improve upon their performance at Twickenham, the home rugby.
The Japan lineup remains unchanged from last weekend, with another strong performance expected from Timo Sufia who won the team's MVP in Toulouse.
Japan Men's Sevens National Team Interim Head Coach, Koichi Umeda commented:
"We are delighted to be playing in London at Twickenham Stadium, the spiritual home of rugby. Every game will be a challenge for us, but we will face each game with confidence and give our all."
Japan are set to take on Samoa, tournament hosts England, and Scotland in Pool D.
Team List:
| | | | | | |
| --- | --- | --- | --- | --- | --- |
| No. | Name | Club Team | cm | kg | D・O・B |
| 1 | Timo SUFIA | Hokkaido Barbarians | 180 | 102 | 1996/11/07 |
| 2 | Kazuma NAKAGAWA | YOKOHAMA CANON EAGLES | 173 | 81 | 1995/10/28 |
| 3 | Ren MIYAGAMI | TOSHIBA BRAVE LUPUS TOKYO | 178 | 90 | 1997/05/15 |
| 4 | Yuki ISHII | NTTCommunications ShiningArcs TOKYO-BAY URAYASU | 184 | 96 | 1996/02/27 |
| 5 | Kameli Raravou Latianara SOEJIMA | Rugby Football Union | 190 | 92 | 1983/06/01 |
| 6 | Moeki FUKUSHI | HINO RED DOLPHINS | 184 | 100 | 1999/03/11 |
| 7 | Ryota KANO | Meiji Yasuda HOLLY'S | 172 | 72 | 1992/05/10 |
| 8 | Yoshihiro NOGUCHI | SECOM RUGGUTs | 170 | 77 | 1994/12/26 |
| 9 | Shun TOMONAGA | HINO RED DOLPHINS | 182 | 98 | 1997/02/14 |
| 10 | Chikara MORITA | MUNAKATA SANIX BLUES | 180 | 87 | 1995/10/05 |
| 11 | Daisuke YOSHIDA | YOKOHAMA CANON EAGLES | 186 | 102 | 1998/7/20 |
| 12 | Taiga ISHIDA | NTTCommunications ShiningArcs TOKYO-BAY URAYASU | 176 | 88 | 1997/10/01 |
| 13 | Sitaleki Taufa MAKISI | Az-MOMOTARO'S Maruwa Unyu | 186 | 102 | 1996/06/26 |