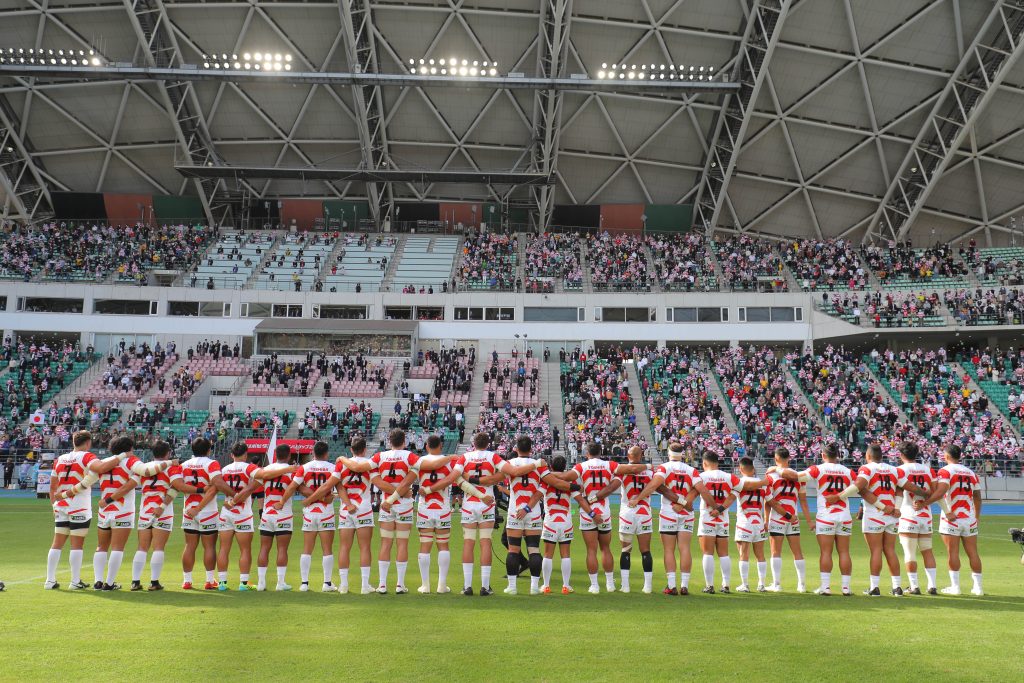 Brave Blossoms 2022 Wider Training Squad Announced
Brave Blossoms Head Coach Jamie Joseph has today announced the 63 players and team staff who will make up the Japan National Team Wider Training Squad for 2022.
With the Brave Blossoms hosting Uruguay and France at home in the Lipovitan D Challenge Cup 2022, followed by their tour to Europe in the autumn, Japanese rugby fans will welcome a return to a full international test match calendar, following two years of disruption caused by the pandemic.
Commenting on the squad selection, Brave Blossoms Head Coach Jamie Joseph said:
"With just over a year to go before Rugby World Cup 2023 in France, I'm delighted to announce our wider training squad ahead of a solid test match series. Following the disruption in hosting international test matches over the last two years, it's exciting to be able to play at home again, in front of our fans and in stadiums around the country.
"As a coaching team, we've been closely following League One and have been really pleased with the quality of rugby and the level of competition we're seeing. Japan's top domestic club competition continues to improve year on year and is now, more than ever before, a genuine proving ground from which we can draw a world class squad.
"In choosing this squad we've looked to find the right balance between experience, potential and x-factor, while also looking at players that can bring the skill set and attitude that complements our style of play, while also offering scope to evolve our style. Our senior players have an important role as the experienced backbone of the team, while also mentoring and guiding the younger players. For the newer guys, we're looking for them to step up and take their opportunity to make their mark and add extra dimension to the team.
"With our focus firmly on Rugby World Cup 2023, our selections are all about looking forward and putting ourselves in the best possible position to challenge every team as we continue to improve our rugby against the best teams in the world."
Members of the Wider Training Squad not involved in the League One Finals will assemble in Beppu City, on Japan's southern island of Kyushu, for training camps between May 13 to 15 and from May 23 to 27.
A refined national team squad will be announced on May 31 and will assemble for a team camp in Miyazaki, in Kyushu from June 3 to 30. A National Development Squad (NDS) will also be formed, consisting of players not included in the national team squad. The NDS will take part in a training camp in Beppu City in June.
The Lipovitan D Challenge Cup 2022, proudly supported by Taisho Pharmaceuticals Co. Ltd., sees the Brave Blossoms play Uruguay on Saturday, June 18 at Prince Chichibu Rugby Stadium in Tokyo and on Saturday, June 25, at Kitakyushu's Mikuni World Stadium in Kyushu. They will then take on the Grand Slam winning, 2022 Six Nations Champions France on Saturday, July 2 at Toyota Stadium in Aichi, before returning to Tokyo to take on France once again at the iconic Japan National Stadium in Tokyo on Saturday, July 9.
The Brave Blossoms will travel to Europe for their autumn tour, with their match against England at Twickenham, already confirmed for November 12. Additional tour matches will be announced in due course.
Team List:
| | | | |
| --- | --- | --- | --- |
| Position | Name | Club Team | Caps |
| PR | Shunsuke ASAOKA | TOYOTA VERBLITZ | – |
| PR | Keita INAGAKI | SAITAMA Panasonic WILD KNIGHTS | 39 |
| PR | Asaeli Ai VALU | SAITAMA Panasonic WILD KNIGHTS | 20 |
| PR | Takato OKABE | YOKOHAMA CANON EAGLES | – |
| PR | Shinnosuke KAKINAGA | TOKYO SUNTORY SUNGOLIATH | 10 |
| PR | Kengo KITAGAWA | Kubota Spears Funabashi TOKYO-BAY | 3 |
| PR | Yusuke KIZU | TOYOTA VERBLITZ | 3 |
| PR | Rento TSUKAYAMA | YOKOHAMA CANON EAGLES | – |
| PR | Craig MILLAR | SAITAMA Panasonic WILD KNIGHTS | 6 |
| PR | Yukio MORIKAWA | TOKYO SUNTORY SUNGOLIATH | – |
| HO | Atsushi SAKATE | SAITAMA Panasonic WILD KNIGHTS | 27 |
| HO | Shunta NAKAMURA | TOKYO SUNTORY SUNGOLIATH | – |
| HO | Daigo HASHIMOTO | TOSHIBA BRAVE LUPUS TOKYO | 2 |
| HO | Shota HORIE | SAITAMA Panasonic WILD KNIGHTS | 66 |
| HO | Kosuke HORIKOSHI | TOKYO SUNTORY SUNGOLIATH | 4 |
| LO | Daichi AKIYAMA | TOYOTA VERBLITZ | – |
| LO | Yuya ODO | SHIZUOKA BlueRevs | 4 |
| LO | Jack CORNELSEN | SAITAMA Panasonic WILD KNIGHTS | 6 |
| LO | Amanaki SAUMAKI | YOKOHAMA CANON EAGLES | – |
| LO | Takayasu TSUJI | TOKYO SUNTORY SUNGOLIATH | – |
| LO | WARNER Dearns | TOSHIBA BRAVE LUPUS TOKYO | 1 |
| LO | Ryota HASEGAWA | SAITAMA Panasonic WILD KNIGHTS | – |
| LO | Wimpie VANDERWALT | NTT DOCOMO RED HURRICANES OSAKA | 18 |
| LO | Sanaila WAQA | HANAZONO KINTETSU LINERS | – |
| FL | Ben GUNTER | SAITAMA Panasonic WILD KNIGHTS | 2 |
| FL | Naoto Shimada | YOKOHAMA CANON EAGLES | – |
| FL | Kanji SHIMOKAWA | TOKYO SUNTORY SUNGOLIATH | – |
| FL | Jose SERU | HANAZONO KINTETSU LINERS | – |
| FL | Michael LEITCH | TOSHIBA BRAVE LUPUS TOKYO | 72 |
| FL | Masato FURUKAWA | TOYOTA Verblitz | 2 |
| FL | Hiroki YAMAMOTO | TOSHIBA BRAVE LUPUS TOKYO | 5 |
| FL | Pieter LABUSCHAGNE | Kubota Spears Funabashi TOKYO-BAY | 13 |
| No.8 | Tevita TATAFU | TOKYO SUNTORY SUNGOLIATH | 9 |
| No.8 | Yoshitaka TOKUNAGA | TOSHIBA BRAVE LUPUS TOKYO | 15 |
| No.8 | Kazuki HIMENO | TOYOTA VERBLITZ | 22 |
| No.8 | Faulua MAKISI | Kubota Spears Funabashi TOKYO-BAY | 2 |
| SH | Takahiro OGAWA | TOSHIBA BRAVE LUPUS TOKYO | 2 |
| SH | Naoto SAITO | TOKYO SUNTORY SUNGOLIATH | 6 |
| SH | Kaito SHIGENO | TOYOTA VERBLITZ | 13 |
| SH | Daiki NAKAJIMA | KOBELCO KOBE STEELERS | 2 |
| SH | Yutaka NAGARE | TOKYO SUNTORY SUNGOLIATH | 27 |
| SO | Yu TAMURA | YOKOHAMA CANON EAGLES | 68 |
| SO | Hayata NAKAO | TOSHIBA BRAVE LUPUS TOKYO | – |
| SO | Takuya YAMASAWA | SAITAMA Panasonic WILD KNIGHTS | 3 |
| SO | Seungshin Lee | KOBELCO KOBE STEELERS | – |
| CTB | Yusuke KAJIMURA | YOKOHAMA CANON EAGLES | 1 |
| CTB | Shane GATES | NTT Communications ShinigArcs TOKYO-BAY URAYASU | 1 |
| CTB | Harumichi TATEKAWA | Kubota Spears Funabashi TOKYO-BAY | 55 |
| CTB | Sione TEAUPA | Kubota Spears Funabashi TOKYO-BAY | 3 |
| CTB | Timothy LAFAELE | KOBELCO KOBE STEELERS | 27 |
| CTB | Shogo NAKANO | TOKYO SUNTORY SUNGOLIATH | 2 |
| CTB | Dylan RILEY | SAITAMA Panasonic WILD KNIGHTS | 4 |
| WTB | Taichi TAKAHASHI | TOYOTA VERBLITZ | – |
| WTB | Koki TAKEYAMA | SAITAMA Panasonic WILD KNIGHTS | – |
| WTB | Gerhard Van Den HEEVER | Kubota Spears Funabashi TOKYO-BAY | – |
| WTB | Siosaia FIFITA | HANAZONO KINTETSU LINERS | 6 |
| WTB | Jone NAIKABULA | TOSHIBA BRAVE LUPUS TOKYO | – |
| WTB | Koga NEZUKA | Kubota Spears Funabashi TOKYO-BAY | – |
| WTB | Ataata MOEAKIOLA | KOBELCO KOBE STEELERS | 4 |
| WTB | Rakuhei YAMASHITA | KOBELCO KOBE STEELERS | – |
| FB | Seiya OZAKI | TOKYO SUNTORY SUNGOLIATH | 3 |
| FB | Ryuji NOGUCHI | SAITAMA Panasonic WILD KNIGHTS | 13 |
| FB | Ryohei YAMANAKA | KOBELCO KOBE STEELERS | 22 |
The following players were not considered for selection due to their condition:
YUSUKE NIWAI
JIWON GU
NAOHIRO KOTAKI
JAMES WILLIAM MOORE
SHOTA FUKUI
RIKIYA MATSUDA
JUMPEI OGURA
RYOTO NAKAMURA
KOTARO MUNYARADZI MATSUSHIMA
SEMISI TUIKOROCAU MASIREWA