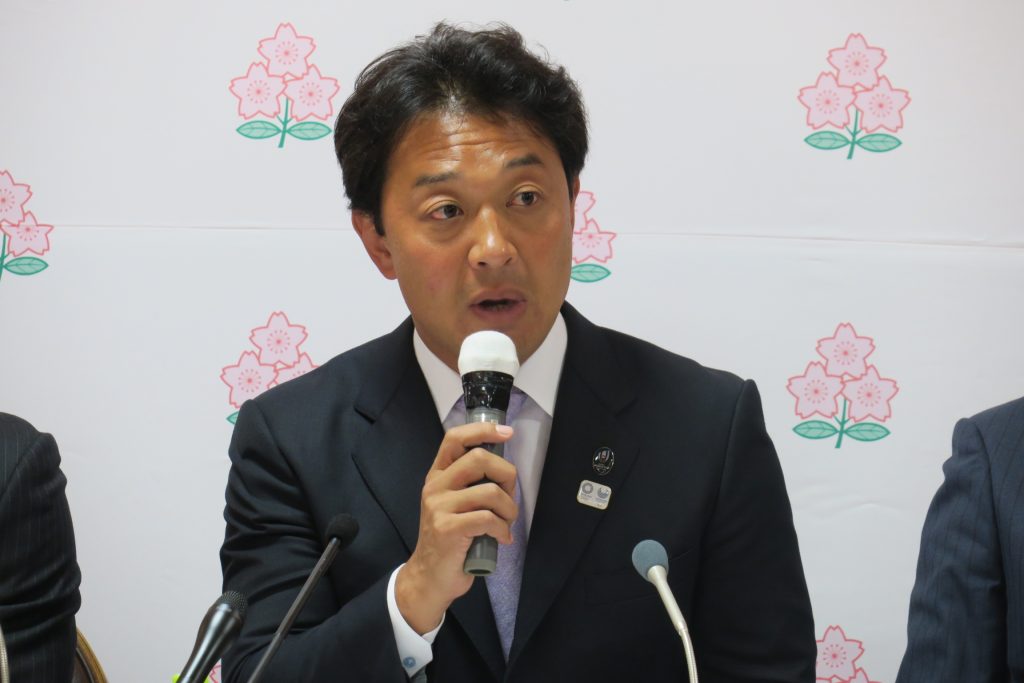 A New Dawn For Japanese Rugby
In November 2019, as the last international fans departed Japan following a truly memorable Rugby World Cup, Japanese rugby was on an all-time high. Now, two years later and following the disruption caused by the Covid-19 pandemic, Japanese rugby is ready to welcome the inaugural season of the new Japan Rugby League One, kicking off in January 2022. As the year draws to a close, Kensuke Iwabuchi, Chairman/CEO of the Japan Rugby Football Union shares his thoughts on the state of the game in Japan.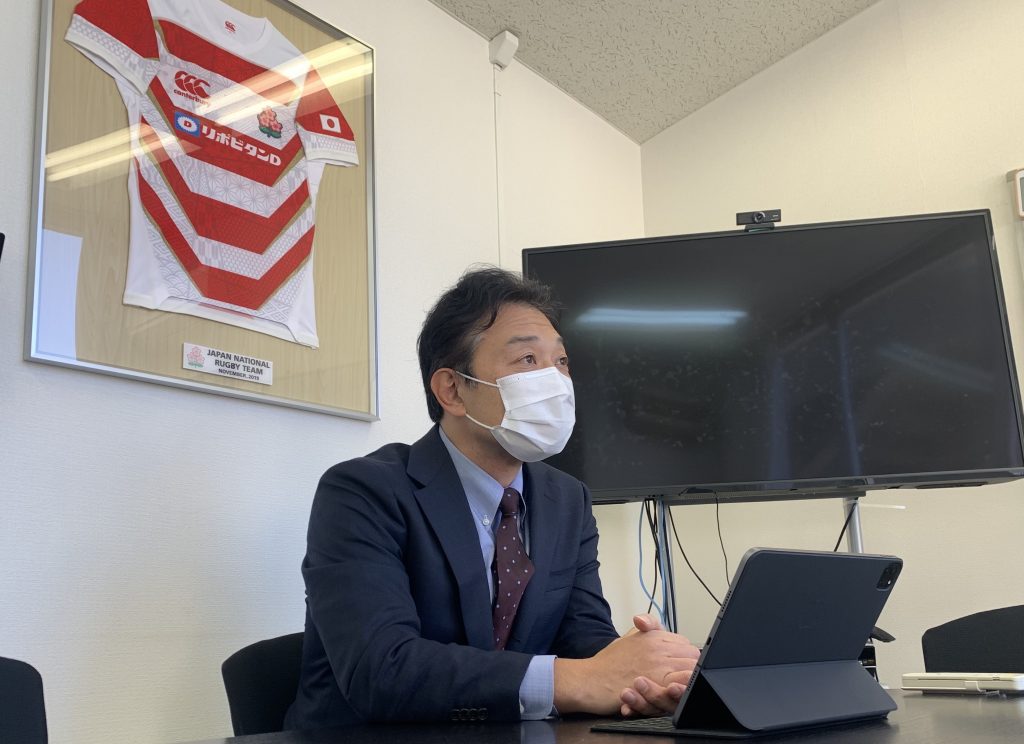 "Like for all sporting organisations, navigating the pandemic has been a huge challenge. In early 2020, we were still on a high following the success of the World Cup. By March, as the impact of the pandemic became apparent, we chose to cancel the remaining Top League fixtures and the evolving situation also meant that our national teams were unable to play throughout 2020. While the disruption to the professional game was unfortunate, thankfully we were able to keep grassroots rugby going, with minimal disruption to high-school, university and amateur club rugby."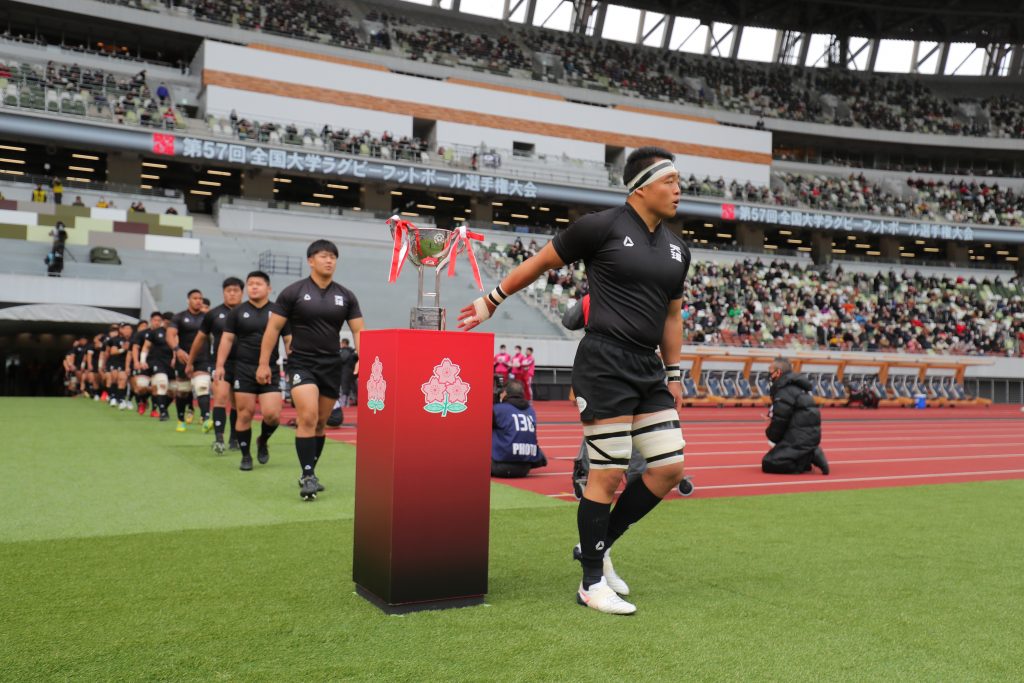 While navigating the constantly evolving pandemic, the JRFU were also busy with their longer-term strategic planning. In March 2021, they launched their new Mid Term Strategic Plan (MTSP) covering the development of every aspect of Japanese Rugby, both on and off the field. Consisting of five strategic pillars, the MTSP included a strong focus on improving and evolving the commercial and operational management of the game, while also addressing how to increase participation across all levels and formats of the sport.
"It's vitally important for us to revamp the JRFU. We have seen the dramatic development of the Brave Blossoms over the last ten years. They had a breakout World Cup in 2015 under Eddie Jones, and Jamie Joseph took the team to the quarter finals in 2019. If we want to sustain this success and replicate it across our Sakura Fifteens (Japan Women) and Sevens programmes, it's vital that we work towards our ambition of becoming the world's best union."
"In terms of participation, following the World Cup, we saw a significant increase in new players, particularly at elementary and junior high school level. We're still seeing growth in those age groups, however because of the pandemic, growth in other areas has levelled off. There remains a lot of work to do in terms of refocusing our efforts on increasing participation pathways, particularly once the pandemic situation starts to stabilise."
The MTSP also contained a uniquely Japanese aspect in terms of ensuring that rugby maintains its position as an agent of positive social change. It also stated publicly for the first time, the JRFU's ambition to again host the Rugby World Cup.
"The World Cup in 2019 was an incredible tournament and it marked the start of a new era for Japanese rugby. In the MTSP we announced our intention to host the tournament again and we are discussing with World Rugby as to when would be the best time for us to bid for it. Realistically 2035 or 2039 would probably be the earliest opportunity for the tournament to return to Japan."
"Promoting rugby's core values is fundamental to our strategy. Historically, rugby has been seen as more than just a sport in Japan. Our fans appreciate rugby's values of integrity, passion, solidarity, discipline and respect, values which Japanese people aspire to, as individuals, and within wider society."
"We have many sports in Japan, so rugby needs to differentiate to survive and prosper. The World Cup showed that players from around the world live rugby's values on the pitch, but also that rugby fans behave in a way which is appealing to Japanese sensibilities. This links back to youth participation. Parents see the importance of instilling these values in their children, so it's vital that young people pick up rugby not only because it's a great game, but because it also teaches values."
Another key aspect of the MTSP was improving the standard of Japanese rugby across all national teams. The pandemic brought huge disruption to both the men's and women's fifteens, as well as the national Sevens programmes. The Brave Blossoms returned to international rugby in June 2021, for the first time since Rugby World Cup, while the Sakura Fifteens played their first test match in over two years, last November.
"Lesley McKenzie, the Head Coach of the Sakura Fifteens, has done a fantastic job, on and off the field. She supported her players to go to England to experience top-flight club rugby with teams like Exeter, Worcester and Wasps. Players like Sachiko Kato, Kanako Kobayashi, Minori Yamamoto and Ayaka Suzuki have added significantly to the depth of the national team following their time in the UK. To ensure the Sakura Fifteens can grow into one of the world's best teams, we need to make sure they have both a strong domestic competition and a solid international calendar."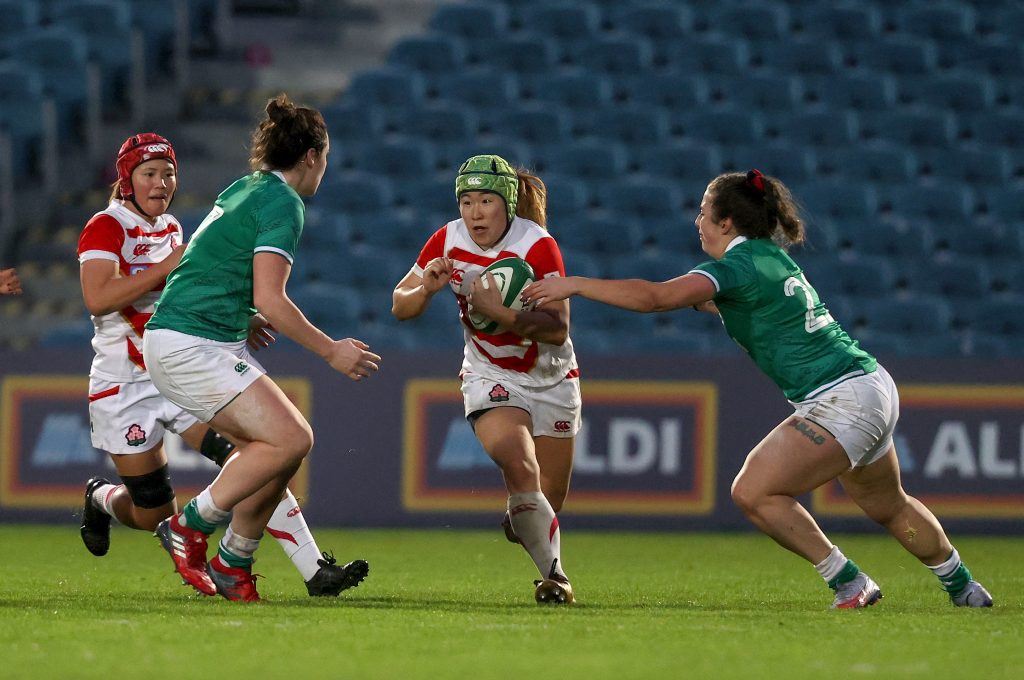 Iwabuchi clearly sees the need for exposure to international competitions both at club and national level. The disruption to the test match calendar and the disbanding of the Sunwolves has left Japanese rugby with a shortage of exposure to top-level rugby, one of the key aspects in maintaining consistently competitive teams.
"For our national teams to have not played for the best part of two years has had a huge impact. We definitely need to be involved in regular international competition, otherwise we cannot expect to maintain consistently strong sides."
"Europe has the Six Nations and the Southern Hemisphere have the Rugby Championship. We are in discussions with both competitions, but while Japan is technically in the Northern Hemisphere, from a time-zone perspective we are closer to Australia, New Zealand and the Pacific nations, so it probably makes sense to connect with their competitions."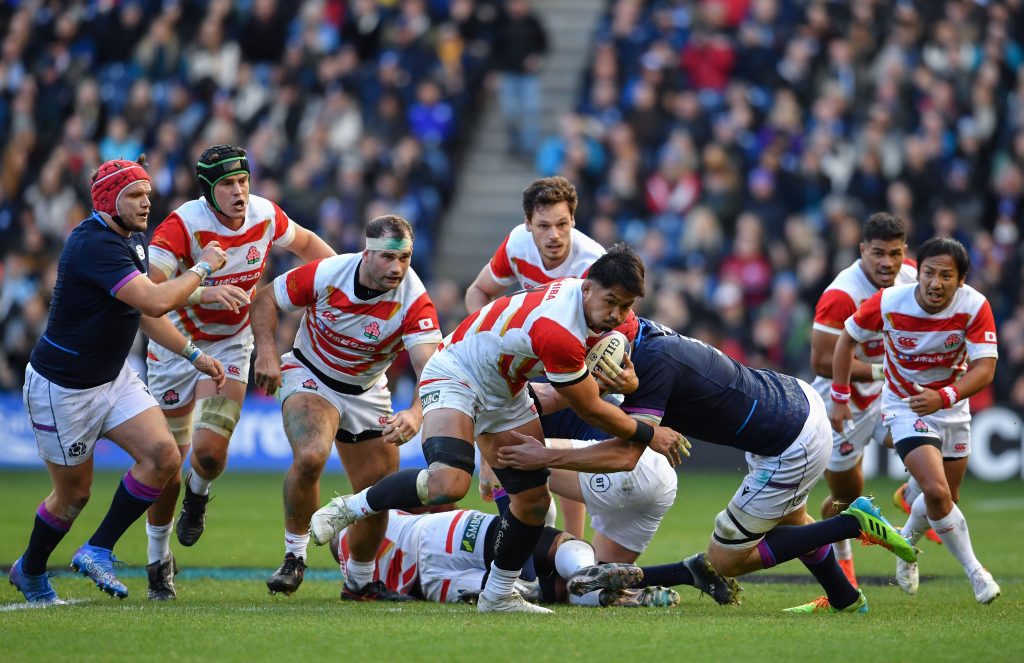 In 2021 the Brave Blossoms returned to international rugby, winning just one of six matches. While their extended break from test match rugby undoubtedly had an impact, and three of the five matches they lost were games they could have potentially won, their results represented a dip in form when compared to their 2019 World Cup campaign.
"We didn't necessarily have fantastic results in the lead up to 2019, yet we performed very well at the tournament. Considering that in 2021 we were competitive against Australia and Scotland, and in our first match against Ireland, I think we did relatively well. I remain very optimistic regarding the Brave Blossoms and think that with two years of solid preparation ahead of France 2023, we can be in a position to achieve similar, if not better results than 2019."
Another key element of the MTSP will be the delivery and ongoing development of the Japan Rugby League One. Set to kick-off in early January 2022 and building on the successful foundation of the Japan Rugby Top League, the JRFU has the ambition to grow the new league to be recognised internationally as the world's best domestic club rugby competition.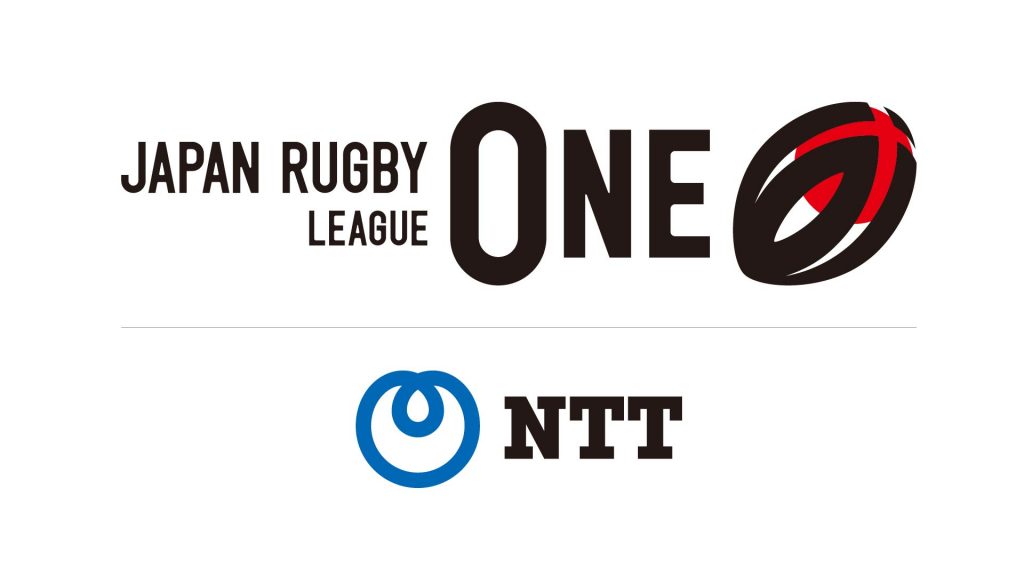 "We want to build a compelling competition that attracts and excites fans here in Japan and around the world. Whether fans are watching live in the stadium or via broadcast, we want to give our audience the best fan experience possible.
"We learnt a lot from the World Cup and from the Sunwolves' time in Super Rugby. In the past, Japanese fans enjoyed rugby for 80 minutes and then went home. What fans now recognise is that the pre and post-match experience is also a key part of enjoying rugby. It gives them an opportunity to spend time with friends and family, while also meeting and engaging with other rugby fans. We really want to foster this spirit in the new League One."
In September 2021, the JRFU launched its first ever diversity and inclusion (D&I) statement, tying into the broader vision of rugby being 'an agent of positive social change that transcends sport', as outlined in the MTSP. The broad ranging document sets out a series of commitments and initiatives aimed at ensuring rugby in Japan is a welcoming and inclusive sport, with equal opportunities for all players, fans, and administrators, regardless of their race, nationality, age, gender, sexual orientation, gender identity, religion, culture, physical and mental functioning or lifestyle.
"Rugby is a sport of diversity. You see that in clubs around the world and in most national teams. We are proud to have had diversity in our teams for a long time, and our successful World Cup squads in 2015 and 2019 were strong symbols to Japanese society of the strength and value of diversity. We made our D&I statement to make it clear to all our stakeholders how we value diversity, both in rugby and in our wider society."
A key element of the D&I statement is the JRFU's commitment to women's empowerment. The document sets out a number of initiatives and targets to increase the involvement of women within the JRFU and the wider administration of rugby in Japan.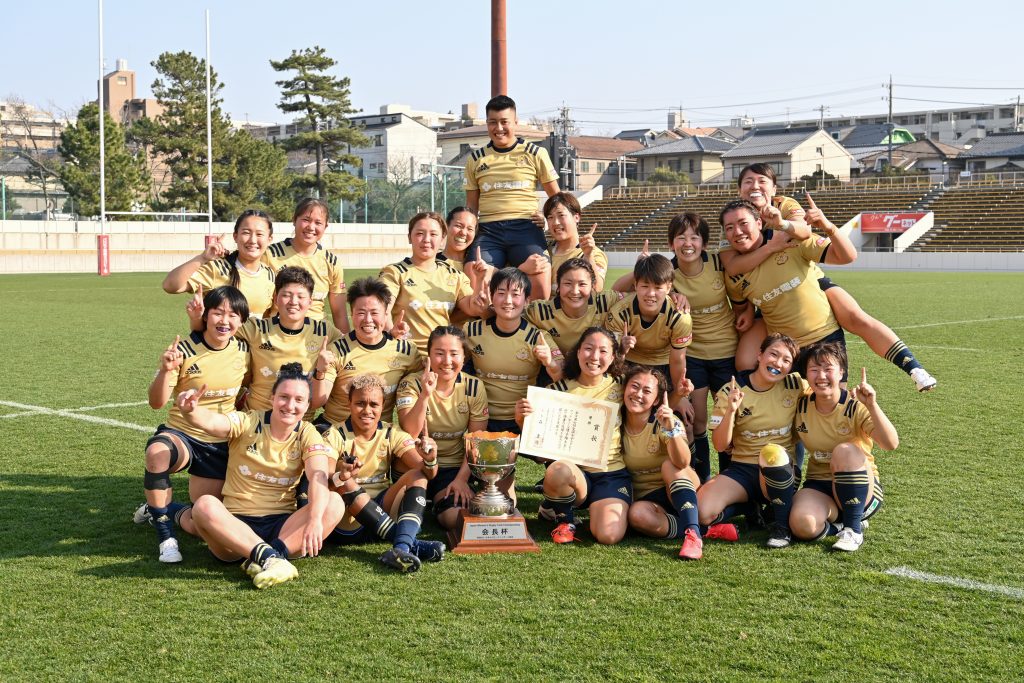 "Although we've had strong participation of women in rugby since the 80s and 90s, our administration has been dominated by men. We've been working to address this, and our current board already comprises more than 40% women. If you look at Japanese politics and business, there isn't anywhere near enough female representation in positions of leadership. Japanese society is changing, and we are proud that rugby is taking a leadership position in helping to drive this change."
2021 marked a key year of transition for rugby in Japan. From announcing its ambition to host another Rugby World Cup, to putting in place the final preparations for the inaugural season of the new Japan Rugby League One, Japanese rugby stands at a new dawn. As one final message, Iwabuchi commented: "We wish to thank all our fans in Japan and around the world who have supported and enjoyed Japanese rugby over this last year. We are excited to have you join us for the onward journey into 2022 and beyond, and we wish you and your families all the very best of health, happiness and prosperity for the new year, together as one rugby family."
Kensuke Iwabuchi – Japan Rugby Football Union Chairman /CEO
Born in Tokyo in 1975, Kensuke Iwabuchi started playing rugby in elementary school. In 1997, while still a student at Aoyama Gakuin University in Tokyo, he was selected for the Japan Men's National Team, going on to earn 20 test caps for the Brave Blossoms at fly-half.
After graduating university in 1998, Iwabuchi joined Kobe Steel and played for company's rugby team, the Kobelco Steelers. That same year he moved to the UK to pursue his postgraduate studies at the University of Cambridge where graduated in 2000 and won a Blue in rugby.
In 2000, Iwabuchi became the first Japanese player to play professional rugby in England when he joined Saracens in the English Premiership. He also played a season in France in 2006 with Union Sportive Colomiers in the French second division.
In 2012 he was appointed General Manager for the Japan National Team as the Brave Blossoms prepared for Rugby World Cup 2015. Iwabuchi joined the board of the JRFU in 2015 and became Chairman in 2019.
Iwabuchi also led the Japan Men's Sevens Team as Head Coach at the Tokyo 2020 Summer Olympics.