Japan Rugby League One Set for Launch in January 2022
The Japan Rugby Top League has today announced further details of the new domestic rugby league set to kick off on Friday January 7, 2022. Replacing the existing Top League that has been in existence since 2003, the new league will be Japan's pinnacle domestic rugby competition and feature 24 of the country's best teams.
Officially named the JAPAN RUGBY LEAGUE ONE, the new league will be made up of three divisions and operate with an end-of-season promotion and relegation format. Division One will consist of 12 teams divided into two separate, six-team conferences, while Divisions Two and Three will both consist of six teams each.
Commenting on the new league, Shigetaka Mori, Representative Director of Japan Rugby Top League said:
"Japan Rugby League One will bring top level rugby to stadiums across the country and offer professional training facilities and academy opportunities for our top players. Stadiums hosting matches will be filled with local and visiting fans, and after games, players and fans will interact in the spirit of 'no side', sharing rugby's ethos of passion, unity, discipline, and dignity.
"Just as Japanese artisans dedicate their life to refine their skills and create high quality products that astound the world, we will continue to develop the unique aspects of Japanese Rugby to create value that is recognized and loved in Japan and is internationally respected. As 'ONE TEAM' of fans, teams, sponsors, and the wider community, we will strive to make this new league known and loved around the world."
The inaugural season will see teams in Division One play the five other teams in their conference twice, in a home and away format. In addition to the regular home and away conference matches, there will be inter-conference matches in which teams will play all six teams outside their conference once. As such, each Division One team will play 10 conference matches and six inter-conference matches, for a total of 16 matches in the regular season.
For Divisions Two and Three, teams will play each team within their conference twice, in a home and away format of 10 matches per team. Once these fixtures are played and based on points ranking, the top three and bottom three teams in both divisions will play in an additional three-team round-robin format, meaning each Division Two and Three team will play a total of 12 regular season matches.
The winners of Divisions One, Two and Three will be decided based on points accrued during the regular season, with the winner and runner-up from Division One being eligible to play in a yet to be determined international club format.
At the conclusion of the regular season, the bottom three ranked sides in Divisions One and Two will challenge the top three ranked sides from Divisions Two and Three respectively, in a post-season, promotion and relegation series.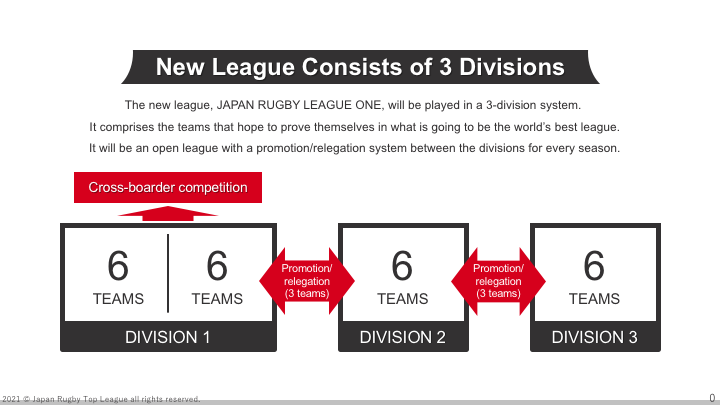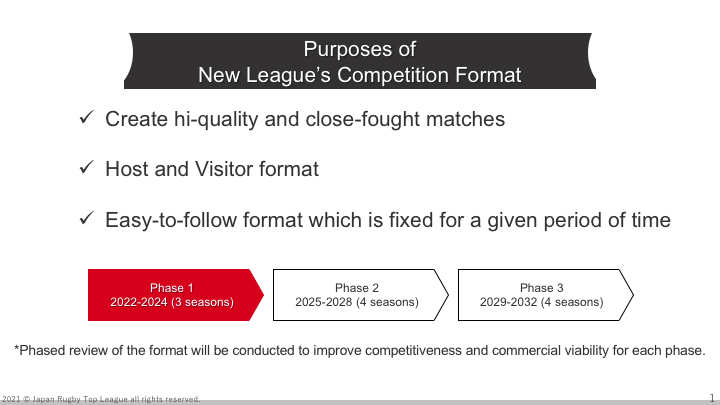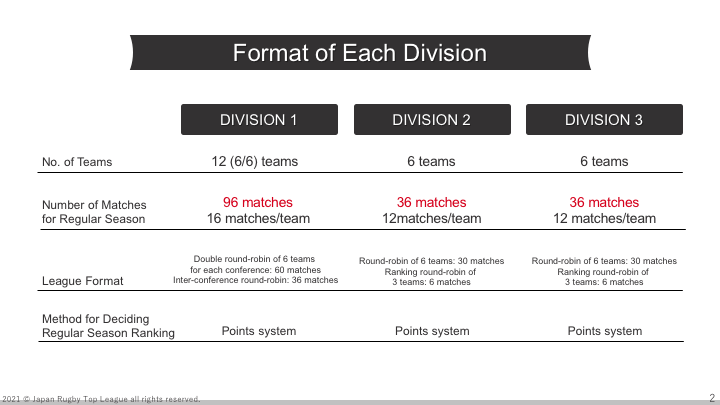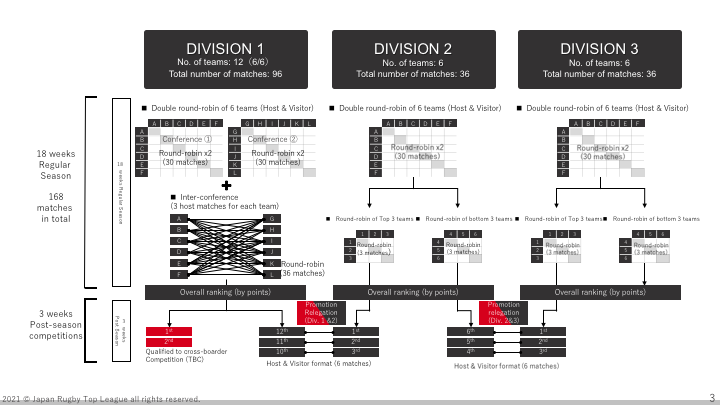 Below is the division allocation for the inaugural 2022 season.
Division One
NEC GREEN ROCKETS TOKATSU (NECグリーンロケッツ東葛)
NTTCommunications ShiningArcs TOKYO-BAY URAYASU (NTTコミュニケーションズシャイニングアークス東京ベイ浦安)
NTTdocomo RedHurricanes Osaka (NTTドコモレッドハリケーンズ大阪)
YOKOHAMA CANON EAGLES (横浜キヤノンイーグルス)
Kubota Spears Funabashi TOKYO-BAY (クボタスピアーズ船橋・東京ベイ)
KOBELCO KOBE STEELERS (コベルコ神戸スティーラーズ)
TOKYO SUNTORY SUNGOLIATH (東京サントリーサンゴリアス)
TOSHIBA BRAVE LUPUS TOKYO (東芝ブレイブルーパス東京)
TOYOTA VERBLITZ (トヨタヴェルブリッツ)
SHIZUOKA BlueRevs (静岡ブルーレヴズ)
RICOH BlackRams Tokyo (リコーブラックラムズ東京)
SAITAMA Panasonic WILD KNIGHTS (埼玉パナソニックワイルドナイツ)
Division Two
Kamaishi Seawaves Rugby Football Club (釜石シーウェイブスRFC)
HANAZONO KINTETSU LINERS (花園近鉄ライナーズ)
HINO RED DOLPHINS (日野レッドドルフィンズ)
MAZDA SKYACTIVS HIROSHIMA (マツダスカイアクティブズ広島)
MIE Honda HEAT (三重ホンダヒート)
Mitsubishi Heavy Industries Sagamihara Dynaboars (三菱重工相模原ダイナボアーズ)
Division Three
Kyushudenryoku KyudenVoltex (九州電力キューデンヴォルテクス)
Kurita Water Gush Akishima (クリタウォーターガッシュ昭島)
SHIMIZU KOTO BLUE SHARKS (清水建設江東ブルーシャークス)
Chugoku Electric Power Red Regulions (中国電力レッドレグリオンズ)
Toyota Industries Shuttles Aichi (豊田自動織機シャトルズ愛知)
MUNAKATA SANIX BLUES (宗像サニックスブルース)