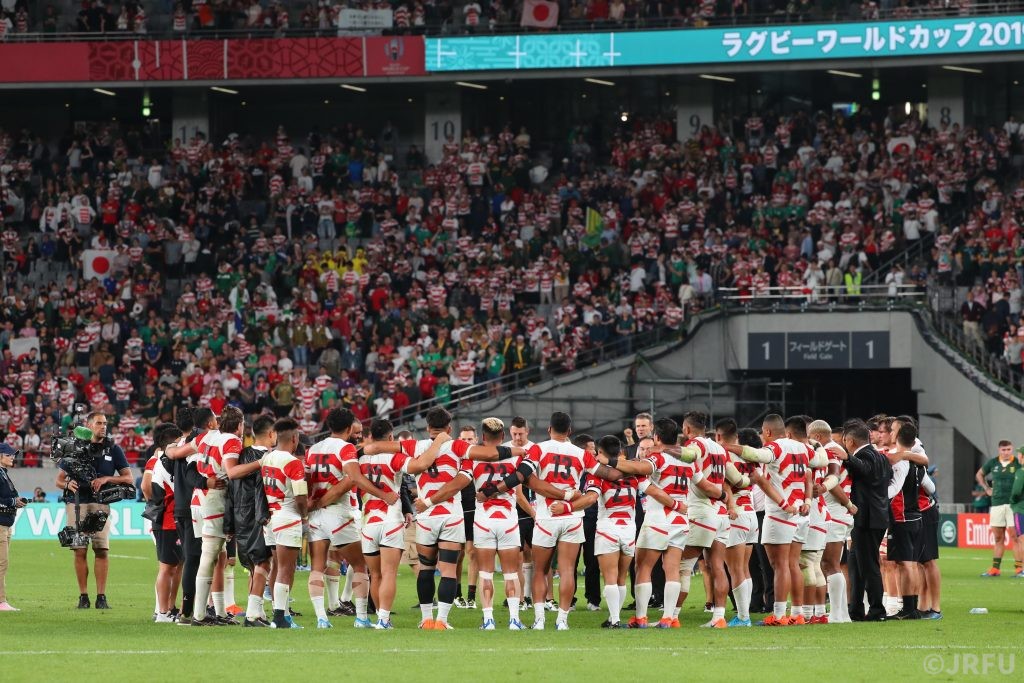 Japan National Team Wider Training Squad for 2021
The Japan Rugby Football Union has today announced the 52 players and team staff who will make up the Japan National Team Wider Training Squad for 2021.
Players have been selected from both the domestic Top League and from oversees clubs, while Head Coach Jamie Joseph will work with the same coaching team of Tony Brown, Scott Hansen, and Shin Hasegawa, that lead the Brave Blossoms to the knockout stages at the Rugby World Cup 2019.
Brave Blossoms Head Coach Jamie Joseph commented:
"It's been a long time coming since our last squad announcement and I am very excited about our upcoming challenge against the British and Irish Lions. It will be a very special occasion for the team to play the Lions for the first time ever. Announcing this squad is the first step in our preparation. The 2021 Top League has produced some great team performances and the competition between the teams is a lot closer than past years which is great for the development of the game in Japan.
"Since the World Cup we've had players who have retired from international rugby or who have made themselves unavailable for selection for personal reasons. This creates an opportunity for new players to put their best foot forward and show they can play at International level. The squad has a good balance of experience, as well as players with the potential to play international rugby. We will need to grow the depth of our team over the next 2 years and this tour to Scotland is just the starting point. The final rounds of Top League will show us who can play their best rugby under the pressure of knockout rugby. We will name the final squad of 35 players after the final matches in May."
Announced on May 24, the final squad members will assemble for a team camp in Beppu, Oita, on Japan's southern island of Kyushu from May 26 to June 8. As previously announced, the Brave Blossoms will play a warm-up match at ECOPA Stadium in Shizuoka on June 12, with the opponent to be announced in due course.
The Brave Blossoms are then scheduled to fly to Scotland on June 16 to take on the British & Irish Lions at BT Murrayfield in Edinburgh on June 26.
the Japan National Team Wider Training Squad for 2021
Forward : 29
| | | | | | | | |
| --- | --- | --- | --- | --- | --- | --- | --- |
| Position | Name | Club Team | Graduate | cm | kg | DO.B | Caps |
| PR | Shunsuke ASAOKA | TOYOTA Verblitz | Teikyo Univ. | 186 | 121 | 1996/06/24 | – |
| PR | Keita INAGAKI | PANASONIC Wild Knights | Kanto Gakuin Univ. | 186 | 116 | 1990/06/02 | 34 |
| PR | Asaeli Ai VALU | PANASONIC Wild Knights | Saitama Institute of Technology Univ. | 187 | 115 | 1989/05/07 | 14 |
| PR | Shinnosuke KAKINAGA | SUNTORY Sungoliath | Waseda Univ. | 180 | 115 | 1991/12/19 | 9 |
| PR | Kengo KITAGAWA | KUBOTA Spears | Dosisha Univ. | 178 | 110 | 1992/08/27 | 3 |
| PR | Jiwon KOO | HONDA Heat | Takushoku Univ. | 183 | 118 | 1994/07/20 | 13 |
| PR | Isileli NAKAJIMA | KOBE STEEL Kobelco Steelers | Ryutsu Keizai Univ. | 186 | 125 | 1989/07/09 | 8 |
| PR | Craig MILLAR | PANASONIC Wild Knights | Univ. of Otago | 186 | 116 | 1990/10/29 | – |
| PR | Yukio MORIKAWA | SUNTORY Sungoliath | Teikyo Univ. | 180 | 113 | 1993/02/06 | – |
| HO | Atsushi SAKATE | PANASONIC Wild Knights | Teikyo Univ. | 180 | 104 | 1993/06/21 | 21 |
| HO | Shunta NAKAMURA | SUNTORY Sungoliath | Meiji Univ. | 176 | 100 | 1994/02/28 | – |
| HO | Yoshikatsu HIKOSAKA | TOYOTA Verblitz | Tsukuba Univ. | 178 | 99 | 1991/01/18 | – |
| HO | Kosuke HORIKOSHI | SUNTORY Sungoliath | Teikyo Univ. | 175 | 100 | 1995/06/02 | 2 |
| LO | Mark ABBOTT | Munakata SANIX Blues | Univ. of Canterbury | 197 | 111 | 1990/02/20 | – |
| LO | Wimpie VAN DER WALT | NTT DOCOMO Red Hurricanes | Nelspruit HS | 188 | 112 | 1989/01/06 | 16 |
| LO | Ryota HASEGAWA | PANASONIC Wild Knights | Daito Bunka Univ. | 188 | 100 | 1993/05/12 | – |
| LO | Uwe HELU | YAMAHA Jubilo | Takushoku Univ. | 193 | 113 | 1990/07/12 | 16 |
| LO | James MOORE | Munakata SANIX Blues | Brisbane State HS | 195 | 110 | 1993/06/11 | 8 |
| LO | Liaki MOLI | HINO Red Dolphins | St. Paul's College | 197 | 110 | 1990/01/04 | – |
| FL | Naoki OZAWA | SUNTORY Sungoliath | Keio Univ. | 182 | 102 | 1988/10/08 | 4 |
| FL | Ben GUNTER | PANASONIC Wild Knights | Brisbane Boys'College | 195 | 120 | 1997/10/24 | – |
| FL | Jack CORNELSEN | PANASONIC Wild Knights | Univ. of Queensland | 195 | 110 | 1994/10/13 | – |
| FL | Shuhei MATSUHASHI | RICOH Black Rams | Meiji Univ. | 180 | 99 | 1993/11/24 | 8 |
| FL | Pieter LABUSCHAGNE | KUBOTA Spears | Univ. of the Free State | 189 | 106 | 1989/01/11 | 8 |
| FL | Michael LEITCH | TOSHIBA Brave Lupus | Tokai Univ. | 189 | 113 | 1988/10/07 | 68 |
| No.8 | Tevita TATAFU | SUNTORY Sungoliath | Tokai Univ. | 183 | 124 | 1996/01/02 | 3 |
| No.8 | Lui NAEATA | KOBE STEEL Kobelco Steelers | Ryutsu Keizai Univ. | 193 | 118 | 1994/02/02 | – |
| No.8 | Amanaki Lelei MAFI | CANON Eagles | Hanazono Univ. | 189 | 112 | 1990/01/11 | 27 |
| No.8 | Kazuki HIMENO | TOYOTA Verblitz | Teikyo Univ. | 187 | 112 | 1994/07/27 | 17 |
Backs : 23
| | | | | | | | |
| --- | --- | --- | --- | --- | --- | --- | --- |
| Position | Name | Club Team | Graduate | cm | kg | DO.B | Caps |
| SH | Koki ARAI | CANON Eagles | Teikyo Univ. | 175 | 80 | 1993/05/14 | – |
| SH | Taiki KOYAMA | PANASONIC Wild Knights | Daito Bunka Univ. | 171 | 74 | 1994/10/31 | – |
| SH | Naoto SAITO | SUNTORY Sungoliath | Waseda Univ. | 165 | 73 | 1997/08/26 | – |
| SH | Kaito SHIGENO | TOYOTA Verblitz | Daito Bunka Univ. | 170 | 75 | 1990/11/21 | 10 |
| SO | Yu TAMURA | CANON Eagles | Meiji Univ. | 181 | 92 | 1989/01/09 | 63 |
| SO | Doga MAEDA | NTT Communications ShiningArcs | Tsukuba Univ. | 178 | 88 | 1996/11/30 | 4 |
| SO | Rikiya MATSUDA | PANASONIC Wild Knights | Teikyo Univ. | 181 | 92 | 1994/05/03 | 24 |
| WTB | Shota EMI | SUNTORY Sungoliath | Gakushuin Univ. | 1991 | 95 | 1991/12/08 | – |
| WTB | Jone NAIKABULA | TOSHIBA Brave Lupus | Setsunan Univ. | 177 | 95 | 1994/04/12 | – |
| WTB | Siosaia FIFITA | KINTETSU Liners | Tenri Univ. | 187 | 105 | 1998/12/20 | – |
| WTB | Shogo NAKANO | SUNTORY Sungoliath | Waseda Univ. | 186 | 98 | 1997/06/11 | – |
| WTB | Kotaro MATSUSHIMA | ASM Clermont Auvergne | Toin Gakuen HS | 178 | 88 | 1993/02/26 | 39 |
| WTB | Ataata MOEAKIOLA | KOBE STEEL Kobelco Steelers | Tokai Univ. | 186 | 108 | 1996/02/06 | 4 |
| WTB | Lomano Lava LEMEKI | Munakata SANIX Blues | Runcorn HS | 177 | 94 | 1989/01/20 | 15 |
| CTB | Yusuke KAJIMURA | SUNTORY Sungoliath | Meiji Univ. | 181 | 95 | 1995/09/13 | 1 |
| CTB | Shane GATES | NTT Communications ShiningArcs | Muir College Boys' HS | 183 | 95 | 1992/09/27 | – |
| CTB | Ryoto NAKAMURA | SUNTORY Sungoliath | Teikyo Univ. | 181 | 92 | 1991/06/03 | 24 |
| CTB | Dylan RILEY | PANASONIC Wild Knights | The Southport School | 187 | 102 | 1997/05/02 | – |
| CTB | Timothy LAFAELE | KOBE STEEL Kobelco Steelers | Yamanashi Gakuin Univ. | 186 | 100 | 1991/08/19 | 23 |
| FB | Seiya OZAKI | SUNTORY Sungoliath | Teikyo Univ. | 175 | 85 | 1995/07/11 | 3 |
| FB | Ryuji NOGUCHI | PANASONIC Wild Knights | Tokai Univ. | 177 | 83 | 1995/07/15 | 13 |
| FB | Gerhard van den HEEVER | KUBOTA Spears | Univ. of Pretoria | 192 | 102 | 1989/04/13 | – |
| FB | Ryohei YAMANAKA | KOBE STEEL Kobelco Steelers | Waseda Univ. | 188 | 100 | 1988/06/22 | 18 |
Team Staff
| | | |
| --- | --- | --- |
| Position | Name | Organization |
| National Team Director | Yuichiro FUJII | Japan Rugby Football Union |
| Head Coach | Jamie JOSEPH | Japan Rugby Football Union |
| Assistant Coach | Tony BROWN | Japan Rugby Football Union |
| Assistant Coach | Scott HANSEN | Japan Rugby Football Union |
| Assistant Coach | Shin HASEGAWA | Japan Rugby Football Union |
| Strength & Conditioning Coach | Andrew BEARDMORE | Japan Rugby Football Union |
| Assistant Strength & Conditioning Coach | Chihiro OTA | Japan Rugby Football Union |
| Assistant Strength & Conditioning Coach | Adam KEEN | Munakata SANIX Blues |
| Analyst | Andrew WATTS | Otago Highlanders |
| Analyst | Shumpei HAMANO | Japan Rugby Football Union |
| Team Doctor | Sohei TAKAMORI | Yokohama Minami Kyosai Hospital |
| Performance Coordinator | Karl MCDONALD | Japan Rugby Football Union |
| Athletic Trainer | Takehiko HAMANO | Musashino Atlastars Orthpedic Sports Clinic |
| Physiotherapist | Satoshi KUNITSUGU | Yokohama Sports Medical Center |
| Mental Coach | David GALBRAITH | Japan Rugby Football Union |
| Interpreter | Nao YOSHIMIZU | Japan Rugby Football Union |
| Baggage Master and Assistant Interpreter | Josh WESTBROOK | Japan Rugby Football Union |
| Team Manager | Takenori OMURA | Japan Rugby Football Union |
| Assistant | Yumiko SASABAYASHI | Japan Rugby Football Union |
| Team Media Manager | Sayuri SHIDA | Japan Rugby Football Union |