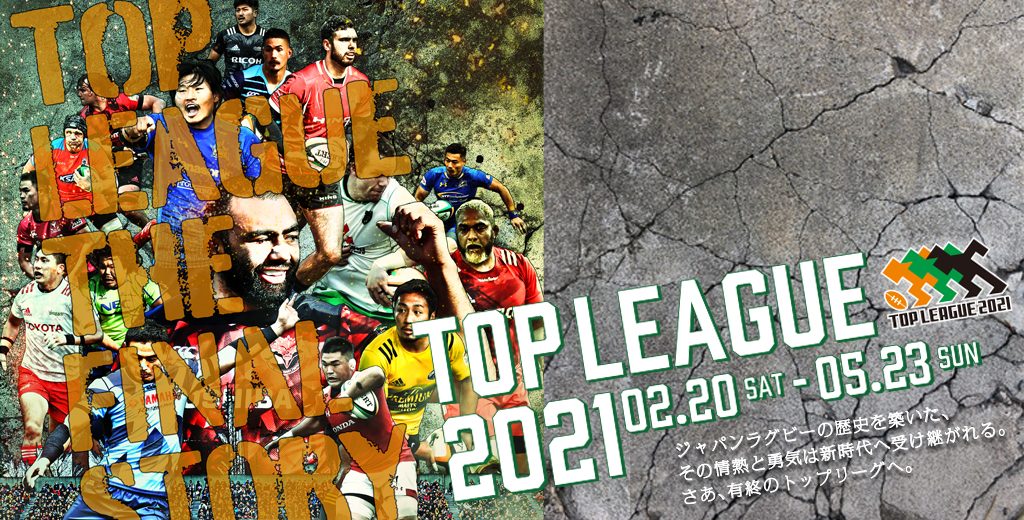 Japan Rugby Top League 2021 Announces New Tournament Format and Season Calendar: Opening Round on Saturday, February 20th, 2021
The Japan Rugby Top League has today announced the new format and calendar of its 2021 season following a delay of its originally scheduled opening round due to coronavirus.
The new format divides 16 teams into two conferences with a single round robin tournament for each to determine the standings. After the completion of the round robin tournaments, a play-off will be played by 20 teams which include the top 4 teams of the Japan Rugby Top Challenge League 2021 to decide the season's winner. There will be 75 matches in total; 56 conference-stage matches from Saturday, February 20th to Sunday, April 11th and 19 play-off matches from Saturday, April 17th to Sunday, May 23rd.
Further information on tickets sales will be announced as soon as details are finalized.
---
Japan Rugby Top League 2021 Overview
Organizer:

Japan Rugby Football Union/Japan Rugby Top League
Regional Unions in Charge:

Japan East Rugby Football Union, Kansai Rugby Football Union, Kyushu Rugby, Football Union and prefectural unions of the host cities
Tournament Dates:

Saturday, February 20th to Sunday, May 23rd, 2021
Number of Participating Teams:

25 teams (16 Top League teams and 9 Top Challenge League teams)
Law of the Game:

The tournament will be played according to the World Rugby Law of the Game of the tournament year.
A match time will comprise two-halves of 40 minutes with a half time period of 12 minutes.
Tournament Format:

Round-robin conference stage (2 conferences) and play-off stage
<Conference-stage>
16 teams will be divided into 2 conferences of 8 teams each (RED and WHITE) with a single round-robin tournament in each conference.
Teams are allocated to 8 bands of 2 teams each based on the final standings of the 2018-19 season. A lottery was conducted to divide the teams in each band to the 2 conferences.
| | |
| --- | --- |
| Red Conference | White Conference |
| Suntory Sungoliath (2nd) | Kobe Steel Kobelco Steelers (1st) |
| Toyota Verblitz (4th) | Yamaha Jubilo (3rd) |
| NTT Communications ShiningArcs (5th) | Panasonic Wild Knights (6th) |
| Kubota Spears (7th) | Ricoh Black Rams (8th) |
| Honda HEAT(9th) | NEC Green Rockets (10th) |
| Toshiba Brave Lupus (11th) | Canon Eagles (12th) |
| Munakata Sanix Blues (13th) | Hino Red Dolphins(14th) |
| Mitsubishi Heavy Industries Sagamihara Dynaboars (15th) | NTT Docomo Red Hurricanes (1st in TCL) |
<Play-off stage>
The top 4 teams of the Japan Rugby Top Challenge League 2021 final standings will join the 16 Japan Rugby Top League teams to play a play-off tournament (19 matches) to decide the winner of the Top League 2021 season.
Number of the Matches:
Method for Determining Final Standings:

Article 39 of the Japan Rugby Top League Regulations shall be applied for both the conference-stage and the play-off stage.
Team:
Based on the Japan Rugby Top League 2021 standings, the following commemorative gifts will be presented to award the teams respectively as follows:
Winner: Top League trophy and champion flag
Runners-up: Top League plaque
Bronze: Top League plaque
Fair Team Award: Top League commemorative gift

3 points for a yellow card and 10 points for a red card shall be added to the team's total number of infringements.
Any team receiving a suspension shall be excluded from selection of the Fair Team Award.
Players:
The following commemorative gifts will be presented to award the players who achieved excellent performance respectively as follows:
MVP, 2) The Top Points Scorer, 3) The Top try scorer, 4) The Top Place Kickers, 5) The Greatest Fifteen, 6) Best-whistle Award
Other Awards:
In all league-stage matches, the Match Commissioner shall select and award the Man of the Match and a commemorative gift to a player who achieved the best performance in the match.
JRTL may select and award the rookie of the season to a player by the method separately specified by the league and also individual awards to players by fan vote.
Person of Merit Award

JRTL may honor a person who had given distinguished services in the growth of Japan rugby through the league by awarding commemorative gifts.
Those awarded in 1) shall be selected by the Selection Committee based on the recommendation by the league.
---
Japan Rugby Top League 2021 Tournament Format Chart
Japan Rugby Top League 2021
Kick-off time changed (Updated 2nd February 2021):
Round 3. NEC Green Rockets v Yamaha Jubilo kick-off time has changed to 12:00
Round 7. Suntory Sungoliath v NTT Communications Shining Arcs Kick-off time has changed to 13:00
Kick-off time changed (Updated 11 March 2021):
Round 5. Toshiba Brave Lupus v NTT Communications Shining Arcs kick-off time has changed to 18:00 Friday Mach 26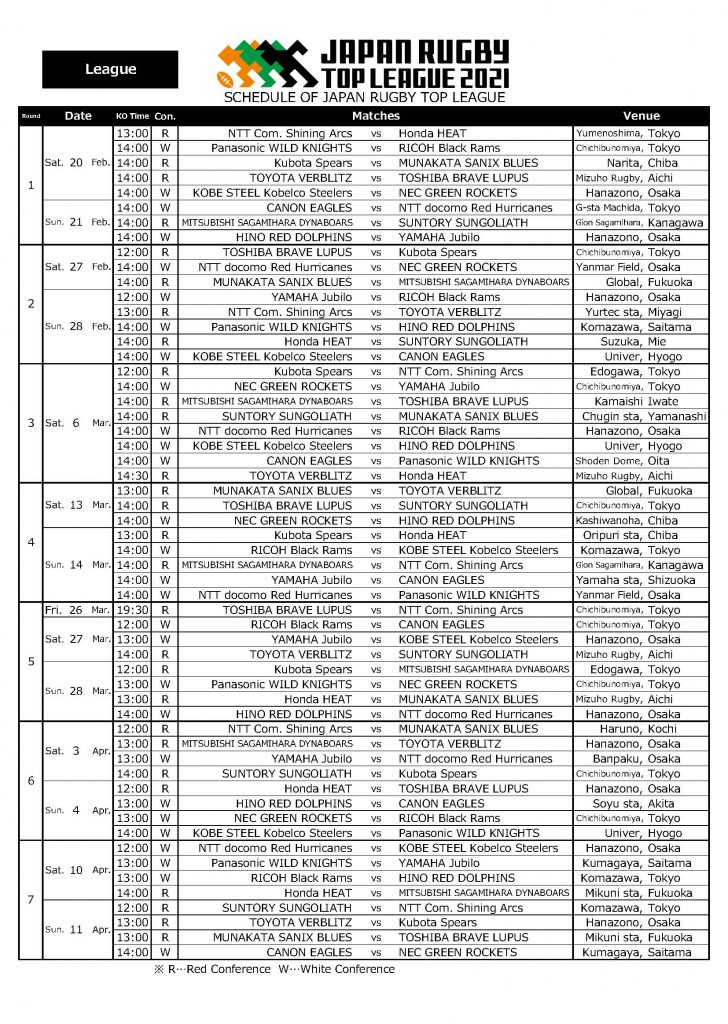 Top Challenge League 2021 (Updated on 26, January 2021)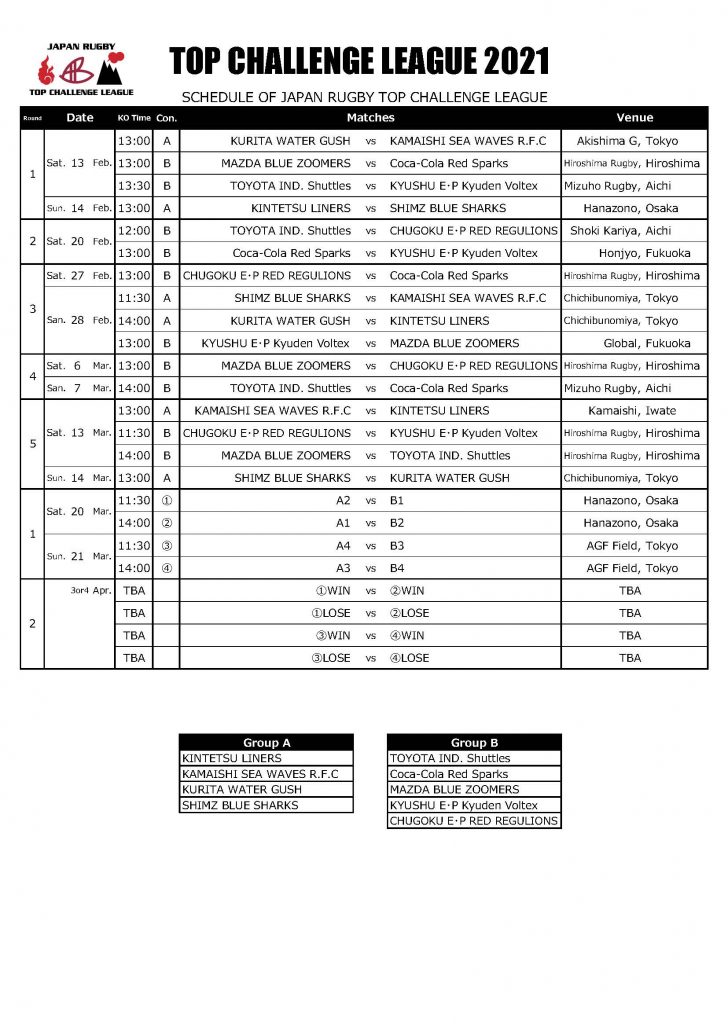 Japan Rugby Top League 2021 Playoff Tournament
*Kick-off Times are announced. (updated on March 29)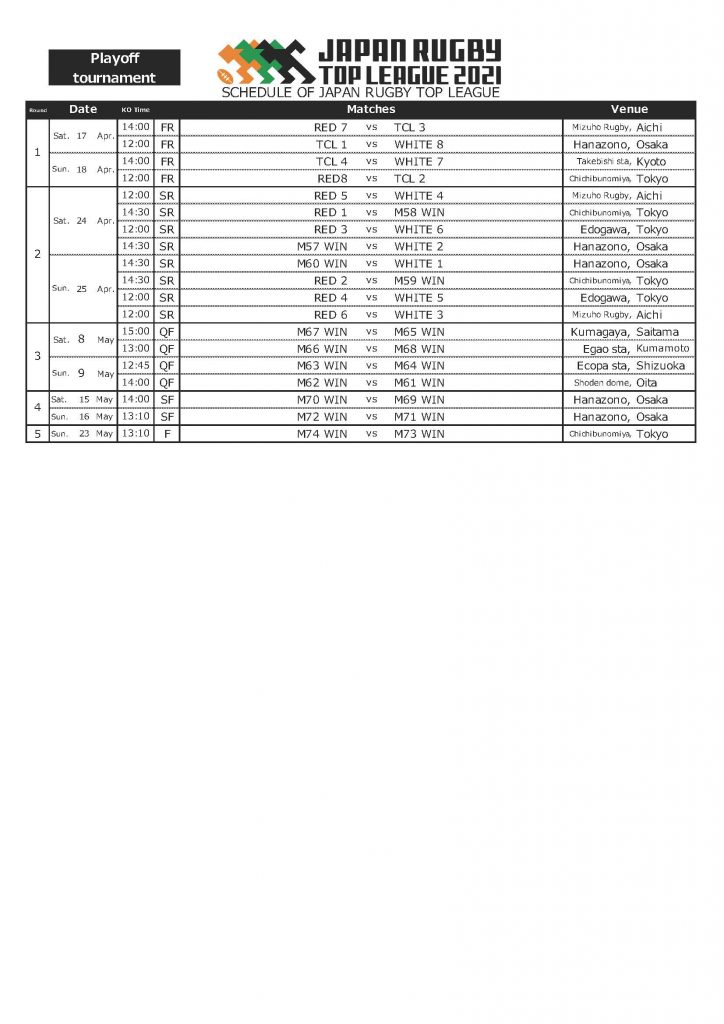 ---
Japan Rugby Top League 2021: Lists of Venues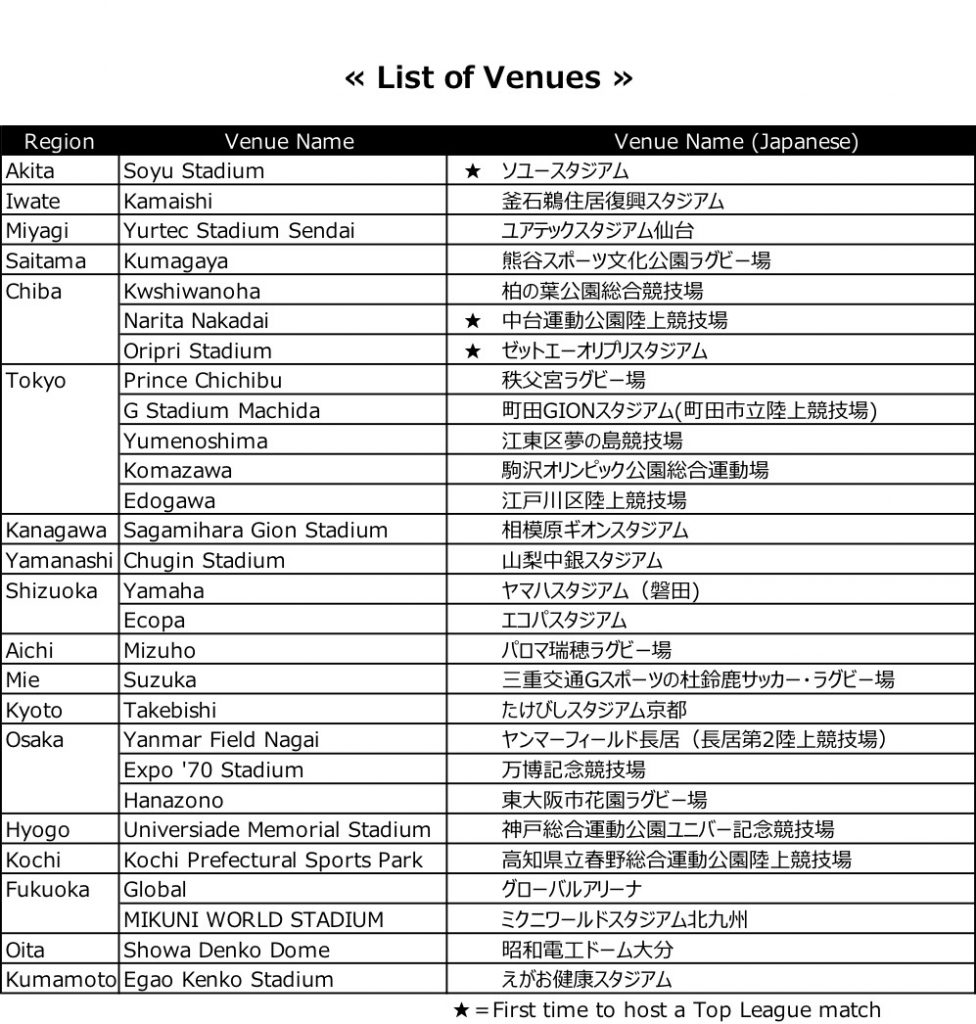 *Details on the Japan Rugby Top Challenge League 2021 are available on the Japan East Rugby Football Union's website: https://www.rugby.or.jp/