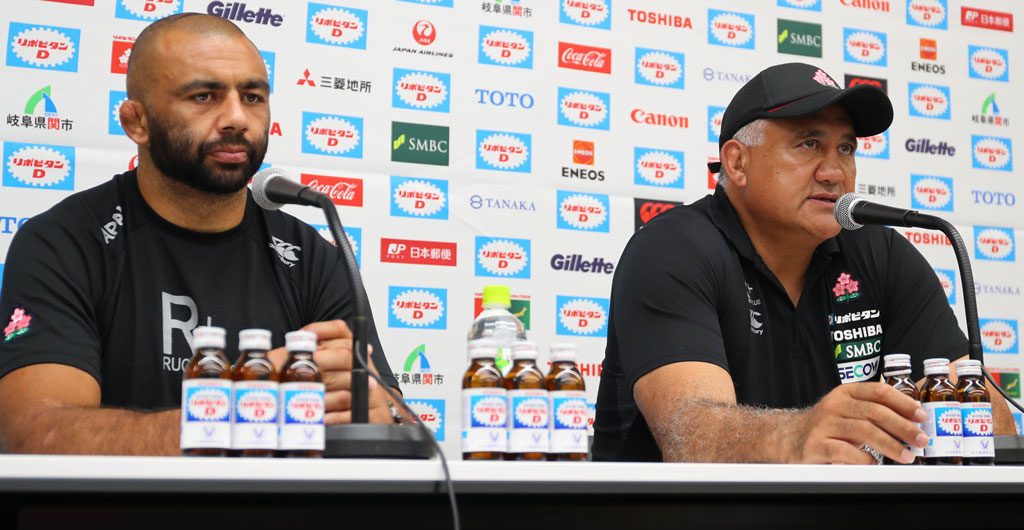 Japan Are Prepared and Ready to Go, Says Joseph
TOKYO (Sept. 7) – A day after watching his team lose their final Rugby World Cup warm-up game 41-7 to South Africa, Japan coach Jamie Joseph said the game was exactly what the Brave Blossoms needed following their recent success in the Pacific Nations Cup.
"I thought it was exactly the type of physical match we needed," he said. "The biggest lesson for us is that when we make a small mistake against a Tier 1 team, they will punish us and score points."
Following Friday's game against the Springboks at Kumagaya Rugby Stadium, Joseph said his team had been beaten in the aerial battle, and it was a lesson they would take on board with the World Cup kicking off in 13 days time.
"They kicked the ball and forced us into mistakes…(Pool A opponents) Ireland and Scotland will play like that against us so it is an area we need to work on."
A day later at an event to launch their World Cup campaign, Joseph said that he had received "good news" from the medical team regarding injuries to Kenki Fukuoka and Amanaki Lelei Mafi and that the team was ready for their opening game against Russia on Sept. 20 in Tokyo.
"We are a well-prepared team, both physically and mentally," he said. "Our players, our coaches, are totally aligned. We understand what our roles are, whether it's the coaching staff, or the medical staff, or the players."
"Everyone understands how important this event is going to be. But none more than our staff and the players themselves. We want to make everyone proud and we will be doing our best to make sure that happens."
It was a view shared by captain Michael Leitch.
"We have prepared well for our goal of making the quarterfinals. We just want to approach the World Cup one match at a time and play to our ability," he said.