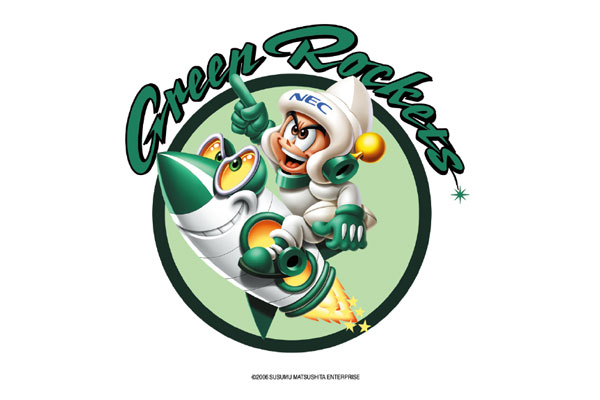 Top League Profiles 2018-2019: NEC Green Rockets
2018-2019 Introduction: In the 2017-2018 season, NEC Green Rockets finished eighth overall on the final Japan Rugby Top League table.
Head coach Peter Russell will be striving for consistency at NEC this season, especially against the stronger teams in the league. There has not been a significant turnover in player personnel during the off-season and this stability should help the Green Rockets as the season progresses. However, noticeable losses include former international prop Yuta Inose and flanker Adam Thomson, but this is off-set by the acquisition of five-eighth Stephen Donald and Japan international centre Derek Carpenter. Senior players in the squad including prop Sunao Takizawa, loose forwards Taro Kenji and Yoshiya Hosoda, Wallabies No8 Scott Higginbotham, centre Shindo Kamaike and wing Teruya Goto will have to set the standard this season if the Green Rockets are to improve on last season's showing. New Zealander Peter Russell is in his third year as head coach at NEC and he has the task of uniting his squad to produce more wins than losses this season.
The Coach: New Zealand-born Peter Russell is in his third year as head coach at NEC in the 2018-2019 season.
The Captain: At NEC for the 2018-2019 season, the new co-captains are flanker Ryoi Kamei and centre Yosuke Morita.
The 2018-2019 Squad: (49) the list starts with captain and vice-captains and then continues through forwards and backs in order from props to fullbacks.
Ryoi Kamei (co-c), Yosuke Morita (co-c). Forwards: Takahiro Doi, Sunao Takizawa, Hikaru Tanaka, Mao Enoki, Toshiaki Maejima, Kento Imura, Takumi Adachi, Yosuke Usui, Shin Kawamura, Teppei Akiyama, Yo Sato, Taku Hirosawa, Lee Jin-Seok, Ryunosuke Yamada, Sam Jeffries, Shoji Tanaka, Sanaila Waqa, Lepuha Latuila, Taro Kenji, Yoshiya Hosoda, Tatsuru Owada, Rikiya Oishi, Takumi Matsumura, Scott Higginbotham and George Risale. Backs: Keisuke Yamada, Tomonori Kimura, Shinnosuke Tafokitau Oka, Daiki Nakajima, Stephen Donald, Kodai Kameyama, Yosuke Yokoyama, Shindo Kamaike, Derek Carpenter, Ryosuke Kanemura, Koichi Matsuura, Sho Yamazaki, Yudai Kameyama, Amanaki Savieti, Yuki Miyamae, Maritino Nemani, Teruya Goto, Sho Takenaka, Hiroyuki Miyajima, Ryuta Iiyama, Hiromasa Yoshihiro and Yuki Takahira. Coach: Peter Russell (55).