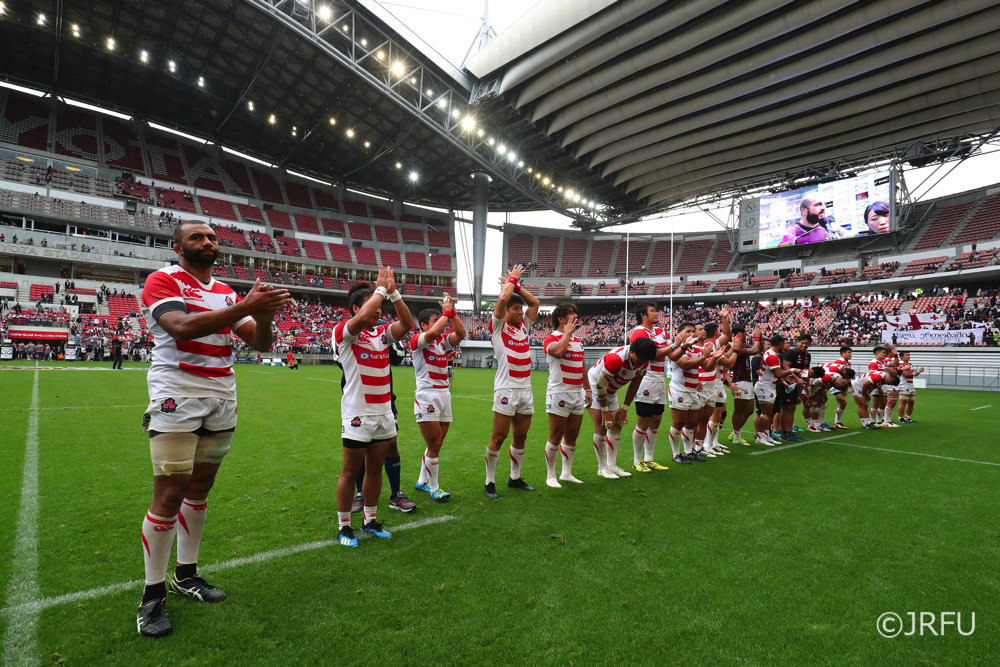 Joseph says Brave Blossoms "have come a long way"
TOYOTA (June 23) – Japan coach Jamie Joseph said Saturday following his side's 28-0 win over Georgia that he was "really proud of the team and what we have achieved in June. In the past year we have come a long way in a short time."
On a wet day at Toyota Stadium, the Japan forwards laid the foundations for the win with a dogged powerful display.
"It was a very difficult match in conditions that Japan traditionally does not enjoy," said Joseph. "But the players understood and overcame the challenge."
"In the set piece we put them under pressure and they couldn't get going. And when the ball was on the ground, our counter-rucking and attacking mindset in defence was a standout point."
Japan captain Michael Leitch admitted the win may not have been based on the high-paced attacking style of rugby the Brave Blossoms are known for, but said it was a hugely important victory for the team.
"It might be boring to watch but this is how you win test matches against a team like Georgia. We kept them under pressure and that was the key to the victory."
Joseph praised his side "for putting their bodies on the line" and  said "one of the big reasons Japan have been able to transition the learnings from Super Rugby to test-match level is the consistency of the players."
Joseph said the leadership of Leitch and the other senior members of the side had been crucial to the success the team has had of late.
"They understand what it takes to win a test match," he said.
The former New Zealand and Japan international also took time to praise his support staff and coaching crew, singling out attack coach Tony Brown, defence coach John Plumtree and strength and conditioning coach Simon Jones.
"They are a world-class team," he said.