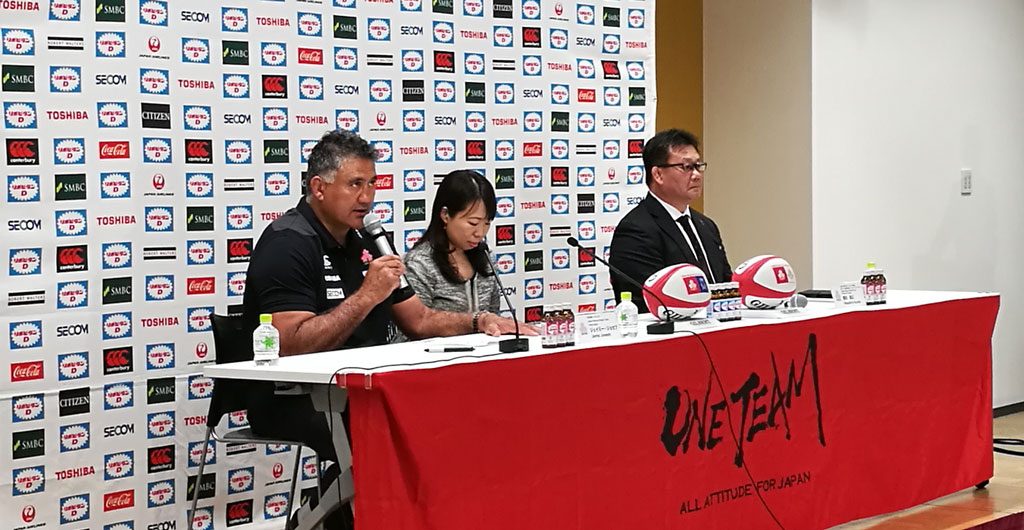 Leitch to lead Japan against Italy, Georgia
TOKYO (May 23) – Michael Leitch will lead Japan against Italy and Georgia in the June test matches, head coach Jamie Joseph announced Wednesday.
The Brave Blossoms take on Italy on June 9 and 16 in Oita and Kobe, respectively, before they play Georgia on June 23 in Toyota City, and Leitch said they were the ideal opponents given the challenges ahead.
"Looking ahead to the World Cup, we are playing big set piece teams. Italy and Georgia will test our set piece so in terms of preparations for the World Cup, these 3 games are excellent," he said.
"We need convincing wins against against these quality sides, and to get that we need to prepare. Preparation is the key."
The 33-man squad contains just one new in flanker Masakatsu Nishikawa, who turned 31 last week.
"Nishikawa has played consistently good rugby for Suntory for the last two years and shown the mettle and resilience I am looking for," Joseph said. "It's not common to make your test debut at that age but I give you another player by comparison in Frank Bunce who became an All Black at 31 and went on to become the most capped center in New Zealand prior to Conrad Smith."
Leitch, however, pointed out that the door was still open for other players to make the squad for the next Rugby World Cup, which Japan will host from Sept. 20 to Nov. 2, 2019.
"Some players have missed out on selection, this squad will be forever changing and no position is guaranteed," he said.
Lock Samuela Anise, flyhalf Rikiya Matsuda and Melbourne Rebels No. 8 Amanaki Lelei Mafi are the only players in the squad who are not in the Sunwolves squad, though Anise and Matsuda were part of the Japan A side that recently won two of three games in New Zealand against Super Rugby development sides.
Joseph said the players were a lot fitter than a year ago when they lost twice to Ireland – one of their RWC 2019 opponents – at home.
"We weren't fit enough last year when we played Ireland," he said. "We have periodically running a lot of fitness tests so the bar is a lot higher and players must reach certain standards to maintain their position. And we saw that last week (for the Sunwolves) against the Stormers where we lasted longer in the humidity and heat."
Joseph confirmed that John Plumtree would be back as defense coach for the June and November test matches, with negotiations almost finalised to ensure the Hurricanes head coach can also assist Japan at the World Cup.
And like Leitch, Joseph said the June tests would be a great chance to see where his team are at ahead of a busy 18 months.
"Italy and Georgia are both set piece teams with very strong scrums, line-outs and mauls and exactly the type of challenge we need going into games against the All Blacks and England at the end of the year and as we prepare for the World Cup."
---
■FW:18
| Position | Name | Club Team | Graduate | cm | kg | D/O/B | Caps |
| --- | --- | --- | --- | --- | --- | --- | --- |
| PR |  Takuma ASAHARA | TOSHIBA Brave Lupus | Hosei Univ. | 179 | 113 | 1987/9/7 | 9 |
| PR |  Shintaro ISHIHARA | SUNTORY Sungoliath | Meiji Univ. | 181 | 105 | 1990/6/17 | 8 |
| PR |  Keita INAGAKI | PANASONIC Wild Knights | Kanto Gakuin Univ. | 186 | 116 | 1990/6/2 | 19 |
| PR |  Jiwon KOO | HONDA Heat | Takushoku Univ. | 183 | 122 | 1994/7/20 | 2 |
| PR |  Genki SUDO | SUNTORY Sungoliath | Meiji Univ. | 173 | 110 | 1994/1/28 | 2 |
| HO | Atsushi SAKATE | PANASONIC Wild Knights | Teikyo Univ. | 180 | 104 | 1993/6/21 | 10 |
| HO | Yusuke NIWAI | CANON Eagles | Ritsumeikan Univ. | 174 | 102 | 1991/10/22 | 3 |
| HO | Shota HORIE | PANASONIC Wild Knights | Teikyo Univ. | 180 | 104 | 1986/1/21 | 55 |
| LO | Samuela ANISE | CANON Eagles | Fiji Institute of Technology | 198 | 118 | 1986/8/30 | 7 |
| LO | Wimpie VAN DER WALT | NTT DOCOMO Red Hurricanes | [RSA]Nelspruit HS | 188 | 106 | 1989/1/6 | 3 |
| LO | Uwe HELU | YAMAHA Jubilo | Takushoku Univ. | 193 | 115 | 1990/7/12 | 7 |
| LO |  Shinya MAKABE | SUNTORY Sungoliath | Chuo Univ. | 192 | 126 | 1987/3/26 | 36 |
| FL |  Yoshitaka TOKUNAGA | TOSHIBA Brave Lupus | Kwansei Gakuin Univ. | 185 | 100 | 1992/4/10 | 8 |
| FL |  Masakatsu NISHIKAWA | SUNTORY Sungoliath | Kwansei Gakuin Univ. | 181 | 95 | 1987/5/18 | – |
| FL |  Amanaki Lelei MAFI | NTT COMMUNICATIONS Shining Arcs | Hanazono Univ. | 189 | 112 | 1990/1/11 | 19 |
| FL | Michael LEITCH (C) | TOSHIBA Brave Lupus | Tokai Univ. | 189 | 105 | 1988/10/7 | 53 |
| No.8 |  Shunsuke NUNOMAKI | PANASONIC Wild Knights | Waseda Univ. | 178 | 96 | 1992/7/13 | 5 |
| No.8 | Kazuki HIMENO | TOYOTA Verblitz | Teikyo Univ. | 187 | 108 | 1994/7/27 | 3 |
■BK:15
| Position | Name | Club Team | Graduate | cm | kg | D/O/B | Caps |
| --- | --- | --- | --- | --- | --- | --- | --- |
| SH |  Keisuke UCHIDA | PANASONIC Wild Knights | Univ. of Tsukuba | 179 | 86 | 1992/2/22 | 22 |
| SH |  Fumiaki TANAKA | PANASONIC Wild Knights | Kyoto Sangyo Univ. | 166 | 72 | 1985/1/3 | 64 |
| SH | Yutaka NAGARE | SUNTORY Sungoliath | Teikyo Univ. | 166 | 71 | 1992/9/4 | 9 |
| SO |  Yu TAMURA | CANON Eagles | Meiji Univ. | 181 | 91 | 1989/1/9 | 48 |
| SO |  Rikiya MATSUDA | PANASONIC Wild Knights | Teikyo Univ. | 181 | 92 | 1994/5/3 | 10 |
| WTB | Sione TEAUPA | KUBOTA Spears | Ryutsu Keizai Univ. | 183 | 99 | 1992/7/9 | 3 |
| WTB |  Kenki FUKUOKA | PANASONIC Wild Knights | Univ. of Tsukuba | 175 | 83 | 1992/9/7 | 25 |
| WTB |  Akihito YAMADA | PANASONIC Wild Knights | Keio Univ. | 182 | 88 | 1985/7/26 | 23 |
| WTB | Lomano Lava LEMEKI | HONDA Heat | [AUS]Runcorn HS | 177 | 92 | 1989/1/20 | 5 |
| CTB |  Harumichi TATEKAWA | KUBOTA Spears | Tenri Univ. | 180 | 95 | 1989/12/2 | 54 |
| CTB | William TUPOU | COCA-COLA Red Sparks | [AUS]Brisbane State HS | 187 | 101 | 1990/7/20 | 1 |
| CTB |  Ryoto NAKAMURA | SUNTORY Sungoliath | Teikyo Univ. | 178 | 92 | 1991/6/3 | 11 |
| CTB | Timothy LAFAELE | COCA-COLA Red Sparks | Yamanashi Gakuin Univ. | 186 | 98 | 1991/8/19 | 8 |
| FB |  Ryuji NOGUCHI | PANASONIC Wild Knights | Tokai Univ. | 177 | 86 | 1995/7/15 | 12 |
| FB |  Kotaro MATSUSHIMA | SUNTORY Sungoliath | Toin Gakuen HS | 178 | 87 | 1993/2/26 | 28 |