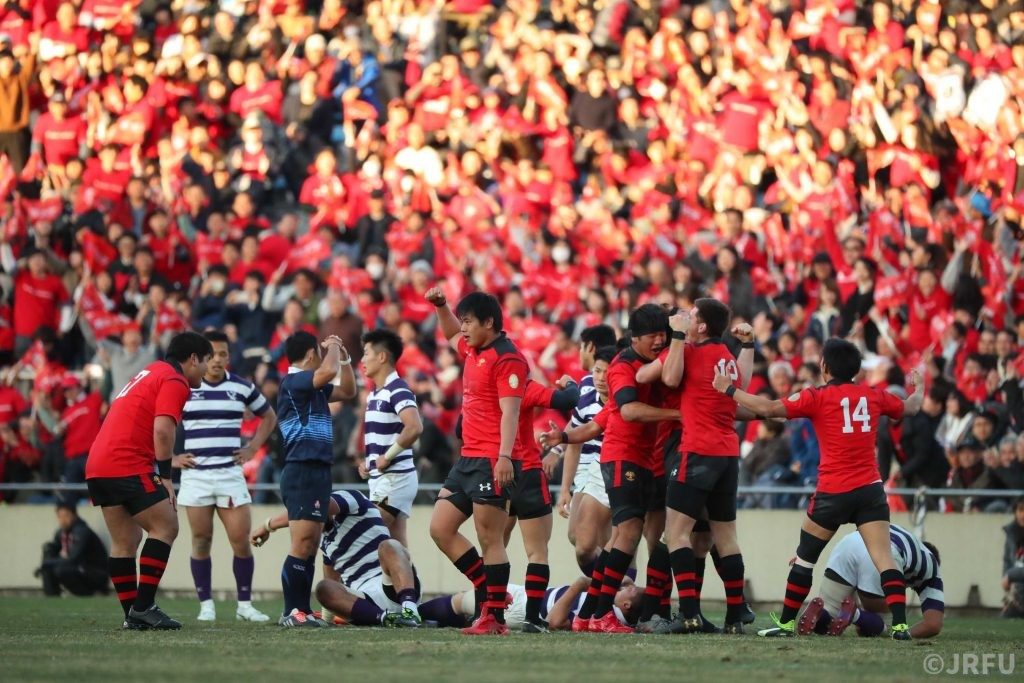 Teikyo Win 9th Straight University Title
TOKYO (Jan. 7) – Teikyo University beat Meiji University 21-20 in a pulsating final Sunday to win their ninth straight collegiate rugby championship.
Playing in front of 20,489 passionate fans at Prince Chichibu Memorial Rugby Ground, Teikyo were forced to come from behind at halftime – something they had never experienced in their previous eight  finals – as Meiji took the game to them from the start.
Centre Yusuke Kajimura, who trained with the Japan national team under Eddie Jones back in 2013 when he was still at Hotoku Gakuen High School, opened the scoring with an intercept try in the seventh minute.
Teikyo hit back when a good run from Nick McCurran was finished off by captain and Japan international Kosuke Horikoshi.
But it was Meiji who finished the half stronger.
A long pass from Kajimura put Taichi Takahashi away in the 15th minute, though the wing still had a lot to when receiving the ball, powering through two defenders on his way to the line. And scrumhalf Kenta Fukuda extended the lead 10 minutes later after his forwards had kept the ball alive for a number of phases.
Kohei Horigome made it 20-7 five minutes into the second half before Teikyo lifted their game with tries in the 55th and 60th minutes to Daichi Akiyama and Yuki Okada, respectively.
Koki Takeyama's conversions eventually proved to be the difference as Teikyo held on for the win.
"Meiji played really well. That was a great game and a great advertisement for university rugby," Teikyo coach Masayuki Iwade said immediately after the game. "I feel relieved and have a lot of respect for the players of both teams."