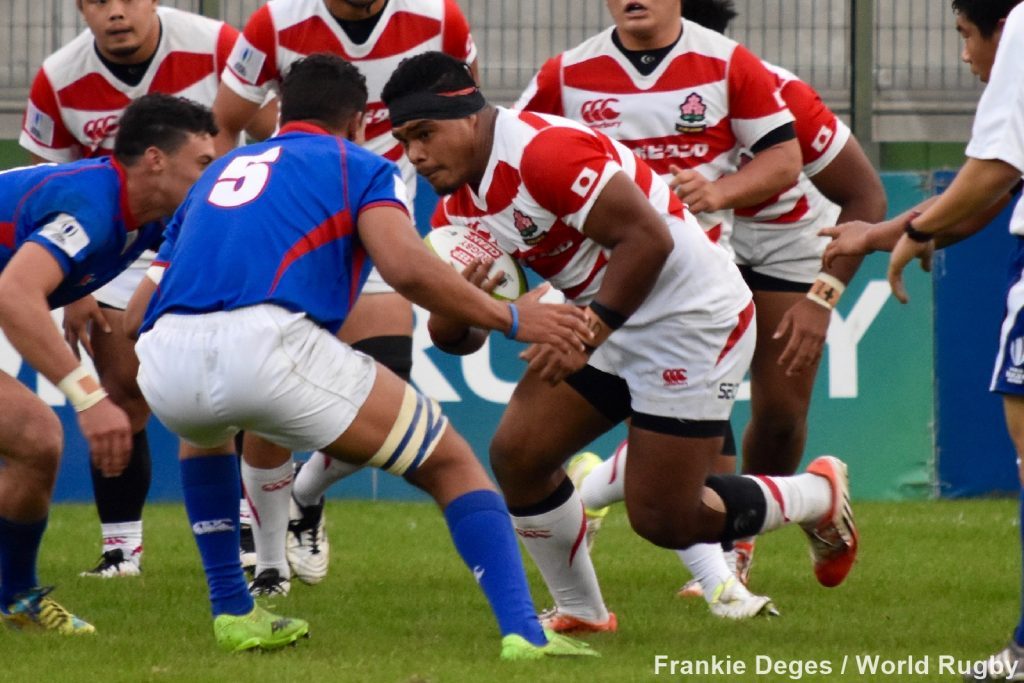 Japan Under-20 Overcome a Determined Namibia
Japan Under-20 overcame a determined Namibia 33-13 in their third and final pool game at the 2017 World Rugby Under-20 Trophy in Uruguay on Wednesday.
Japan as the top team in Pool A will play Portugal who headed Pool B in the Trophy Final on Sunday with a place in the World Rugby Under-20 Championship for next year up for grabs.
The age-grade Japanese side had to do it the hard way in the first half only managing to lead 14-13 at halftime. The score remained unchanged up to the hour mark, however, Japan opened up and ran away with the game over the final quarter.
Flanker Faulua Makisi and hooker Hinata Takei scored the tries in the opening stanza with fullback Kosuke Naka on hand to add both conversions to give Japan the one-point lead at the break.
The second half turned into an arm-wrestle until Makisi broke the deadlock with his second try around the sixty minute mark. More tries soon followed with team captain and five-eighth Taichi Mano and Makisi crossing the Namibian line to stretch the lead to 33-13, the eventual fulltime score.
---
Japan U20 33 – Tries: Faulua Makisi 3, Taichi Mano and Hinata Takei; Conversions: Kosuke Naka 4 d
Namibia U20 13 – Tries: Collins Omalu and Luke Jansen; Penalty: Cliven Loubser.
---
Japan Under-20: 1- Ahn Chang-Ho, 2- Hinata Takei, 3- Kan Nakano, 4- Naoaki Horibe, 5- Ryuga Hashimoto, 6- Faulua Makisi, 7- Shinko Tsuchiya, 8- Feinga Fakai, 9- Takumi Sue, 10- Taichi Mano (c), 11- Shota Fukui, 12- Yuto Matsuoka, 13- Yudai Yamamoto, 14- Yoshiyuki Koga and 15- Kosuke Naka. Reserves: 16- Miyu Arai, 17- Shimpei Kamata, 18- Taiki Fujii, 19- Riki Sugihara, 20- Ryo Kayutsuka, 21- Kenji Harada and 22- Hiroto Mamada. Coach: Satoru Endo.
Namibia Under-20: 1- Andre Rademeyer, 2- Obert Nortje, 3- Nelius Theron, 4- Adriaan Ludick, 5- Rheinhardt Carelse, 6- Peter Diergaardt, 7- Prince Gaoseb (c), 8- Oderich Mouton, 9- Wihan Von Wielligh, 10- Cliven Loubser, 11- Luke Jansen, 12- Tristan Mouton, 13- Brandon Groenewald, 14- Collins Omalu and 15- PW Steenkamp. Reserves: 16- JT Basson, 17- Patrick Schickerling, 18- Le Beau Du Preez, 19- Allie Emamdien, 20- Tjingairi Katjivi, 21- Alastair Miller and 22- Jay-C Olivier. Coach: Roger Thompson.