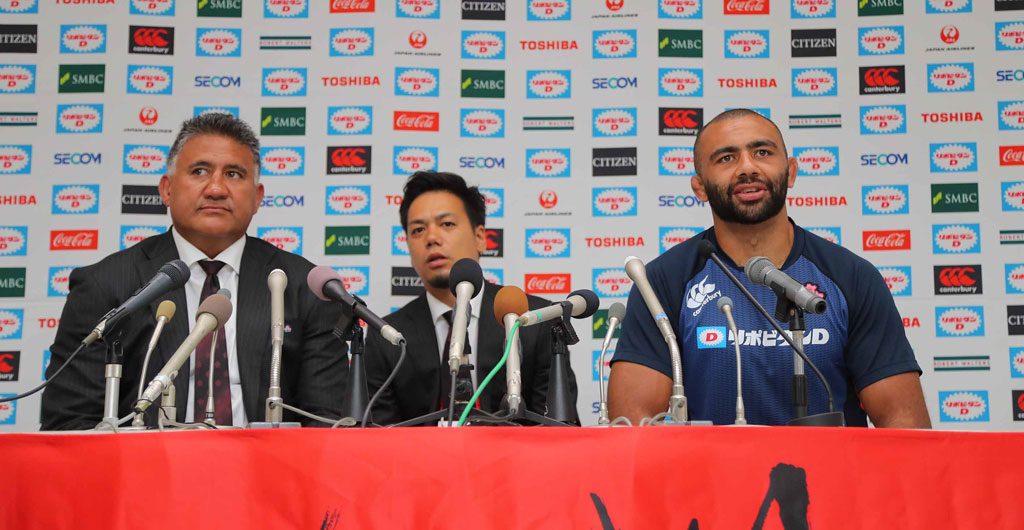 Joseph, Leitch Say Japan Have Lot of Work-ons
TOKYO (June 24) – Japan coach Jamie Jospeh said that while he was proud of his team's performance in their 35-13 loss to Ireland, it did highlight how much work needs to be done ahead of Rugby World Cup 2019.
"I am very proud of the way we fought to the end," he said after the game at Ajinomoto Stadium. "In parts they overpowered up but no one gave in. We challenged them at the breakdown but our accuracy cost us. And we gave away far too many penalties, which you can't do at test-match level."
"The game today highlights the gap between Tier 1 teams and where we are now and what we are working towards."
Joseph said the three tests in June – one against Romania and two again Ireland – had given him a lot of confidence.
"Against Romania you saw glimpses of the type of rugby we want to play. We also found some good young players who stepped up and showed they have the potential to play at this level."
Joseph also took time to praise the efforts of veteran  Luke Thompson, who came out of international retirement to help out the national side with the Brave Blossoms missing five locks through injury.
"I know during the week there was a negative sentiment around Thommo being part of our team and that he was too old to play at this level. But I think his performance showed all of us that he is an international standard lock and I thought he had a marvellous game."
It was a view backed up by Michael Leitch, who captained the side on Saturday.
"The thing with Luke is you can put your house on him. He is going to give you everything he has got," said Leitch. "He is the sort of player that has built a culture within the team and he puts everything into the jersey."
Leitch also said that the game highlighted the gap between Tier 1 and Tier 2 sides.
"One of the biggest differences today was simply the mental toughness. Some teams give up after 50 minutes because they get tired but Ireland just kept going."
"As for Japan, we know what we need to improve on. If we can polish those things up we can do even  better."