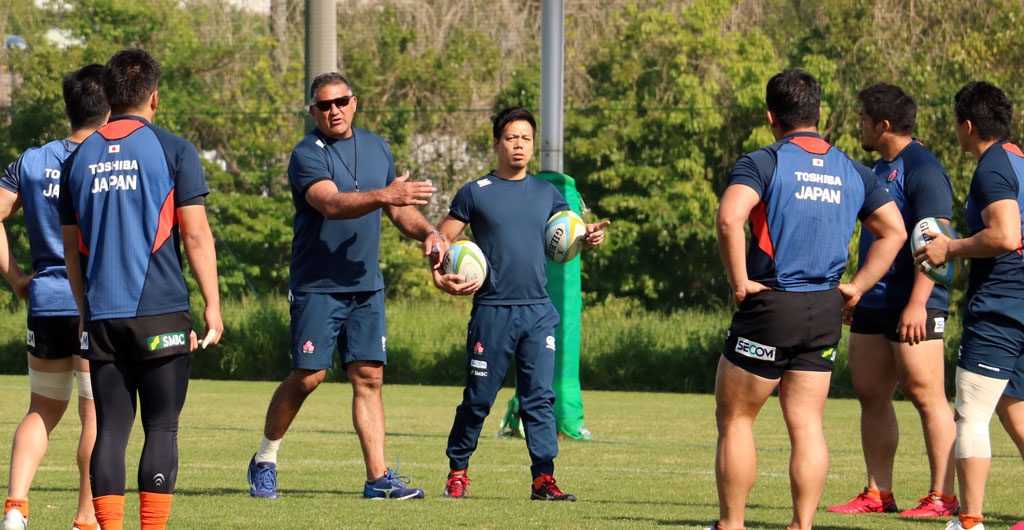 Joseph Names Side to Take on Hong Kong
TOKYO (May 4) – Japan coach Jamie Joseph has named his side to take on Hong Kong in Round 3 of the Asia Rugby Championship on Saturday at Prince Chichibu Memorial Rugby Ground.
The run-on XV shows seven changes and two positional switches from the team that started last weekend's 80-10 win over South Korea as the Brave Blossoms balance the withdrawal of several players and the return of a pair of experienced campaigners.
Harumichi Tatekawa and Shota Horie, who were co-captains of the national team for the 2016 November tests, are both included with Tatekawa leading the side from inside centre and Horie starting the game on the bench.
"Haru's been out for a while so it's a chance to get back into rugby and get used to being the leader again," Joseph said.
With Takeshi Hino one of a number of players called up by the Sunwolves to take on the Jaguares in Buenos Aires this weekend, Horie also gets a recall.
"We lost Hino to Argentina so it proved an opportunity to bring him (Horie) in. He'll be a bit rusty. But the two props either side of him are very young so it will be good for him to be with the young guys."
There is one new cap in the side in Kanto Shikao, who partners Tatekawa in midfield. The pair will play outside a new halfback pairing in Kaito Shigeno and Rikiya Matsuda, who moves from inside centre to flyhalf.
In the back three, Akihito Yamada switches to the right wing, Seiya Ozaki starts on the left and Ryuji Noguchi keeps his place at fullback.
There are three changes in the pack with Yu Chinen starting at tighthead prop alongside Shintaro Ishihara and Atsushi Sakate.
Samuela Anise is joined by Naohiro Kotaki in the second row, while Shokei Kin comes in to partner Malgene Ilaua and Shuhei Matsuhashi in the back row.
On the bench, Horie is joined by props Shogo Miura and Takayuki Watanabe, with Kotaro Yatabe, Yoshitaka Tokunaga and Naoki Ozawa the three other replacement forwards as Joseph opts for a 6-2 split.
Yutaka Nagare, who led Japan in the first two rounds of the ARC and Takuya Yamasawa are the two replacement backs.