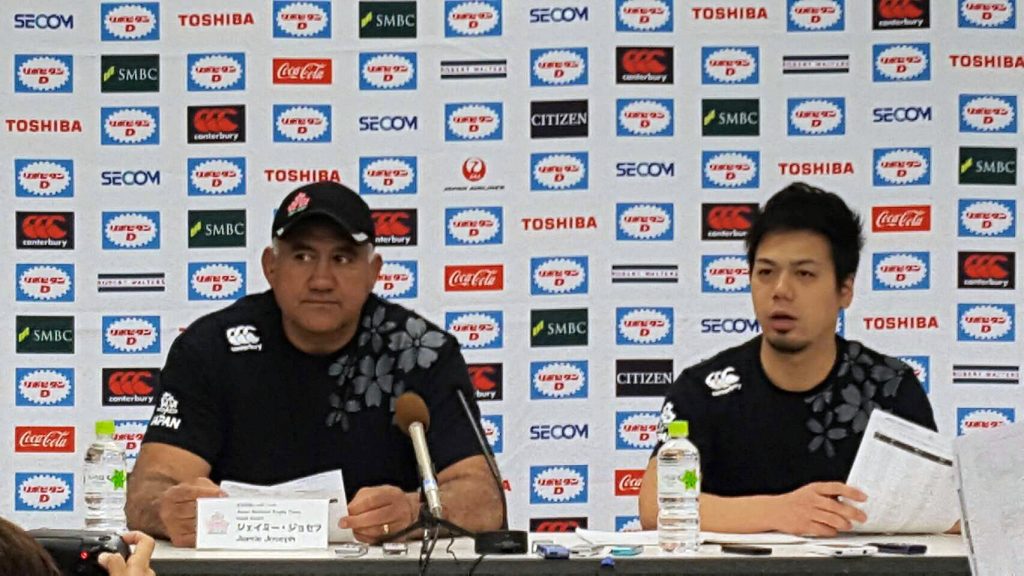 Nagare to lead Japan at ARC
TOKYO (April 10) – Uncapped scrumhalf Yutaka Nagare will lead Japan at the Asia Rugby Championship, head coach Jamie Joseph announced Monday.
Nagare will skipper a 37-man squad that contains 16 uncapped players at the tournament that sees the Brave Blossoms play South Korea and Hong Kong on a home-and-away basis.
"It's a big squad because some of the players are currently injured or reconditioning after a big work load with the Sunwolves starting straight after the Top League," Joseph said.
Nagare has recently been part of the National Development Squad and Joseph said the leadership he and prop Shintaro Ishihara (the squad's vice captain) had shown during the camp had resulted in the uncapped duo being honoured with leadership roles.
The duo have a number of experienced players to help them out including Akihito Yamada, Kotaro Yatabe, Kazuhiko Usami and Keisuke Uchida – who led Japan in last year's ARC.
The squad contains a mix of non-travelling members of the Sunwolves, the Junior Japan side that came second in the World Rugby Pacific Challenge and players who impressed during the recent Top League season.
"We want to continue the development of Japanese rugby," said Joseph. "The results so far speak for themselves. We had one win in the November tests and the Sunwolves have had one so it suggests we haven't quite got the right players yet. With the Sunwolves, the Pacific Challenge and the ARC we can observe three teams and pick the best players for the June tests (against Romania and Ireland) when we will have one eye on the now and one eye on preparing for 2019."
Hooker Kosuke Horikoshi, who led Junior Japan in the Pacific tournament is one of five students included in the squad, while flyhalf Takuya Yamasawa also gets a call-up following his impressive debut season in the Top League.
"We have to make sure we always have the next wave of players coming through," Joseph said.
As to the type of rugby he wanted his side to play, the former All Black and Japan international said. "I want us to play attacking rugby. Playing conservatively won't help us in the future."
Japan open their ARC campaign in Incheon, South Korea on April 22 before returning home to play the Koreans and Hong Kong in Tokyo on April 29 and May 6, respectively. They wrap up the Asian tournament in Hong Kong on May 13.
---
■FW:21
| Position | Name | Club Team | Graduate | cm | kg | D/O/B | Caps |
| --- | --- | --- | --- | --- | --- | --- | --- |
| PR1 |  Kohei ASAHORI | TOYOTA Verblitz | Teikyo Univ. | 185 | 120 | 1994/2/3 | – |
| PR1 |   Shintaro ISHIHARA (Vice Captain) | SUNTORY Sungoliath | Meiji Univ. | 181 | 105 | 1990/6/17 | – |
| PR1 |  Shogo MIURA | Tokai Univ. | Akita Technical HS | 180 | 108 | 1995/6/8 | 3 |
| HO |  Atsushi SAKATE | PANASONIC Wild Knights | Teikyo Univ. | 180 | 104 | 1993/6/21 | 4 |
| HO |  Takeshi HINO | YAMAHA Jubilo | Doshisha Univ. | 172 | 100 | 1990/1/20 | 2 |
| HO |  Kosuke HORIKOSHI | Teikyo Univ. | Toin Gakuen HS | 174 | 105 | 1995/6/2 | – |
| PR3 |  Genki SUDO | SUNTORY Sungoliath | Meiji Univ. | 173 | 110 | 1994/1/28 | – |
| PR3 | Yu CHINEN | TOSHIBA Brave Lupus | Juntendo Univ. | 184 | 125 | 1990/11/18 | 3 |
| PR3 |  Takayuki WATANABE | KOBE STEEL Kobelco Steelers | Tokai Univ. | 180 | 120 | 1994/5/27 | 6 |
| LO | Samuela ANISE | CANON Eagles | Fiji Institute of Technology | 198 | 118 | 1986/8/30 | 4 |
| LO |  Kazuhiko USAMI | PANASONIC Wild Knights | Ritsumeikan Univ. | 197 | 117 | 1992/3/17 | 9 |
| LO |  Yuya ODO | YAMAHA Jubilo | Ritsumeikan Univ. | 188 | 104 | 1990/3/9 | – |
| LO |  Naohiro KOTAKI | TOSHIBA Brave Lupus | Teikyo Univ. | 194 | 110 | 1992/6/13 | 7 |
| LO |  Kotaro YATABE | PANASONIC Wild Knights | Kokushikan Univ. | 190 | 107 | 1986/7/29 | 9 |
| LO/FL |  Yoshiya HOSODA | NEC Green Rockets | Nihon Univ. | 192 | 100 | 1987/8/5 | 1 |
| FL | Malgene ILAUA | TOSHIBA Brave Lupus | Teikyo Univ. | 187 | 105 | 1993/6/5 | 4 |
| FL |  Naoki OZAWA | SUNTORY Sungoliath | Keio Univ. | 182 | 103 | 1988/10/8 | – |
| FL |  Shokei KIN | NTT COMMUNICATIONS Shining Arcs | Waseda Univ. | 177 | 95 | 1991/10/3 | 6 |
| FL |  Shuhei MATSUHASHI | RICOH Black Rams | Meiji Univ. | 180 | 99 | 1993/11/24 | 3 |
| FL/No.8 |  Yoshitaka TOKUNAGA | TOSHIBA Brave Lupus | Kwansei Gakuin Univ. | 185 | 100 | 1992/4/10 | – |
| FL No.8 |  Daiki YANAGAWA | RICOH Black Rams | Osaka Univ. Of Health And Sport Sciences | 191 | 108 | 1989/2/19 | – |
■BK:16
| Position | Name | Club Team | Graduate | cm | kg | D/O/B | Caps |
| --- | --- | --- | --- | --- | --- | --- | --- |
| SH |  Keisuke UCHIDA | PANASONIC Wild Knights | Univ. of Tsukuba | 179 | 86 | 1992/2/22 | 21 |
| SH |  Kaito SHIGENO | NEC Green Rockets | Daito Bunka Univ. | 170 | 75 | 1990/11/21 | 3 |
| SH | Yutaka NAGARE (Captain) | SUNTORY Sungoliath | Teikyo Univ. | 166 | 71 | 1992/9/4 | – |
| SO |  Jumpei OGURA | NTT COMMUNICATIONS Shining Arcs | Waseda Univ. | 172 | 80 | 1992/7/11 | – |
| SO |  Takuya YAMASAWA | PANASONIC Wild Knights | Univ. of Tsukuba | 176 | 81 | 1994/9/21 | – |
| SO/CTB |  Ryoto NAKAMURA | SUNTORY Sungoliath | Teikyo Univ. | 178 | 92 | 1991/6/3 | 8 |
| SO/CTB/FB |  Rikiya MATSUDA | PANASONIC Wild Knights | Teikyo Univ. | 181 | 92 | 1994/5/3 | 3 |
| CTB | Kanta SHIKAO | Tokai Univ. | Higashi Fukuoka HS | 177 | 88 | 1995/9/6 | – |
| CTB |  Ryohei YAMANAKA | KOBE STEEL Kobelco Steelers | Waseda Univ. | 188 | 95 | 1988/6/22 | 7 |
| CTB/WTB | Amanaki LOTOAHEA | RICOH Black Rams | Hanazono Univ. | 191 | 107 | 1990/4/14 | 4 |
| WTB |  Chikara ITO | YAMAHA Jubilo | 龍Ryukoku Univ. | 173 | 80 | 1990/1/11 | – |
| WTB |  Akihito YAMADA | PANASONIC Wild Knights | Keio Univ. | 182 | 88 | 1985/7/26 | 18 |
| WTB/FB |  Shota EMI | SUNTORY Sungoliath | Gakushuin Univ. | 180 | 95 | 1991/12/8 | – |
| WTB/FB | Seiya OZAKI | Teikyo Univ. | Fushimi Technical HS | 174 | 85 | 1995/7/11 | – |
| WTB/FB |  Shinya MORITA | KOBE STEEL Kobelco Steelers | Kyoto Sangyo Univ. | 170 | 73 | 1994/10/15 | – |
| FB |  Ryuji NOGUCHI | Tokai Univ. | Tokai Univ. Gyosei HS | 177 | 86 | 1995/7/15 | 4 |