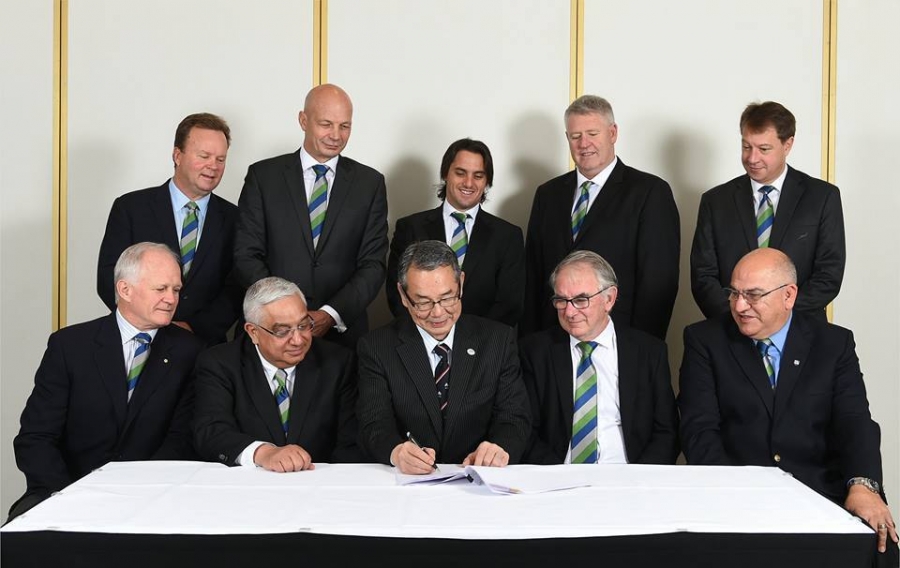 Japan's entry into Super Rugby is 'dream come true'
TOKYO (Nov. 21) – Japan head coach Eddie Jones thanked the Southern Hemisphere powerhouses of South Africa, New Zealand and Australia for their support Friday after SANZAR formally announced that Japan would be joining Super Rugby from 2016.
"Winning the Super Rugby bid is a great vote of confidence from the SANZAR group and we are very appreciative of Australia, New Zealand and South Africa support. For Japan rugby it's a dream come true," he said from Tbilisi where the Brave Blossoms are preparing for Sunday's test against Georgia.
"It gives young kids aspiration to play international regularly at home in Japan in one of the premier competitions in the world. And for the development of the national team it adds the missing cog with players being able to play a consistently high level of rugby against the best players in the world."
Tatsuzo Yabe, Chairman of the Japan Rugby Football Union was in London to sign the agreement with SANZAR.
"It is a great pleasure and honour to be able to announce the historical decision of Japan's entry to Super Rugby," he said.
"It is absolutely essential for us to participate in the competition as we move toward a successful Rugby World Cup here in 2019. Joining the world's highest international league is a challenge that will require significant transformation and tremendous efforts by us. However, it will certainly bring innovation to not only Japan, but also the Asian region as a whole."
"We are also convinced that participating in Super Rugby will encourage greater interest in our domestic rugby and it will become a big dream and goal for those who play rugby in Japan – especially younger generations – to compete at this level."
The Japan team will play in the South African conference and will be based in Tokyo at Prince Chichibu Memorial Rugby Ground, though it will play three of its home games in Singapore after the JRFU entered into an agreement with the Singapore Rugby Union and Singapore Sports Hub.