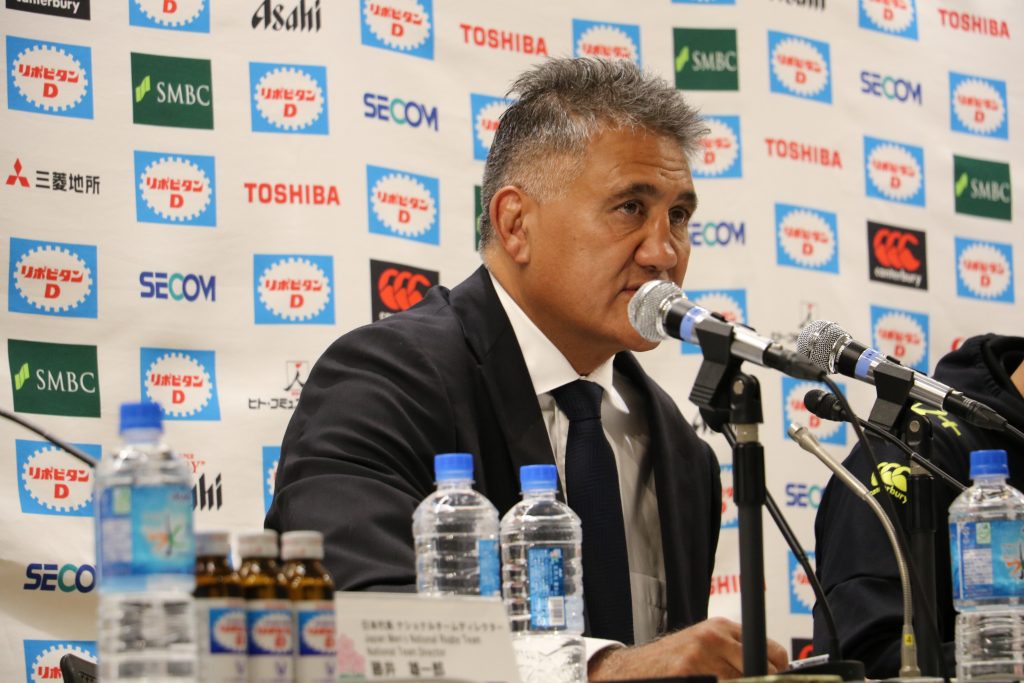 Huge Year Ahead for Brave Blossoms and Japanese Rugby
As preparations for the Brave Blossom's 2023 season move into full swing, Head Coach Jamie Joseph, JRFU President Masato Tsuchida and National Team Director, Yuichiro Fujii fronted the media in Tokyo to outline plans for a year that will see five domestic matches played around the country, a World Cup warm-up match against Italy and then finally, Rugby World Cup in France.
With memories of Rugby World Cup 2019 still fresh in the minds of both rugby fans, and the wider Japanese public, 2023 is set to be another huge year for the Brave Blossoms and Japanese rugby. The five home matches, played at a number of 2019 World Cup venues will give thousands of fans around the country the chance see the Brave Blossoms ahead of their departure to Europe. The Italy match, away in Italy, will offer the team, as well as fans back home, the perfect pre-World Cup warm-up ahead of seven glorious weeks of Rugby World Cup action in France.
The growing excitement for Rugby World Cup is sure be felt throughout Japan, with the unveiling of the new National Team jersey ahead of the domestic series and an official send-off event for the Brave Blossoms before their departure to Europe. The JRFU is also working with local governments and partners to promote the implementation of Rugby World Cup public viewing opportunities nationwide, to give fans the opportunity to gather and support the Brave Blossoms in scenes reminiscent of Japan's home World Cup in 2019.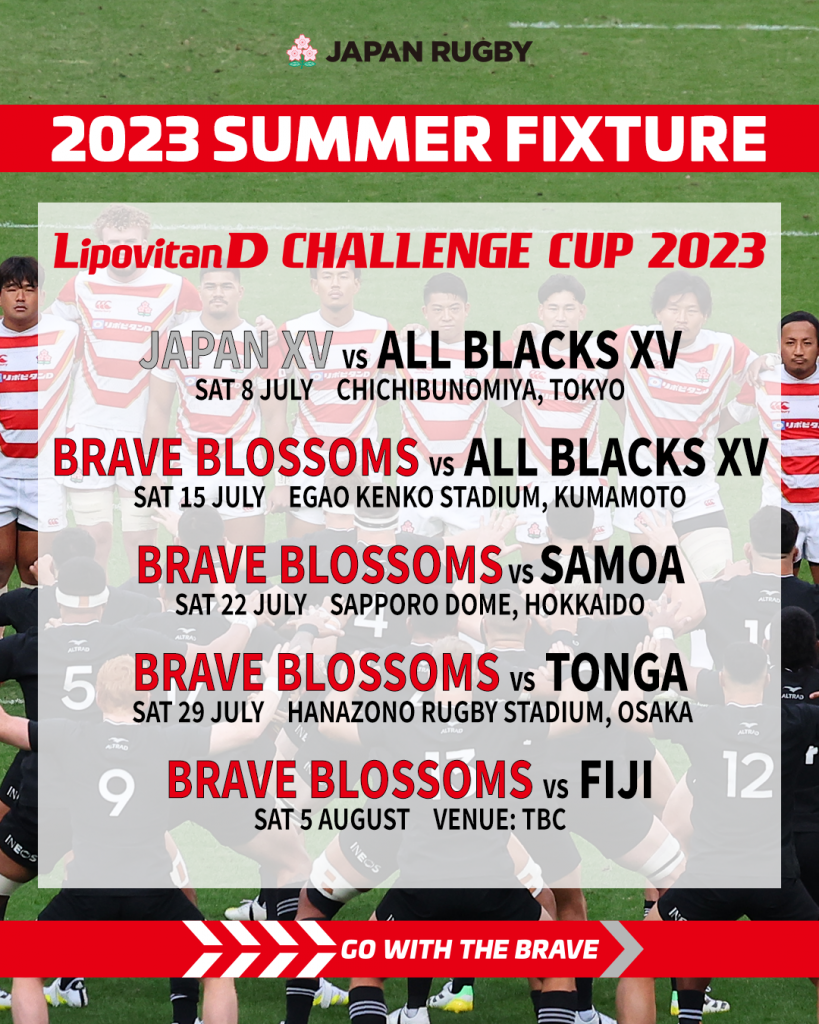 The five-match domestic schedule for the Japan National Team, played across July and August includes two non-capped matches and three full test matches. The JAPAN XV will face the All Blacks XV at Chichibunomiya Rugby Stadium in Tokyo on Saturday, July 8 in the first of two non-capped matches making up the Lipovitan D Challenge Cup 2023. This will be followed by a match between a full-strength Brave Blossoms side and the All Blacks XV on Saturday, July 15 at Egao Kenko Stadium in Kumamoto.
The Brave Blossoms will then play three test matches in the Lipovitan D Challenge Cup 2023 Pacific Nations Series, taking on Samoa on Saturday, July 22 at Sapporo Dome, Tonga on Saturday, July 29 at Hanazono Rugby Stadium in Osaka and finally Fiji on Saturday, August 5, at a match venue yet to be confirmed.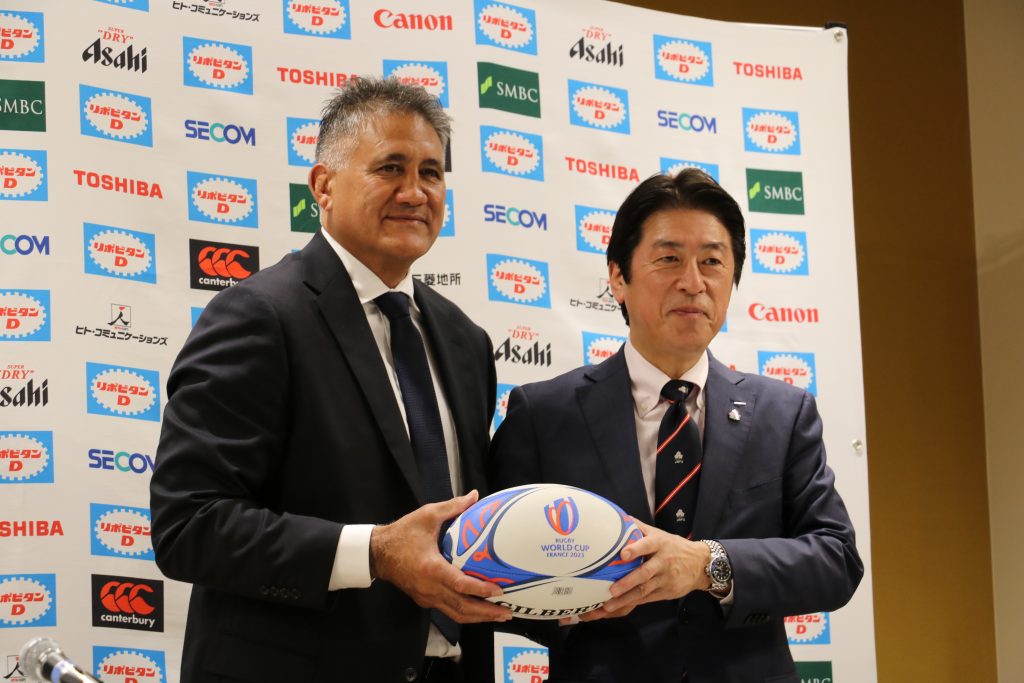 Brave Blossoms Head Coach Jamie Joseph commented:
"For us to play our best rugby at the World Cup, we're going to have to build over the course of our team camps in June and our five home matches. We will face a highly motivated All Blacks XV, which is essentially an All Blacks' B-side made up of players coming straight out of Super Rugby. We then play Samoa, Tonga, and Fiji in big, physical games. They're going to be really tough contests and are exactly the types of matches we need heading into France, with our away match against Italy a perfect lead into the World Cup. Last year Italy beat the Wallabies and they're a team on the up, despite their ranking. I expect that match to offer a really good benchmark for us ahead of the World Cup."
Japan Rugby Football Union President Masato Tsuchida commented:
"2023 is another important year for the Brave Blossoms and Japanese rugby. With five home matches to be played throughout Japan ahead our World Cup warm-up match away against Italy, and then onwards to Rugby World Cup in France, we have a powerful and exciting platform to connect with our fans and to welcome new fans to our sport. In the lead up to France 2023, the Brave Blossoms will play at several Rugby World Cup 2019 venues, which is sure to ignite the excitement and passion of our fans and bring back the wonderful memories of our home World Cup."
Further details around these five home matches, including the venue for the Fiji match, match kick-off times, tickets, and broadcast details, will be announced in due course.
Following their match against Fiji, the Brave Blossoms will depart for Italy to play the Azzurri in their final Rugby World Cup warm-up on Saturday, August 26. The team will then head to their official Rugby World Cup Base Camp in Toulouse to prepare for their opening Pool D match against Chile on Sunday, September 10 at Stadium de Toulouse. They will then face England on Sunday, September 17 at Stade de Nice, in Nice before returning to Stadium de Toulouse to take on Samoa on Thursday, September 28. The Brave Blossom's final pool match will be against Argentina on Sunday, October 8 at Stade de la Beaujoire, in Nantes.