JRFU Welcomes World Rugby Delegation to Tokyo
The Japan Rugby Football Union was delighted to welcome a senior delegation from World Rugby to Japan recently. Led by Chairman Sir Bill Beaumont and Chief Executive Alan Gilpin, the group were in Tokyo for meetings with the JRFU and Japanese Government agencies, as well as key commercial partners and sponsors.
During their visit, the World Rugby delegation were joined by JRFU President Masato Tsuchida and JRFU Chairman Kensuke Iwabuchi for a meeting with Her Imperial Highness Princess Akiko of Mikasa, in her capacity as the Honorary President of the Japan Rugby Football Union. During their meeting they reflected on the success of Rugby World Cup 2019 and the powerful legacy the tournament had given to Japanese rugby. In concluding their discussions, the World Rugby delegation and the JRFU leadership extended an invitation to Her Imperial Highness to attend Rugby World Cup 2023 in France as official guest.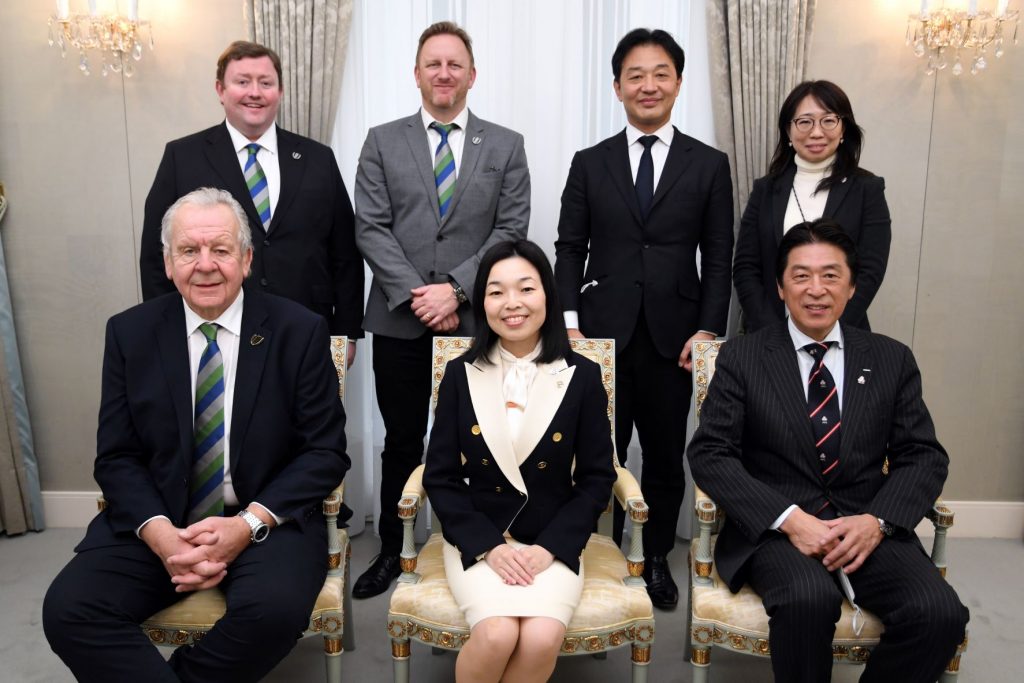 With their visit taking place during the Japan Rugby League One season, the delegation also took the opportunity to meet with JRLO representatives and attended League One matches between the Canon Eagles and Ricoh Black Rams in Yokohama, and Toshiba Brave Lupus and Suntory Sungoliath in Tokyo.
Commenting following the delegation's visit, JRFU Chairman Kensuke Iwabuchi said:
"It was fantastic to once again welcome World Rugby's leadership to Japan. Since 2019 we've met in Europe and in New Zealand during last years' Rugby World Cup, but with the pandemic, this was the first opportunity to host them in Japan. We could update them on our mid and long-term strategies, and we discussed future hosting opportunities, not only for both the men's and women's World Cups, but also other international tournaments, Sevens competitions and age-group tournaments. They saw first-hand the progress we are making across our key strategic areas and offered their strong support and endorsement."
At a press conference to mark the visit, Beaumont and Gilpin spoke to a Japanese media contingent at Tokyo's National Stadium. They spoke of their fond memories of being in Japan for Rugby World Cup in 2019 and noted the tournament's record-breaking success and the strong legacy it left for both Japanese Rugby and the tournament's 12 Host Cities.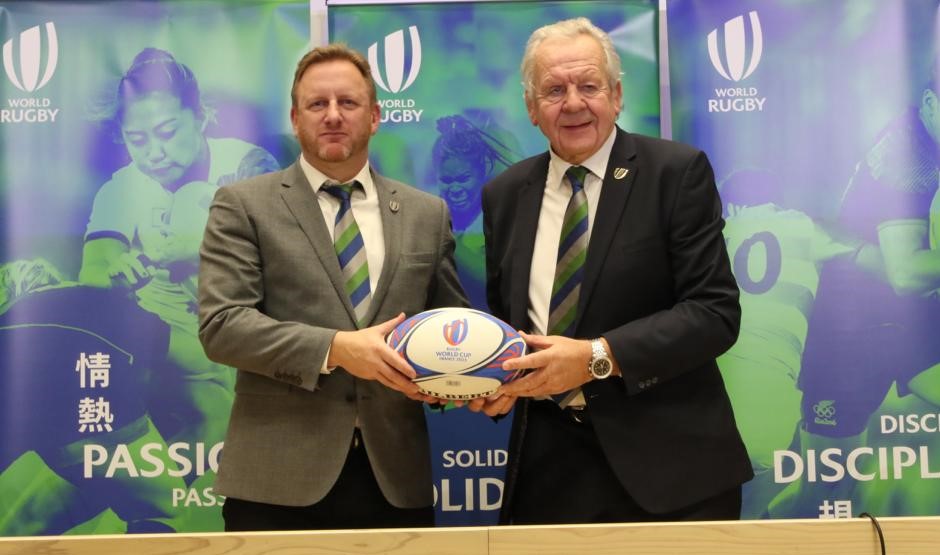 With the JRFU having already outlined its ambition to host future Rugby World Cups in its current Mid-Term Strategic Plan, both World Rugby executives acknowledged this aspiration and expressed a clear commitment to maintaining an ongoing dialogue towards seeing rugby's showpiece tournament return to Japan.
Commenting during the press conference, World Rugby Chairman Bill Beaumont said:
"Japan is very important to World Rugby, and to the world of rugby. We're excited by the JRFU's ambition and plans to develop the game, fully supported by the Japanese Government and major corporations. We've discussed Japan's desire to host future Rugby World Cups, as well as their commitment to continue developing the women's and community game. This week we've reiterated our commitment to both the JRFU and the Japanese Government to ensure Japan is at the heart of new men's and women's competition models, to assist with the implementation of their women's strategy and to ensure that Japan continues to play a leadership role in rugby in Asia and on the global stage."
World Rugby Chief Executive Alan Gilpin added:
"These are really important and exciting times for rugby in Japan. There is a unified and overwhelming desire for Japan to cement its status as a top rugby nation, hosting the biggest events in our sport and performing on the sport's biggest stages. We've reiterated World Rugby's commitment to continue exploring how we can work best with the JRFU to achieve and implement their ambitious strategic plan. We will explore major event hosting opportunities and ensure that Japan are at the heart of discussions relating to the men's and women's global calendars, while also ensuring there is a clear plan to unlock the potential of the women's game in Japan."
JRFU Chairman Kensuke Iwabuchi concluded:
"It was hugely encouraging to receive such positive endorsement from Sir Bill and Alan during their visit around what we've been doing, the progress we've been making and regarding the opportunity to host World Cups and other major tournaments in Japan in the future."