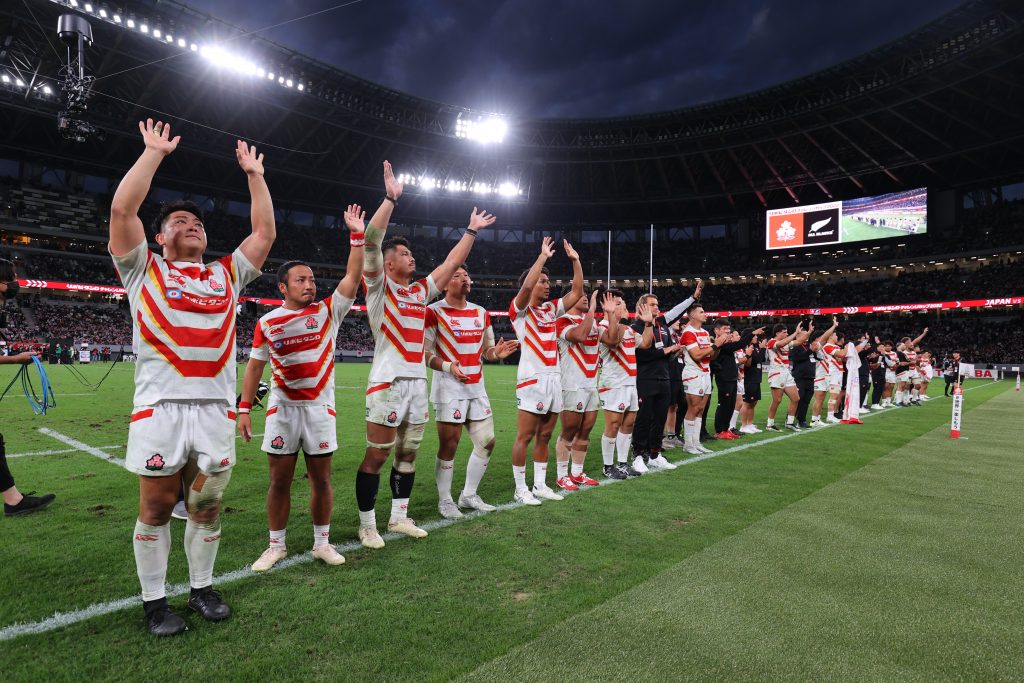 Brave Blossoms Focus on Positives Following Tough Autumn Series
With less than a year before Rugby World Cup 2023 kicks off in France, the Brave Blossoms rounded off 2022 by playing three solid test matches against New Zealand, England, and France. Playing consecutive tests against three of the top-five ranked nations proved to be a massive challenge, and although Japan was unable to taste victory, they finished the year a more rounded and experienced team as a result.
Prior to the three tests, the Japan XV hosted Australia A in three non-capped matches in Tokyo, Fukuoka, and Osaka, as part of the Asahi Super Dry Japan Rugby Challenge Series 2022. In what proved to be three highly entertaining matches, the visitors got the better of their hosts, winning the series 2-1. Having comfortably won the first match at a sold-out Chichibunomiya Stadium 22-34, the Aussies backed this up in Fukuoka, winning 21-22, following a try in the final minute and an after-the-siren conversion.
The third match in Osaka saw Japan win a remarkable contest in which 100 points were scored between the two sides in a fast and expansive match. Japan's 52-48 victory, following their last-minute defeat in Fukuoka, gave the team a much-needed boost ahead of the far greater challenge of taking on the All Blacks in Tokyo.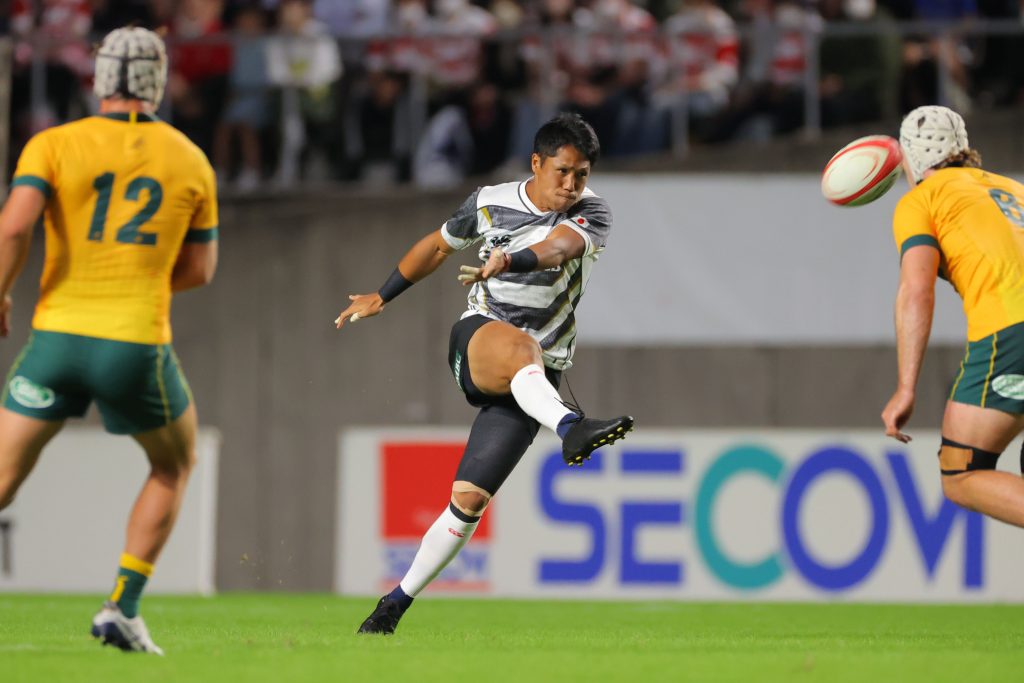 Commenting on the Australia A series, Brave Blossoms Head Coach Jamie Joseph said, "We performed well in the first two matches, but not for the full 80 minutes. We showed our intent and how we want to play but were a little rusty and had key players making mistakes at crucial times. That's not ideal, but it's normal for a team that hasn't played for three or four months.
"In the last match, we were up by 20 points but through some mental lapses, allowed Australia back into the game. We have to be more consistent in how we deal with pressure. As we showed against Australia A, when we handle opposition pressure, control our set piece, and create quality ball for our backs, we can score quality tries."
Having lost the Australia A series, Japan went into their 7th test match against the three-time World Champions on October 29 as clear underdogs. However, any perceptions of the Brave Blossoms form going into the match did nothing to dampen the enthusiasm of local rugby fans, with match tickets selling out quickly.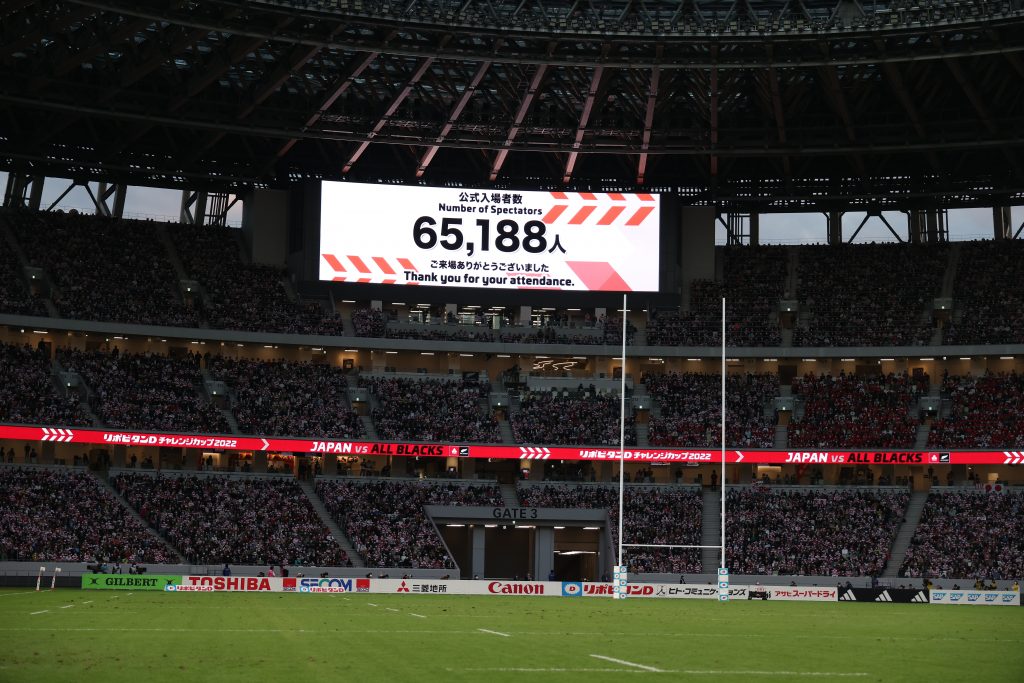 More than 65,000 fans packed into the National Stadium and enjoyed a thrilling match in which Jamie Joseph's men pushed their much-fancied opposition all the way, coming as close as Japan had ever come to beating New Zealand. Following a dominant first half display by the visitors, Japan were trailing 3-21 when in the 35th minute, rookie flyhalf Takuya Yamasawa, off the back of an All Black mistake deep in their 22, toed a loose ball through, in behind the defence, regathered and scored in the righthand corner. He then calmly stepped up to convert his own try from the slide line.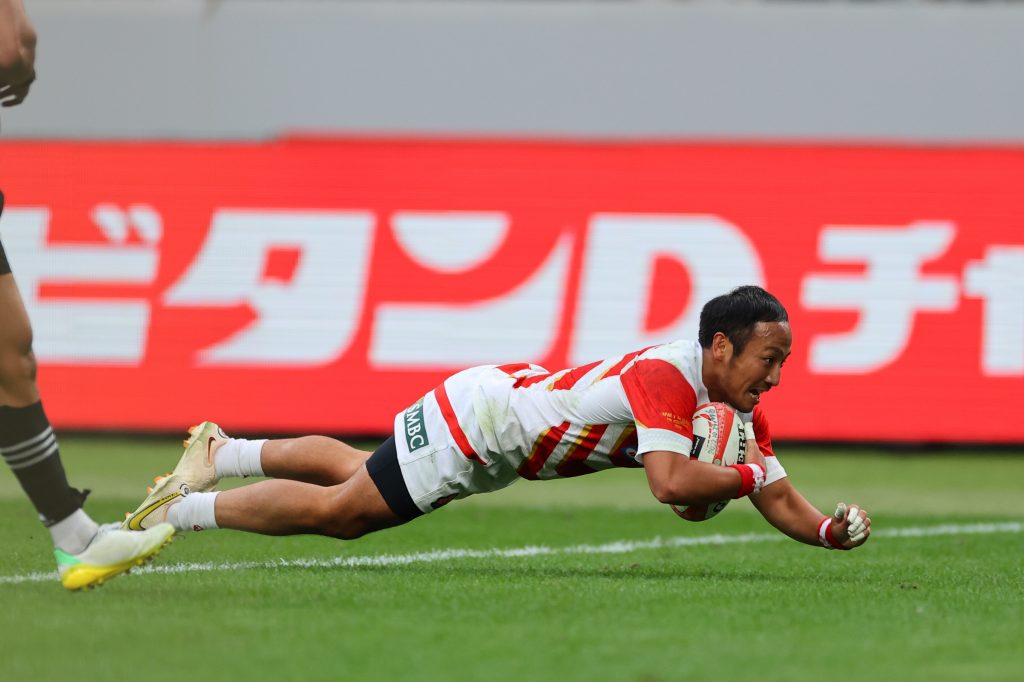 Japan finished the first half with a superb try to scrumhalf Yutake Nagare. Following some excellent backline interplay, outside centre Dylan Riley received the ball on the left touchline just inside Japan's half. He ran 20 meters between the defence, steped back infield and while being tackled by two All Black defenders, delivered a sublime, one-handed reverse flick pass to an unmarked Nagare. The darting scrumhalf ran to the try line unposed, saluting the crowd as he dived in to score the try.
In the 55th minute, second rower Warner Dearns scored a spectacular, single-handed try that will be remembered for years to come. As the opposition scrumhalf put up a box kick from the back of a ruck, 10 meters into Japan territory, the towering Dearns charged down the kick, regathered the ball and ran 40 meters to the try line. His try was duly converted to bring the margin to within four points at 24-28.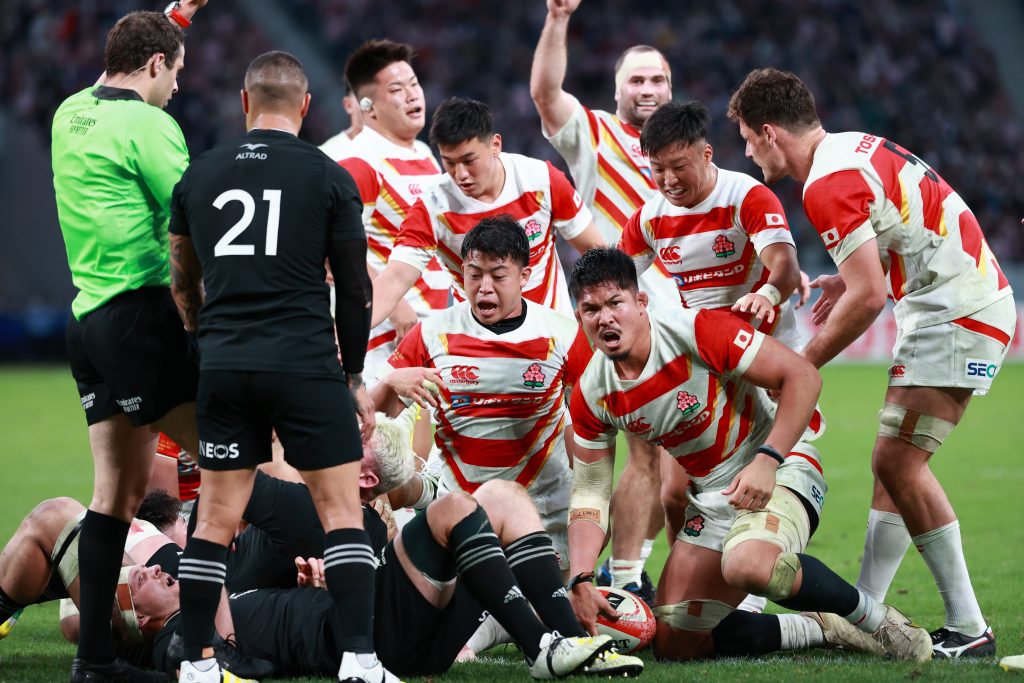 After a try to openside flanker Kazuki Himeno the 77th minute which Japan converted, the hosts again trailed by just four points for a 31-35 score line. Despite their brave attacking efforts in the final minutes of the match, Japan eventually gave away a penalty, which New Zealand converted after the siren for a final score of 31-38.
Commenting after the match, Jamie Joseph said, "We played very well and created a chance to win a test match that would have been an historic moment for Japanese rugby. Our performance in terms of our intent was very clear from the start. What's disappointing is that we probably did enough to win the match, but we weren't quite good enough in the end. It came down to some simple errors at key moments, but I cannot fault the effort of the players."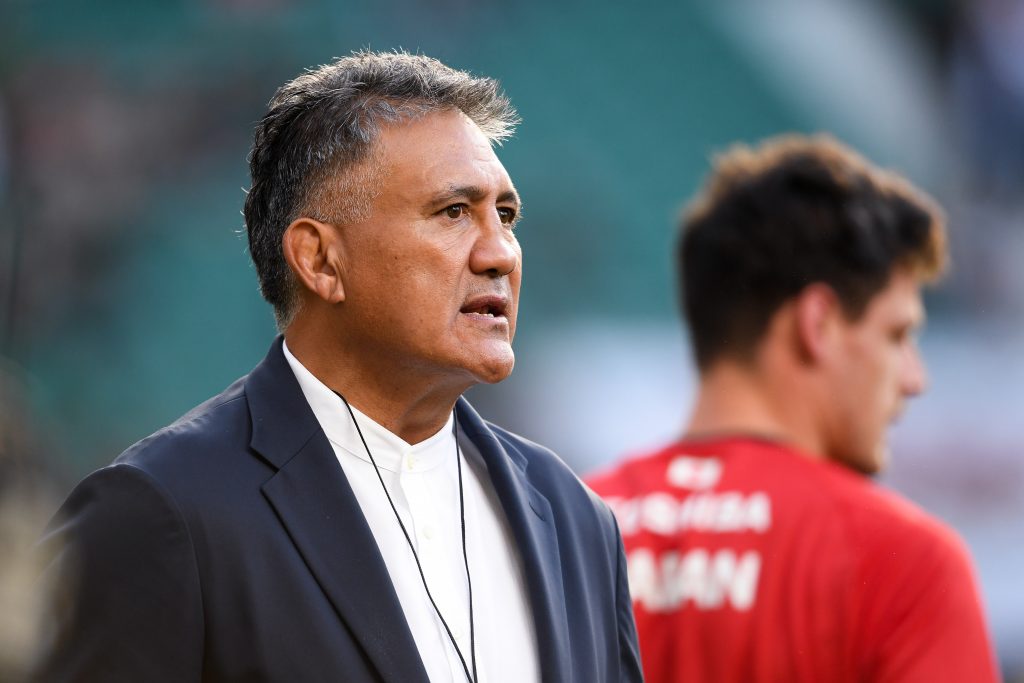 Having narrowly lost to the All Blacks at home, the Brave Blossoms then set their sights on the formidable task of facing England at their home fortress of Twickenham, in the first of their two-match Autumn tour to Europe. In front of a sold-out crowd, England delivered a comprehensive performance, for a final score of 52-13. They dominated the Brave Blossoms from the outset through superior set piece play and a hard-running, abrasive backline.
One of the few highlights for Japan came in the 58th minute when openside flanker Kazuki Himeno, went on a barrelling run towards the England 22. An English defender stripped the ball loose in the tackle, allowing a quick-thinking Warner Dearns to gather the loose ball off the ground and run toward the try line unimpeded, until being brought down five meters short of the line. Replacement scrumhalf Naoto Saito, running a beautiful supporting line off Dearns's left shoulder gathered the pass from the offload to run in unopposed to score Japan's only try of the match.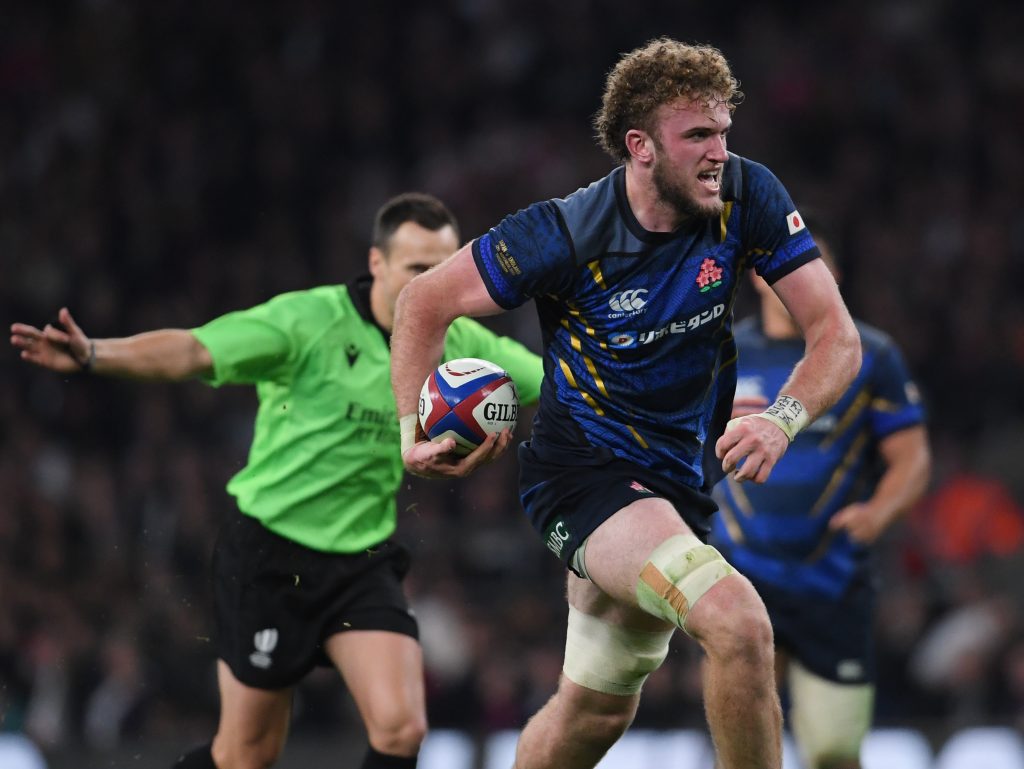 "Today was a new experience for us that will hold us in good stead going forward, as we will face England next year in the World Cup," commented Joseph following the match. "The atmosphere at Twickenham is exhilarating. It's not a place to be scared of, it's a place to embrace. It's one of the best stadiums I've played and coached at. You play against 80,000 people, plus fifteen guys. That sort of atmosphere is awesome for a player to experience. We got a lesson today and those players out there will now understand what it's like and take that forward with them."
With the England match behind them, the Brave Blossoms then travelled to Toulouse to face their next challenge, an in-form French team on a 12 game winning streak and who to that point remained unbeaten in 2022. Having already played in two losing test matches against Les Bleus during their summer tour to Japan early in the year, Japan were looking to record their first ever win against France in the 13th meeting between the two sides.
In front of a passionate home crowd, France took their chances well in the first half, going into the sheds at half time with a 21-3 lead. In the second half, Japan's attack started to click as they brought their fast-running, ball-in-hand, game into play. Scrumhalf Naoto Saito scored his second try in as many weeks after running a superb supporting line off the back of a 40-meter breakout run by outside centre Shogo Nakano. Japan then scored their second try in the 62nd minute through winger Siosaia Fifita who ran a clever inside line close to the try line, to run in unopposed. Despite their valiant effort and matching France's 14 points in the second half, Japan went down to the French 35-17.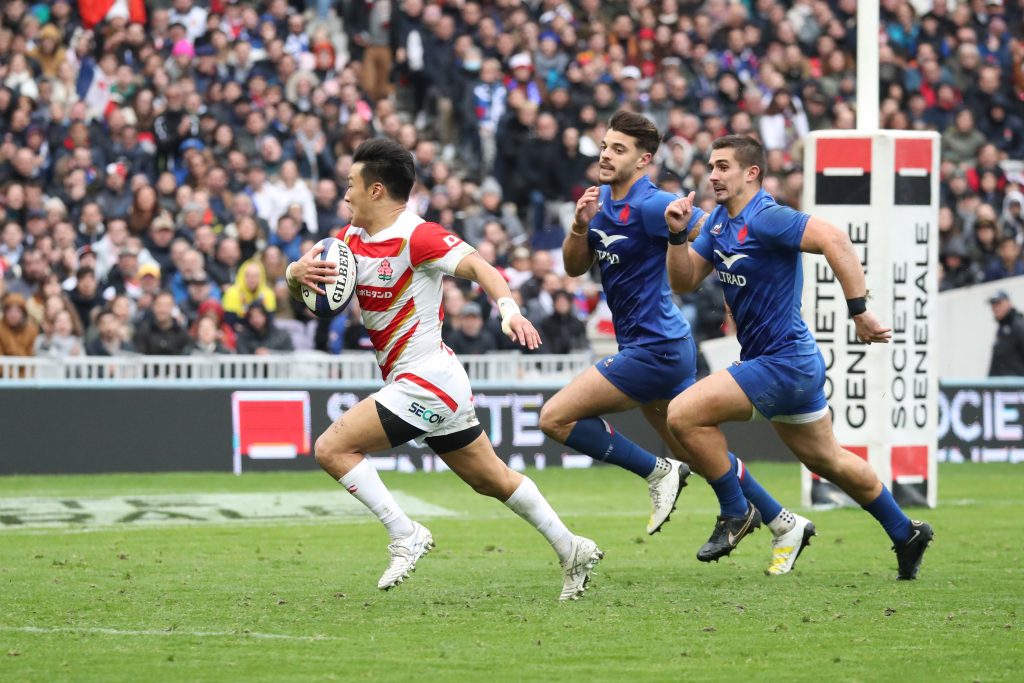 Summing up the thoughts of the coaching team following the game against France, National Team Director, Yuichiro Fujii said, "While the final score wasn't what we were looking for, playing in Toulouse was a great experience for the players in that we will play two of our World Cup pool matches at this venue and Toulouse will be our team base during the tournament."
Commenting on the six end of season matches, Fujii continued, "We have seen many players grow throughout the test series and against Australia A. It's fantastic to see many of our young players getting serious game time and playing really well when given the opportunity. While we sometimes miss the intensity of Super Rugby since the Sunwolves left the competition, the six games that we played across October and November were worth just as much, if not more than a season of Super Rugby. The players will now set their sights on the upcoming League One season, while as a coaching team, we will continue our preparations for next year and onwards towards France 2023."