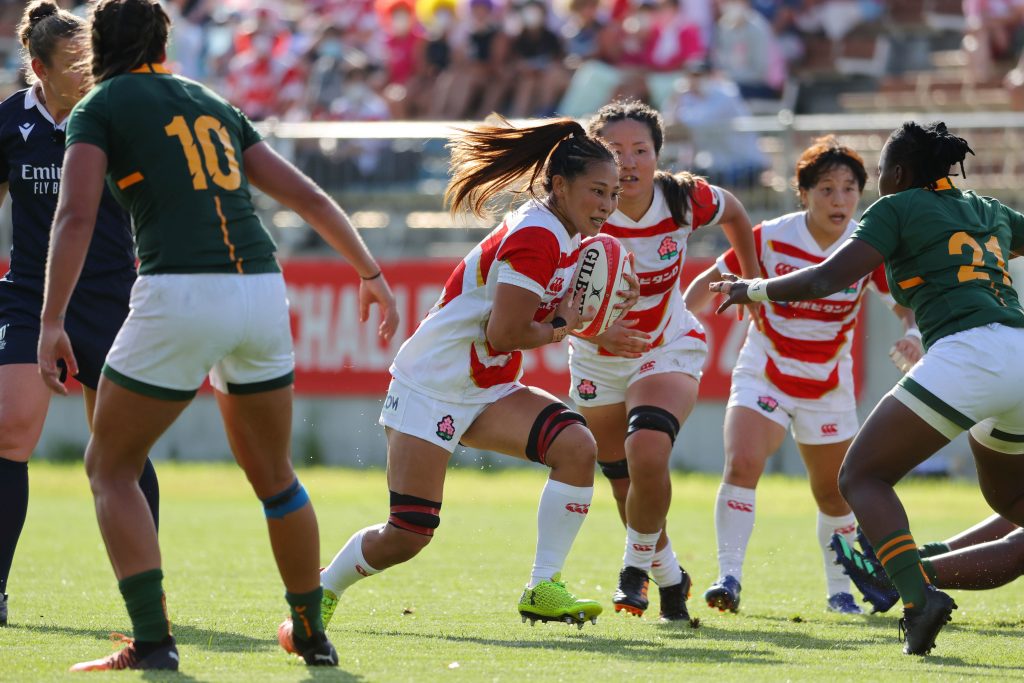 Sakura Fifteen Brace for Rebound by Springbok Women in Second Test
Japan Head Coach Lesley McKenzie has today named the Sakura Fifteen team to take on South Africa in the second of their two test matches, this Saturday, July 30 at Kumagaya Rugby Stadium, as part of the Taiyoseimei Japan Rugby Challenge Series 2022. This follows their 15-6 victory over the Springbok Women last Sunday in Kamaishi, the Sakura Fifteen's first test on home soil since the Women's Asia Rugby Championship in July 2017.
Having successfully shut down the big Springbok backline last weekend, Japan will be looking to once again contain a South African side eager to record a win on their first tour to Japan. With Japan and South Africa ranked 12th and 13th respectively on World Rugby's rankings, another tough and highly competitive match is expected in hot and humid conditions at Kumagaya.
Following last weekend's match, the team lineup has seen some changes with seven new players coming into the match day 23. Team Captain Saki Minami will start the match on the reserves bench, with Makoto Lavemai rotating into the starting lineup at loosehead. Masami Kawamura who earned her first cap off the bench in Kamaishi has been elevated to the starting side and will partner the experienced Kie Tamai in the second row.
Barnstorming back-rower Seina Saito, who scored two tries last weekend, will start on the blindside flank, while veteran back Ayaka Suzuki has been called into the team for the first time since 2018 to earn her 18th test cap from the reserves bench. Meanwhile, Mateitoga Bogidraumainadave returns at Number Eight after having played is all three recent tour matches in Australia.
Sakura Fifteen Assistant Coach, Louise Dalgliesh commented:
"We saw last week that South Africa brought a very physical contest and we let them effect some of our contact areas and the quality of ball we were able to generate. It will be important for us this week to target that area, to take charge of our own ball, to enable us to play the game at the tempo we want to play and to control the areas of the pitch where we want to play the game."
The match kicks off at 17:45 JST and will be telecast in Japan from 17:30 JST on J Sports Two and available for streaming on J Sports On-Demand.
In addition to the two test matches against South Africa, the Taiyoseimei Japan Rugby Challenge Series 2022 will see the Sakura Fifteen play Ireland at Shizuoka ECOPA Stadium on Saturday, August 20, and again, one week later at Tokyo's historic Chichibunomiya Rugby Stadium on Saturday, August 27.
The series is being played at some of Japan's most iconic rugby stadiums, all with their own unique history. Kamaishi, Kumagaya and Shizuoka were all Rugby World Cup 2019 venues, while Chichibunomiya is considered the spiritual home of Japanese rugby.
Team List:
| | | | | | | |
| --- | --- | --- | --- | --- | --- | --- |
| No. | Name | Club Team | cm | kg | D・O・B | Caps |
| 1 | Makoto LAVEMAI | YOKOGAWA Musashino Artemi-Stars | 163 | 70 | 1997/7/2 | 14 |
| 2 | Nijiho NAGATA | nternational Budo Univ. | 162 | 79 | 2000/12/6 | 5 |
| 3 | Yuka SADAKA | saki sakura ovals | 167 | 91 | 1994/11/2 | 9 |
| 4 | Kie TAMAI | MIE PEARLS | 168 | 78 | 1992/10/24 | 10 |
| 5 | Masami KAWAMURA | RKU GRACE | 173 | 70 | 1999/7/13 | 1 |
| 6 | Seina SAITO | MIE PEARLS | 164 | 72 | 1992/5/30 | 28 |
| 7 | Iroha NAGATA | ARUKAS QUEEN KUMAGAYA | 167 | 70 | 1998/12/21 | 13 |
| 8 | Mateitoga BOGIDRAUMAINADAVE | MIE PEARLS | 170 | 96 | 1984/6/6 | 13 |
| 9 | Megumi ABE | ARUKAS QUEEN KUMAGAYA | 147 | 53 | 1998/4/28 | 7 |
| 10 | Ayasa OTSUKA | RKU GRACE | 163 | 63 | 1999/5/5 | 6 |
| 11 | Riho KUROGI | ARUKAS QUEEN KUMAGAYA | 165 | 65 | 1998/5/2 | 10 |
| 12 | Minori YAMAMOTO | MIE PEARLS | 169 | 72 | 1996/12/9 | 18 |
| 13 | Mana FURUTA | Tokyo Sankyu Phoenix | 167 | 69 | 1997/11/16 | 12 |
| 14 | Hinano NAGURA | YOKOGAWA Musashino Artemi-Stars | 170 | 75 | 1997/3/22 | 8 |
| 15 | Ria ANOKU | MIE PEARLS | 160 | 60 | 1996/10/2 | 5 |
| 16 | Saki MINAMI | YOKOGAWA Musashino Artemi-Stars | 163 | 70 | 1995/11/18 | 22 |
| 17 | Misaki SUZUKI | Tokyo Sankyu Phoenix | 164 | 66 | 1992/4/9 | 28 |
| 18 | Wako KITANO | MIE PEARLS | 166 | 80 | 1999/9/8 | 5 |
| 19 | Otoka YOSHIMURA | ARUKAS QUEEN KUMAGAYA/Rissho Univ. | 174 | 83 | 2001/5/15 | 3 |
| 20 | Ayano NAGAI | YOKOHAMA TKM | 168 | 84 | 1997/10/14 | 7 |
| 21 | Kotono YASUO | BRAVE LOUVE | 156 | 61 | 2001/10/2 | 1 |
| 22 | Ayaka SUZUKI | ARUKAS QUEEN KUMAGAYA | 168 | 64 | 1989/9/30 | 17 |
| 23 | Yuki ITO | MIE PEARLS | 163 | 63 | 1996/10/24 | 10 |