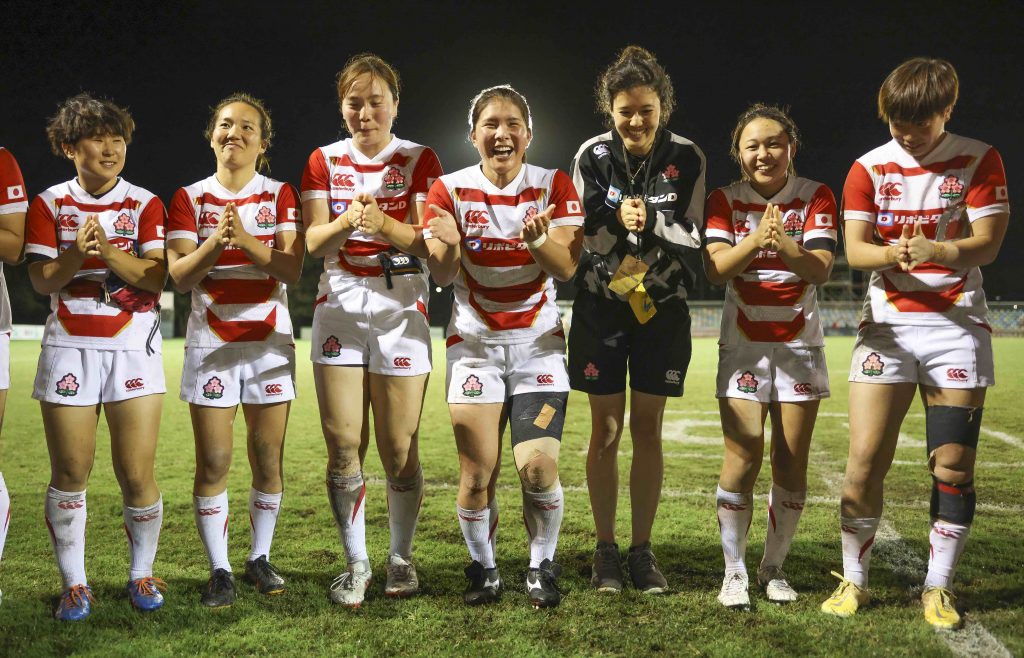 Sakura Fifteen Ready for First Test Against South Africa in Kamaishi
Japan Head Coach Lesley McKenzie has today announced the Sakura Fifteen team to take on South Africa in the first of their two test matches, this Sunday, July 24 at the iconic Kamaishi Unosumai Memorial Stadium, as part of the Taiyoseimei Japan Rugby Challenge Series 2022.  
The four-match series will see Japan host both South Africa and Ireland for two test matches and marks a welcome return to playing at home for the Sakura Fifteen who haven't played in Japan since the Women's Asia Rugby Championship in July 2017.
This weekend will also be the first time for the Sakura Fifteen to play a test match at Kamaishi's picturesque waterfront stadium, one of the venues for Rugby World Cup 2019. Located on the north-east coast of Japan's main island, Kamaishi is considered one of Japan's historic rugby heartlands.
The Sakura Fifteen will be captained by loosehead prop Saki Minami who will earn her 22nd test for Japan. The team will also see three debutants in line to win their first test caps with Mikasa Isogai starting on the right wing, and lock Masami Kawamura and loose forward Sakurako Korai, both named on the reserves bench. With Japan currently ranked 12th in world, just in front of the 13th placed South Africans, the match will provide an excellent opportunity for both teams as they prepare for the upcoming Rugby World Cup in New Zealand.
Sakura Fifteen Head Coach, Lesley McKenzie commented:
"We're expecting South Africa to come with a physical game plan. They have some big ball carriers and players who like to make big defensive tackles, so we will be looking to move the ball much like we did against Fiji and Australia. There are not too many teams out there that are smaller and faster than us, so rather than adapt or modify, we want to implement our game plan and shape the game via the style of rugby we want to play."
The match kicks off at 14:45 JST and will be telecast in Japan from 14:30 JST on J Sports Two and available for streaming on J Sports On-Demand.
In addition to Sunday's match, the Taiyosemai Japan Rugby Challenge Series 2022 will see the Sakura Fifteen play South Africa for a second time at Kumagaya Rugby Stadium on Saturday, July 30. They will then host Ireland at Shizuoka ECOPA Stadium on Saturday, August 20, and again, one week later at Tokyo's historic Chichibunomiya Rugby Stadium on Saturday, August 27.
The series will see all four matches played at some of Japan's most iconic rugby stadiums, all with their own unique history. Kamaishi, Kumagaya and Shizuoka were all Rugby World Cup 2019 venues, while Chichibunomiya is considered the spiritual home of Japanese rugby.
Team List:
| | | | | | | |
| --- | --- | --- | --- | --- | --- | --- |
| No. | Name | Club Team | cm | kg | D・O・B | Caps |
| 1 | Saki MINAMI | YOKOGAWA Musashino Artemi-Stars | 163 | 70 | 1995/11/18 | 21 |
| 2 | Nijiho NAGATA | nternational Budo Univ. | 162 | 79 | 2000/12/6 | 4 |
| 3 | Wako KITANO | MIE PEARLS | 166 | 80 | 1999/9/8 | 4 |
| 4 | Kie TAMAI | MIE PEARLS | 168 | 78 | 1992/10/24 | 9 |
| 5 | Otoka YOSHIMURA | ARUKAS QUEEN KUMAGAYA/Rissho Univ. | 174 | 83 | 2001/5/15 | 2 |
| 6 | Seina SAITO | MIE PEARLS | 164 | 72 | 1992/5/30 | 27 |
| 7 | Iroha NAGATA | UMAGAYA | 167 | 70 | 1998/12/21 | 12 |
| 8 | Sora KONISHI | YOKOGAWA Musashino Artemi-Stars | 168 | 85 | 2000/2/21 | 4 |
| 9 | Megumi ABE | ARUKAS QUEEN KUMAGAYA | 147 | 53 | 1998/4/28 | 6 |
| 10 | Komachi IMAKUGI | ARUKAS QUEEN KUMAGAYA/Rissho Univ. | 158 | 62 | 2002/1/6 | 6 |
| 11 | Hinano NAGURA | YOKOGAWA Musashino Artemi-Stars | 170 | 75 | 1997/3/22 | 7 |
| 12 | Shione NAKAYAMA | YOKOGAWA Musashino Artemi-Stars | 166 | 70 | 1999/1/18 | 4 |
| 13 | Mana FURUTA | Tokyo Sankyu Phoenix | 167 | 69 | 1997/11/16 | 11 |
| 14 | Mikasa ISOGAI | Nagato Blue Angels | 165 | 66 | 1995/11/12 | – |
| 15 | Rinka MATSUDA | Nippon Sport Science Univ. | 170 | 75 | 2001/12/5 | 2 |
| 16 | Makoto LAVEMAI | YOKOGAWA Musashino Artemi-Stars | 163 | 70 | 1997/7/2 | 13 |
| 17 | Misaki SUZUKI | Tokyo Sankyu Phoenix | 164 | 66 | 1992/4/9 | 27 |
| 18 | Yuka SADAKA | Hirosaki sakura ovals | 167 | 91 | 1994/11/2 | 8 |
| 19 | Masami KAWAMURA | RKU GRACE | 173 | 70 | 1999/7/13 | – |
| 20 | Ayano NAGAI | YOKOHAMA TKM | 168 | 84 | 1997/10/14 | 6 |
| 21 | Kotono YASUO | BRAVE LOUVE | 156 | 61 | 2001/10/2 | 1 |
| 22 | Minori YAMAMOTO | MIE PEARLS | 169 | 72 | 1996/12/9 | 17 |
| 23 | Sakurako KORAI | Nippon Sport Science Univ. | 167 | 67 | 2003/4/9 | – |