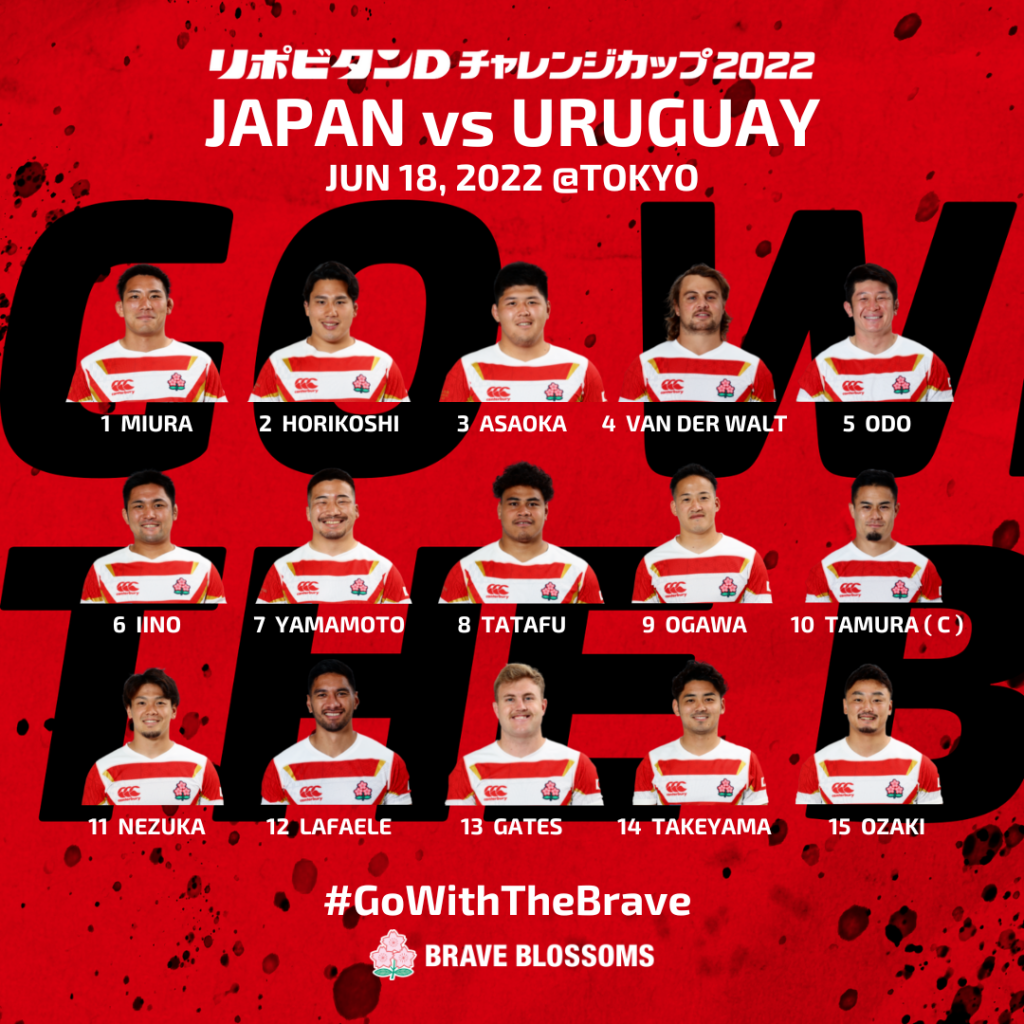 Brave Blossoms Team Announced for First Test Against Uruguay
Japan Head Coach Jamie Joseph has today announced the Brave Blossoms Team to take on Uruguay this Saturday, June 18 at Tokyo's historic Chichibunomiya Rugby Stadium, in the first of their two test match series, as part of the Lipovitan D Challenge Cup 2022.
After successfully captaining the Emerging Blossoms to victory over the Tonga Samurai XV last weekend at the same venue, 68 test cap Yu Tamura has been named as Brave Blossoms Captain for the first time. A total of 18 players named in the matchday 23 played in the Tonga charity match for the Emerging Blossoms, including eight of the nine debutants who are set to earn their first Japan test caps this weekend.
The match kicks off at 15:00 JST and will be telecast in Japan on NHK Eテレ / NHK Plus and J Sports One / J Sports On-Demand.
Japan will take on Uruguay for the fourth time on Saturday, having previously hosted Los Teros for a two test match series in August 2015. Japan won both matches, defeating their visitors 40-0 in Tokyo and 30-8 in Fukuoka. Prior to that, Uruguay beat Japan at home in Montevideo in their first meeting, 24-18 in April 2005.
Commenting on the Brave Blossom's team selection, Japan Head Coach Jamie Joseph said:
"I'm excited by the match against Uruguay. It's a great opportunity to develop our depth and give players experience in a test match arena. We saw some great performances against the TONGA SAMURAI XV and so we're happy to give many of these players another opportunity at the highest level. It will be a massive challenge and I'm looking forward to seeing these players rise to the occasion."
Team List
| | | |
| --- | --- | --- |
| No. | Name | Team |
| 1 | Shogo MIURA | TOYOTA VERBLITZ |
| 2 | Kosuke HORIKOSHI | TOKYO SUNTORY SUNGOLIATH |
| 3 | Shunsuke ASAOKA | TOYOTA VERBLITZ |
| 4 | Wimpie VANDERWALT | NTT DOCOMO RED HURRICANES OSAKA |
| 5 | Yuya ODO | SHIZUOKA BlueRevs |
| 6 | Koji IINO | TOKYO SUNTORY SUNGOLIATH |
| 7 | Hiroki YAMAMOTO | TOSHIBA BRAVE LUPUS TOKYO |
| 8 | Tevita TATAFU | TOKYO SUNTORY SUNGOLIATH |
| 9 | Takahiro OGAWA | TOSHIBA BRAVE LUPUS TOKYO |
| 10 | Yu TAMURA | YOKOHAMA CANON EAGLES |
| 11 | Koga NEZUKA | Kubota Spears Funabashi TOKYO-BAY |
| 12 | Timothy LAFAELE | KOBELCO KOBE STEELERS |
| 13 | Shane GATES | NTT Communications ShinigArcs TOKYO-BAY URAYASU |
| 14 | Koki TAKEYAMA | SAITAMA Panasonic WILD KNIGHTS |
| 15 | Seiya OZAKI | TOKYO SUNTORY SUNGOLIATH |
| 16 | Takeshi HINO | SHIZUOKA BlueRevs |
| 17 | Kota KAISHI | Kubota Spears Funabashi TOKYO-BAY |
| 18 | Shuhei TAKEUCHI | NTT Communications ShinigArcs TOKYO-BAY URAYASU |
| 19 | Daichi AKIYAMA | TOYOTA VERBLITZ |
| 20 | Sione LAVEMAI | TOSHIBA BRAVE LUPUS TOKYO |
| 21 | Kaito SHIGENO | TOYOTA VERBLITZ |
| 22 | Harumichi TATEKAWA | Kubota Spears Funabashi TOKYO-BAY |
| 23 | Taira MAIN | RICOH BlackRams Tokyo |