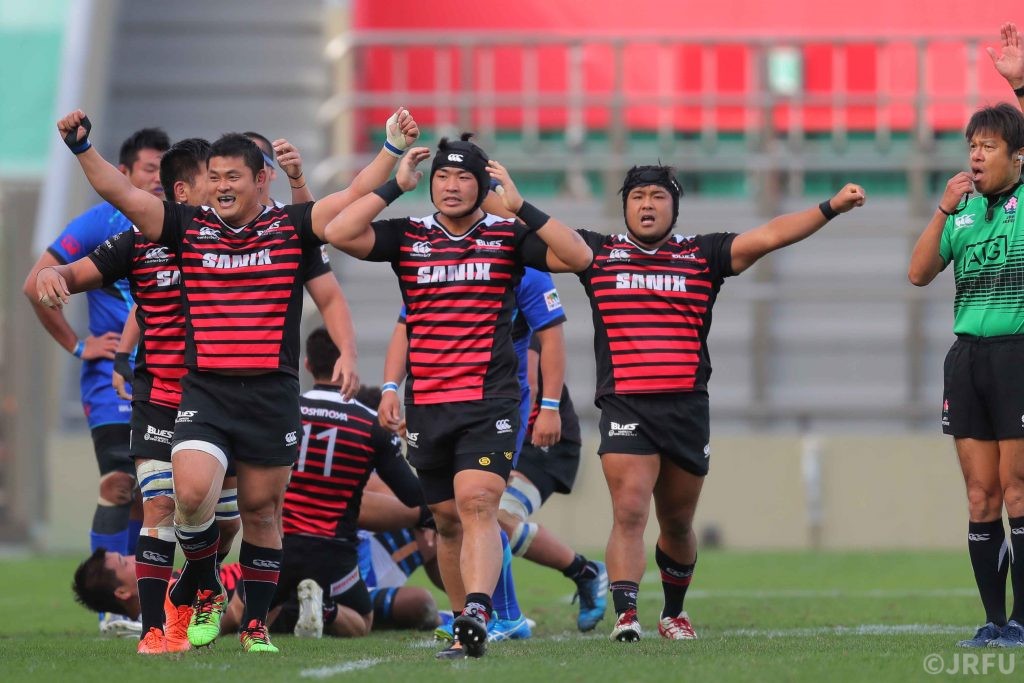 Sanix Top Shuttles in Playoffs, NTT Docomo Claim TCL.
TOKYO (Dec. 9) – The semifinal stage of the Japan Rugby Top League playoffs reached its conclusion Sunday with two matches at Prince Chichibu Memorial Rugby Ground.
In the first game of the doubleheader, Munakata Sanix Blues picked up their first win of the season as they held on to beat Toyota Industries Shuttles 32-31.
Andre Esterhuizen touched down twice and there were further five-pointers for Dan Pryor and Benjamin Ray Yagi with Curwin Bosch kicking three conversions and two penalty goals as Sanix at one stage led 32-5.
But the Shuttles mounted a spirited comeback with Siosifa Lisala bagging a hat-trick of tries before they ran out of time.
Sanix's reward is a match-up with Hino Red Dolphins next week for 13th spot, while the Shuttles will take on Coca-Cola Red Sparks for 15th place.
Unlike previous seasons, the side finishing 16th will not automatically be relegated but will instead join the three sides above it in one-off promotion/relegation games against the top four sides in the Top Challenge League on Dec. 23.
NTT Docomo Red Hurricanes topped Kintetsu Liners 20-6 on Sunday to claim first place in the second division and will the bottom-placed team from the top flight.
Mitsubishi Sagamihara Dynaboars defeated Kurita Water Gush 24-7 to finish second and will play the winner of the Shuttles versus Red Sparks game.
Kintetsu were third and will play the 14th-placed TL side while Kurita will play the winner of the Sanix versus Hino game.
In the second game of the Top League playoff game at Chichibunomiya, two tries from Josh Bekhuis helped Honda Heat defeat Canon Eagles 40-14.
Honda will now play NEC Green Rockets for ninth spot, while Canon will take on Toshiba Brave Lupus for 11th.