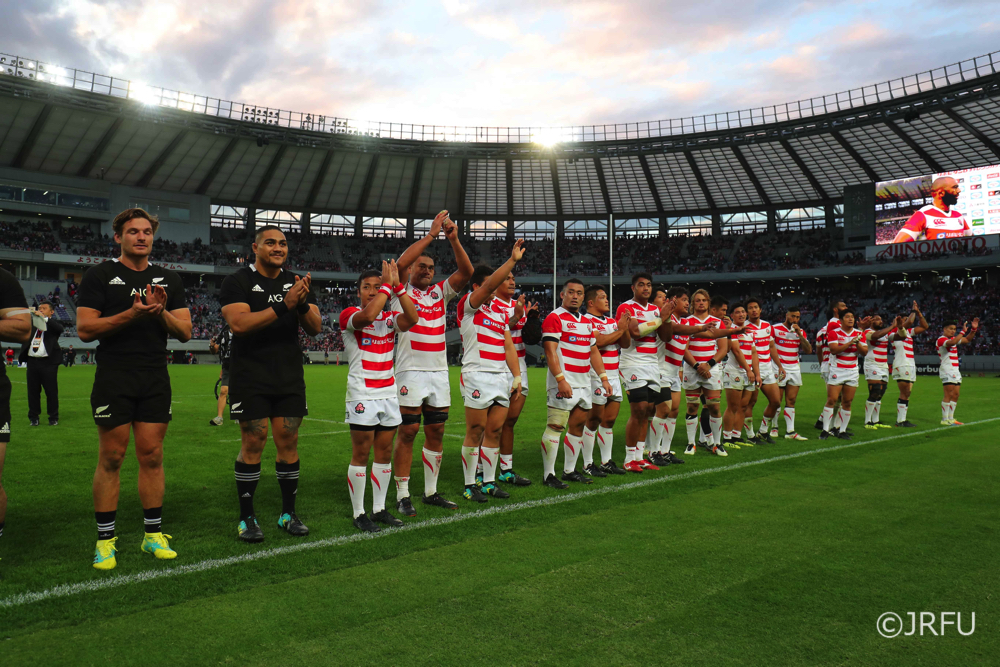 Joseph Proud but Admits Team Has Many Work-ons
TOKYO (Nov. 3) – Japan coach Jamie Joseph said he was proud of the way his team played in their 69-31 defeat to New Zealand on Saturday but warned the Brave Blossoms still had much to do if they were to progress to the quarterfinals at next year's Rugby World Cup.
"I am obviously disappointed with the loss but not disappointed with the intent", he said following the game at Ajinomoto Stadium.
Timothy Lafaele gabbed a brace of tries and there were further five-pointers for Samuela Anise, Hendrik Tui and Jamie Henry as Japan easily racked up their biggest score against the All Blacks.
"Just the fact that we scored five tries against the All Blacks is a sign that we are improving, especially against the best team in the world."
"We wanted to take the game to the All Blacks. We knew we were playing the best team in the world and we really didn't want to sit back and take it. So I'm really proud of the guys."
Japan take on Ireland, Scotland, Samoa and Russia in Pool A of next year's Rugby World Cup and Joseph said the team still had a lot of work-ons.
"We still have a long way to get to the level where we can beat a Tier One nation," he said.
"Clearly when you make mistakes against a team like the All Blacks they make you pay for it."
"We should have kept the ball in hand more in the second half. That was down to a little bit of inexperience and if we had kept the ball in hand we could have done a little better."
Japan captan Michael Leitch had said the day before his team were hoping to cause a shock against what was an inexperienced All Blacks side.
"We trained really hard for this game, but it was even more difficult than we expected and we realized that we have to train even harder," he said.
"This game has shown us a lot of things, and now we need to think about what we need to do to compete with the world's best teams."
"The mentality of our team has improved. We played really well at the beginning but then conceded some soft tries. Next we play England at Twickenham and we need to work really hard if we want to beat them. Hopefully we can come back with a win."