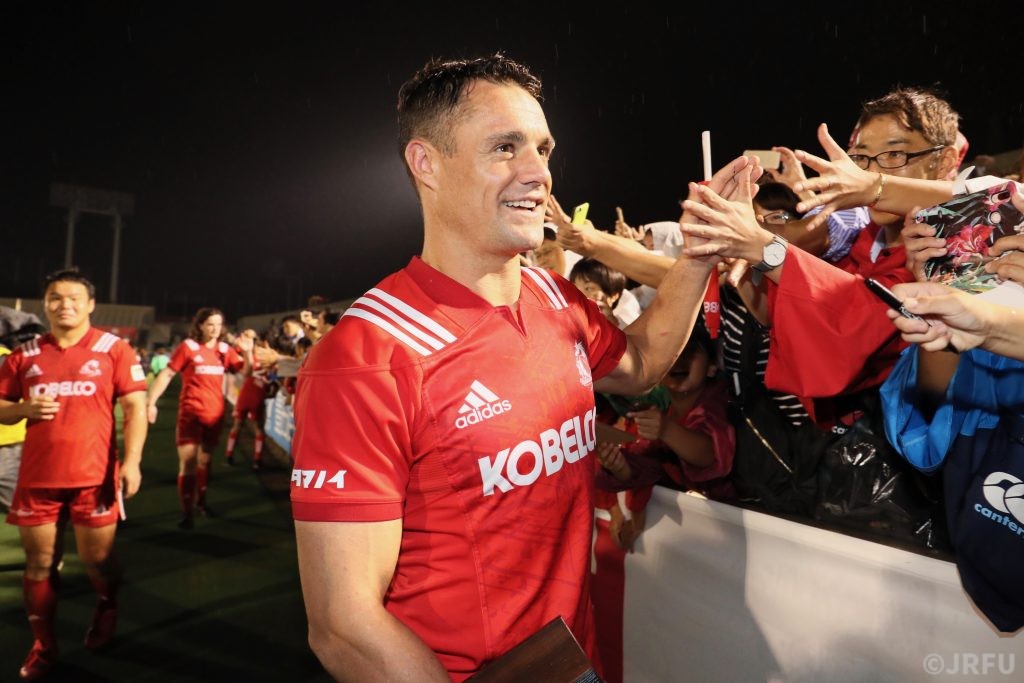 Carter's TL Career Starts with Bang as Kobe Top Suntory
TOKYO (Sept. 14) – Dan Carter scored 21 points in his Japan Rugby Top League debut Friday night as Kobe Kobelco Steelers beat two-time defending champions Suntory Sungoliath 36-20.
In front of a crowd of 17,576 at Prince Chichibu Memorial Rugby Ground, Carter scored a try, four penalty goals and two conversions to hand the Steelers their second straight win, their game last week having been postponed as the result of the recent earthquake in Hokkaido.
"It was a very special day to finally play in the Top League and Japan," Carter said.
"I've been here a couple of months and worked hard (following a four-month injury break) and this was the last piece in the puzzle."
Rakuhei Yamashita, Richard Buckman and Kentaro Kodama also crossed for Kobe, for whom Grant Hattingh had a standout 40 minutes before he was replaced at halftime.
Matt Giteau and Yusuke Kajimura created tries for Seiya Ozaki and Kenta Tsukamoto with Kotaro Matsushima also crossing for Suntory, who fell to their first loss of the season.
"Kobe played with a lot of passion and got off to a great start and we weren't able to play our game," rued Suntory coach Keisuke Sawaki.
Carter, who was named man-of-the-match, said he was very happy with his performance but said it could only have been done with the help of his teammates.
"I thought they played extremely well tonight," he said. "The man-of-the-match could have gone to any of the Kobe players out there tonight. I've got to thank them for making it easy for me tonight."
"I wanted to prove myself and I'd like to think I did that tonight. But it's just a start and we have to keep striving to get better as a team."