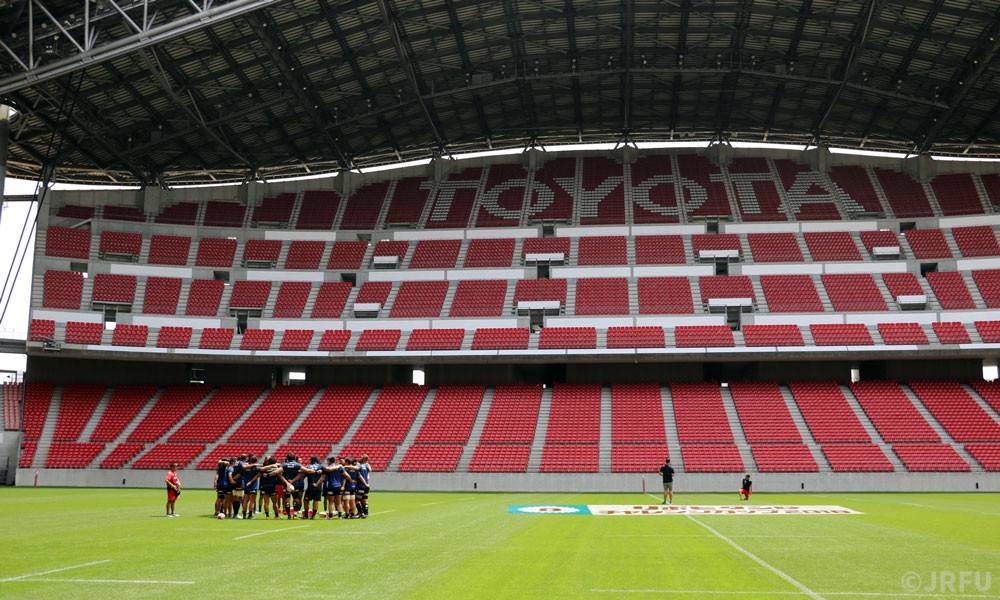 Japan ready for physical Georgians
TOYOTA (June 22) – Japan captain Michael Leitch said the Brave Blossoms had to meet the physical strength of Georgia head-on and show better onfield leadership if they are to win Saturday's test at Toyota Stadium.
Speaking after leading Japan's captain's run at the Rugby World Cup 2019 venue, Leitch said the opening exchanges would be vital.
"We will always play our fast game but defensively we have to match them. If they start getting gain line after gain line it's going to be a long day at the office."
Last week's defeat to Italy that saw the Azzurri level the two-match series was, Leitch said, down to poor game management.
"We just felt we weren't on the same page and couldn't execute our plan so that was one thing we took out of last week."
Head coach Jamie Joseph said Georgia, like all the sides Japan plays, would target the set piece.
"Playing Georgia, who traditionally have a very big pack, they will obviously target our set piece…and I just feel we will need extra resources in the forwards," he said of his decision to have six forwards and two backs on the bench.
However, he believed the first test against Italy had "showed our game is good enough to beat a Tier One side. However, in the World Cup next year we play four test matches in four weeks and we have to back it up week after week. That's why this game is so important for us."
Veteran lock Shinya Makabe also said the Georgians were a very physical side and he said much of the week had been spent working on maul defense.
He also said the first 20 minutes would be vital as the Georgians were a team that played on momentum.
"Georgia have so much pride in their scrum. But the new players in the (Japan) team are hungry. It will be a great test."