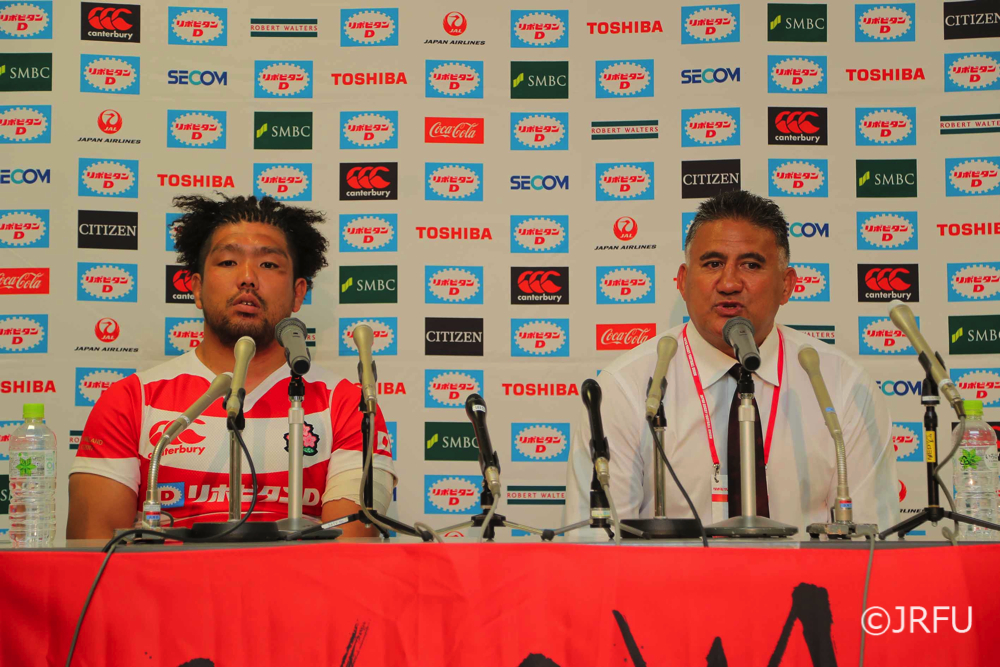 Joseph Says Japan Weren't Desperate Enough
SHIZUOKA (June 18) – Japan coach Jamie Joseph said he was upset with the lack of commitment shown by his team in Saturday's 50-22 defeat to Ireland at Ecopa Stadium.
"I thought it was the best week of preparation we had had," he said. "But to beat one of the best teams in the world you have to execute well, apply yourselves and you need to be desperate. And we were not desperate enough."
Joseph said the team had started well but then fell off the pace.
"We started well, created pressure and put pressure on them at the line-out and with our kicking game. But we weren't able to turn it into points."
For the second week running, he also pointed put that Japan had suffered when they had had a man sent to the sin bin.
"It's very difficult to play a classy rugby team with 14 men. We conceded 21 points in those 10 minutes, which obviously put the game out of reach for us."
Scrumhalf Fumiaki Tanaka said the Brave Blossoms needed to work a lot harder when the teams meet again on June 24 at Tokyo' Ajinomoto Stadium.
"They were big, but we can't use that as an excuse," he said. "Each one of us had good tackles, but we do have to work harder to raise our tackle success rate."
Tanaka, like his coach, said discipline had been a problem, especially in the first half.
"There weren't too many surprises, but I have to admit I didn't think there would be this much of a gap (in score). The first-half penalties cost us a lot. We can't let this happen in the next game."
But as Joseph pointed put, the team did finish well with the introduction of some young players off the bench.
"The plan wasn't working well and the players not desperate so something was wrong. So I changed the plan and the players."