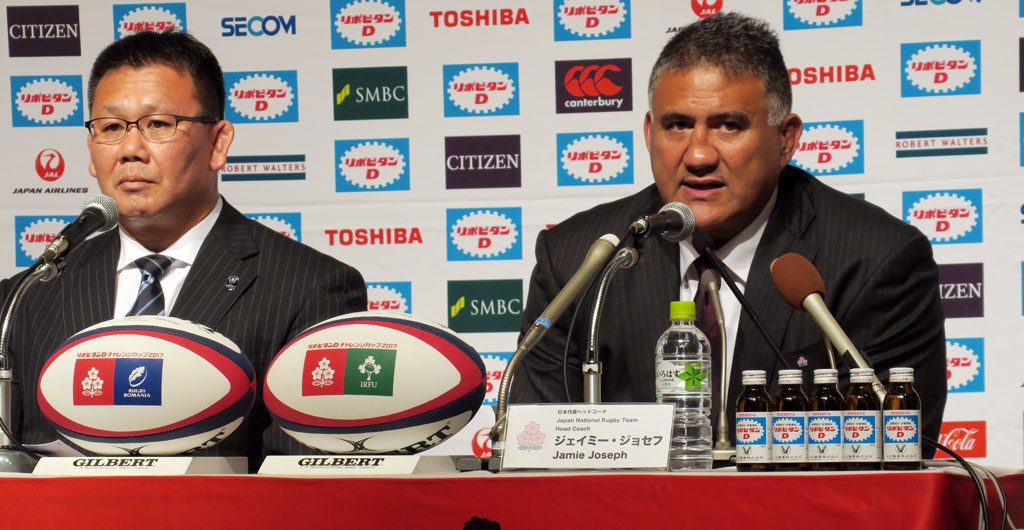 Joseph Names Squad for June Tests
TOKYO (May 29) – Japan coach Jamie Joseph named a 33-man squad Monday for the June tests against Romania and Ireland.
Shota Horie and Harumichi Tatekawa will captain a squad that contains four new caps in Yusuke Niwai, Shota Emi, Derek Carpenter and William Tupou, and sees the return of Michael Leitch and Hendrik Tui to international duty.
"The criteria for selection was I wanted the best players available to represent Japan," Joseph said. "We have a strong squad and now have two weeks to prepare in the heat in Kyushu before the first test."
The Brave Blossoms play Romania in Kumamoto on June 10 before taking on Ireland on June 17 and 24 in Shizuoka and Tokyo, respectively.
Just six members of the squad have yet to play Super Rugby with 24 members of the Sunwolves named alongside back-row forwards Leitch, Tui and Amanaki Lelei Mafi, who are currently based with overseas clubs.
Shintaro Ishihara, Yu Chinen, Yutaka Nagare, Rikiya Matsuda, Akihito Yamada and Ryuji Noguchi, the only student in the side, have been included following strong showings in the Asia Rugby Championship.
"Matsuda and Noguchi have been picked with an eye for the future," Joseph said. "They have shown qualities that make me want to invest in their development."
Joseph said the June tests would be challenging but he was hopeful Japan could come away with wins to their name.
"Romania and Ireland are very different types of teams and couldn't be more different from Japanese teams," he said.
"They are big and powerful and in Ireland's case very experienced. Romania are a set-piece orientated team that beat Georgia recently. If we take them on on their strengths we will come second. But if we can play a high-tempo fast game in the heat then I am confident we can get some wins."